Get the tips and tricks to roasting pork with over drying the meat. Enjoy some of our favorite pork recipes, too.
By Jovina Coughlin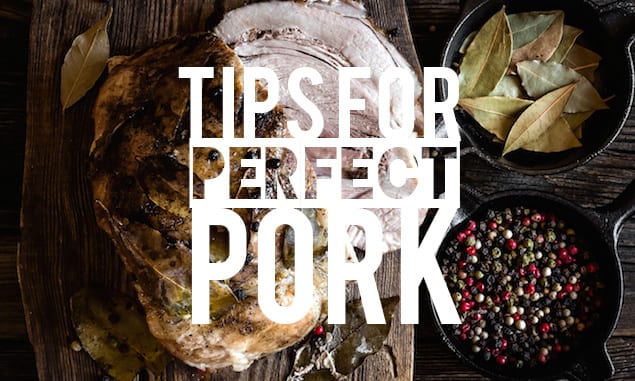 Shutterstock: Sunny Forest
Today, pork is much leaner than ever before, so leaner pork affects the way it should be cooked. Care should be taken to not overcook pork.
There are various methods that can be used to produce juicy and flavorful pork. Some methods work better than others on different cuts of meat. There are two basic methods: dry heat and moist heat. Dry heat is most often used on cuts that are naturally tender, such as loin roasts and tenderloins. Moist Heat is used on cuts that are less tender, such as a shoulder or boneless Boston butt roast.
Roasting, which is basically the same method of cooking as baking, is often used when preparing fresh ham roasts, smoked ham roasts, crown roasts, loin roasts, tenderloins and ribs. Marinating the meat before roasting or basting it with meat juices throughout the cooking time will also help produce tender and juicy meat. Roasting is a good method to use when preparing a special dinner because it consists of a longer cooking time than other methods and needs little attention during the cooking period. This leaves time for preparing other dishes.
Roasting is accomplished by cooking the pork, usually uncovered in a heated oven. Excess fat should be trimmed and, if necessary, it should be tied. A rib roast should be tied because the outside layer of meat has a tendency to separate from the inner rib-eye muscle. The rib roast is generally tied by wrapping strings around the roast, between each of the bones. Roasts that have been tied retain their shape and provide a more visually appealing roast when cooked. Most often any boneless roast will be tied to reshape it once the bones have been removed. If a boneless roast will be stuffed, the stuffing is added, the roast is then rolled up and tied to hold the stuffing in the roast.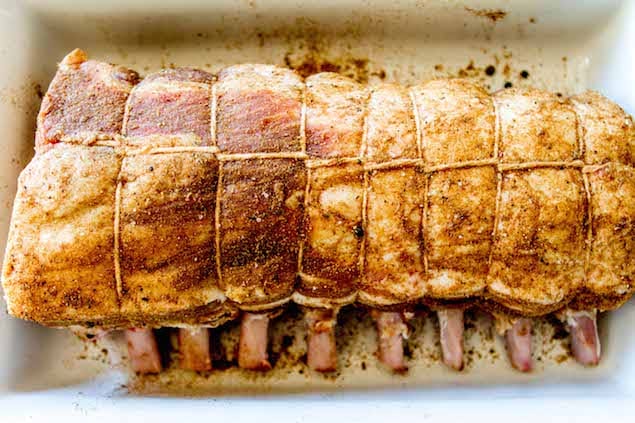 msbelly.com
To cook the roast, it is best placed on a rack in a shallow roasting pan. The rack is not necessary but if not used, the bottom of the meat will sit in the juices and stew, which will not allow it to become brown and crisp on the surface like the rest of the meat. If the meat does not have any surface fat, it can be rubbed down with 1 ½ to 2 teaspoons of oil and then seasoned.
Meat is sometimes seared before roasting to brown the surface and add flavor. Searing can be accomplished by using several different methods. One method is to use a high oven temperature for a short period of time at the beginning of the roasting time and then reduce the heat for the remainder of the time. This quickly browns the outer surface to create a flavorful crust on the surface of the meat. Another searing method used, involves frying the meat in a very hot pan until all the sides have been browned and then placing it in the oven to finish cooking.
If the meat is not going to be seared in the oven, the oven should be preheated to either 325°F or 350°F (450°F for pork tenderloin) and the meat should be at room temperature.
The length of time a cut of pork will have to cook will depend on the size of the cut and whether it is tied, stuffed, bone-in or boneless. The best way to determine if the meat has cooked long enough is to check for doneness with a meat thermometer. A thermometer inserted into the thickest part of the cut should produce a temperature of 145°F.
Roasting Tips:
For a crisp surface on your roast, be sure the oven is fully preheated before placing the roast into the oven in an uncovered pan.
To add extra flavor, rub the surface of the meat with your favorite seasonings before roasting.
Roasting at a lower oven temperature (NEVER roast meat below 200°F) will result in meat that is more flavorful and moist, but It will take longer to cook.
A roast with a bone in it will cook faster than a boneless roast because the bone will conduct heat faster.
Do not use sharp utensils that may pierce the meat when trying to turn it because piercing allows valuable juices to escape. Use other utensils, such as wooden spoons and spatulas for turning the meat.
If cooking more than one roast, be sure that there is uniform space around them so that they will cook evenly. The roasts should not be touching and there should be enough space around them to allow air and heat to circulate.
When placing a thermometer in the meat to check for doneness, be sure that the stem of it is not touching a bone because this can result in a false reading.
Using the drippings from the roasted meat will provide great flavor when making a stock, gravy or sauce.
Let the roast rest for 5 minutes before carving to allow the meat juices to settle in the roast.
Classic Tuscan Roast Pork Loin
Rubbed with aromatic Mediterranean herbs, this succulent cut of pork is make rich and flavorful with the addition of garlic and hazelnuts. Get the recipe here.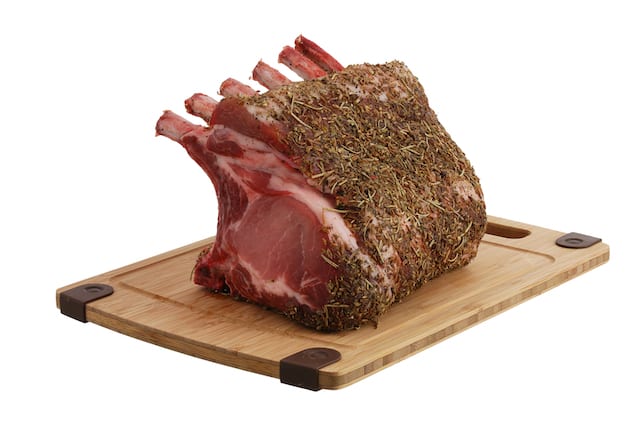 Shutterstock: VadiCo
Italian Spiced Boneless Pork with Roasted Vegetables
This recipe calls for the pork to be roasted until done and moist alongside vegetables and fennel. The flavors transfer between the two and create a complete meal of protein and side vegetables. Get the recipe here.
See Also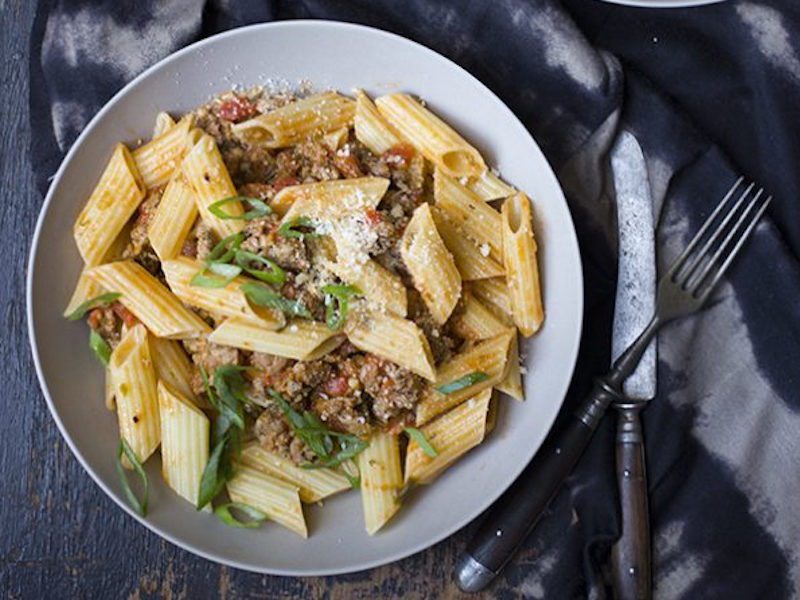 Shutterstock: Dani Vincek
Sausage Stuffed Pork Loin Roast
For a truly flavorful pork dish, try this roast filled with spiced Italian sausage. Get the recipe here.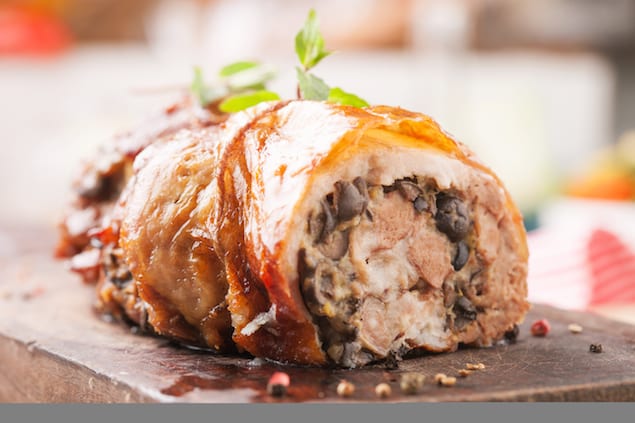 Shutterstock: avs
Pork Tenderloin With Roasted Apples And Pumpkin Risotto
This autumn meal will warm your heart and soul all while leaving your kitchen smelling delicious. Get the recipe here.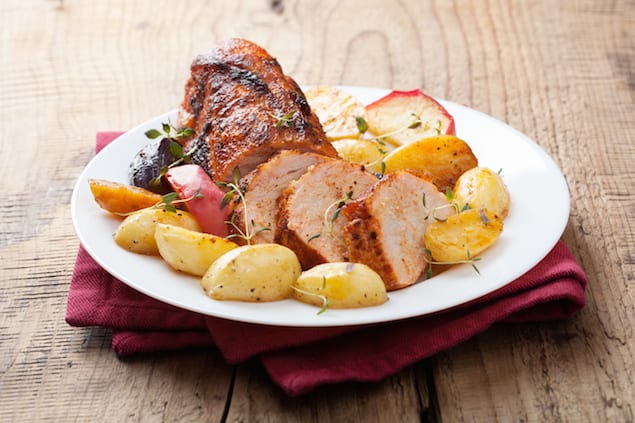 Shutterstock: Olga Miltsova
Jovina Coughlin
I was born in New Jersey to first generation Italian parents. Both sets of my grandparents were born in Italy and emigrated to the United States in the early 1900s. They brought with them a love of the Italian culture and cooking. I have 2 brothers and 1 sister. I learned many of my cooking skills from my parents and grandparents, but I also studied Italian cooking and made many of the recipes for my children as they were growing up. I am married with three children and six grandchildren. Besides New Jersey, I have lived in Pennsylvania, Michigan and now on the Gulf Coast of Alabama. I have a Bachelor of Arts Degree and a Masters of Science Degree and I have taught high school English and special education. I have also been an administrator in the public schools at the district and county levels. Now that I am retired from the teaching profession, I have the time to write a blog and share my information about Italian American cooking and culture. Because I am a teacher by trade, I feel that I have the skills to share with readers the techniques for preparing authentic and healthy meals.