Asha Pagdiwalla serves up some yummy vegemite molasses lamb with a creamy mushroom and carrot soup.
By Asha Pagdiwalla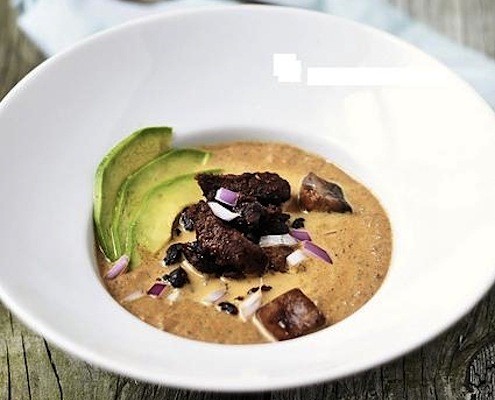 Vegemite and Molasses Lamb and Black Beans
1 tbsp Vegemite
2 tbsp molasses
2 tbsp malt vinegar
1 tbsp Worcestershire sauce
1 tsp sugar
2 tsp salt
1/2 can black beans
1/4 lb (115g) boneless lamb shoulder, cubed
1. Combine the marinade ingredients and coat the lamb pieces in the mixture. Set at room temperature for at least 30 minutes. If you are marinating for longer, refrigerate.
2. In a shallow frying pan, heat some oil and transfer the lamb along with the marinade. Add the beans and cook on low until the lamb is cooked adding as little water as possible.
3. Serve over the soup.
Mushroom and Carrot Soup
(Serves 2)
1 lb (450g) portobello mushrooms, stalks removed and cubed
1 small onion, diced fine
2-3 cloves of garlic, minced
1 inch (2,5cm) chunk of ginger, minced
2 sweet carrots, chopped
1 tsp smoked paprika
1 1/2 cups (3,75dl) stock
1/4 cup (0,6dl) light cream
salt and pepper as needed
1/4 cup (0,6dl) white wine (optional)
1. Saute the onion, garlic and ginger in little oil. Do not add the salt now. Add the mushroom pieces and brown. Pick some of the mushroom pieces and reserve for garnish. De-glaze the pan with wine, if using.
See Also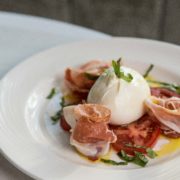 2. Add the carrots along with the salt, pepper and paprika. Saute for a few minutes, add half the stock and bring to a boil. Simmer until the carrots are cooked adding a bit more stock if needed.
3. Puree the mixture, return to the pan and add the remaining stock. Bring to a boil and then reduce heat to a simmer. Gently stir in the cream and cook for a couple of minutes.
4. To serve, divide soup into bowls, top with reserved mushroom cubes and the lamb and beans saute.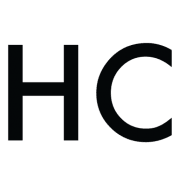 Asha Yoganandan
Asha is the Founder and the Creative Strategist of INK, a digital marketing consultancy focused on food and leisure clients. A key social influencer, she has a reach of over 400K across digital platforms. She edits and publishes NOURISHED magazine, a seasonal and quarterly food magazine with international distribution. She writes an acclaimed blog, Fork Spoon Knife, on food and culinary travel related topics. She pens for and has been featured in The Daily Meal, Redbook Magazine, Spenser Magazine, Huffington Post, Good Food Jobs, Food 52, Mashable among others.