Drop the mix says Sara Schewe, and gives you a very good reason to bake for real with this basic quick bread.
By Sara Schewe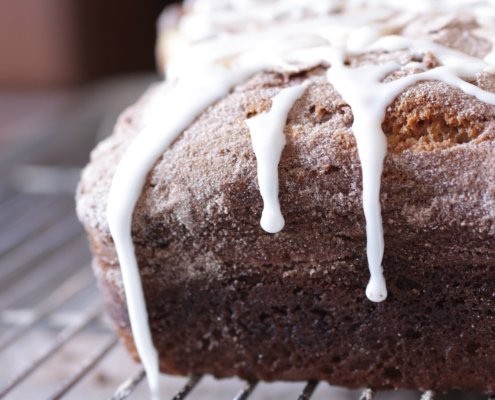 When I was in college, I started baking less from mixes and more from my new cookbooks; everything from coffee cake to chocolate éclairs was fair game in my little kitchen. I grew up doctoring baked goods from mixes, and these new recipes were no different.
But the more I baked, the more I started to see patterns. When I saw these patterns, I made notes. From these notes, I detected some basic recipes that I could play around with and alter a bit to satisfy my current whim. I learned when to use baking soda, when to use baking powder, and what kind of results I got when I played around with combinations.
This quick bread is one of my first basic recipes. I've included a few variations I enjoy, as the bread on its own would be rather dull and uninspiring. What I love most about a quick bread isn't that it comes together so quickly, nice though that is, it's that I generally have these ingredients on hand at all times. Even better, the batter is rather forgiving, allowing you to play around with virtually endless flavor combinations. Should you have an unexpected bout of bad weather and can't make it to the market in the morning, simply look through your pantry and freezer to see what combinations you can come up with, for a fun and easy breakfast.
Basic Quick Bread Recipe
2 cups (220 grams) all purpose flour, sifted
1 cup (225 grams) granulated sugar
1 teaspoon (5 g) baking soda
1/2 teaspoon (2.5 g) fine sea salt
1 cup (237 mL) buttermilk or soured milk*
1 large egg
1/4 cup (59 mL) neutral oil, such as canola
1 teaspoon (5 mL) flavored extract, such as vanilla or almond
for the glaze
1/3 cup (37 g) confectioners' sugar (sifted)
1-2 teaspoons (5-10 mL) milk
1. Preheat oven to 350*F (177*C). Grease a 9×5 inch (23×13 centimeter) loaf pan with butter and line with 2 strips of parchment cut to fit the length and width of the pan, with enough overhang to allow easy removal after baking. Grease the top sheet of parchment.
2. In large bowl, whisk flour, sugar, baking soda, baking powder, and salt to combine. Make a well in the center and set aside.
3. Lightly whisk milk, egg, oil, and extract to combine. Pour into well and stir until just mixed into a batter. The batter will be lumpy and may still show a few streaks of flour.
4. Pour batter into prepared pan. Bake for 40-50 minutes, or until a cake tester comes out clean. Cool in pan on wire rack for 10 minutes, then remove from pan and cool completely before slicing. Drizzle with glaze, if desired.
5. For the glaze: Slowly whisk confectioners' sugar and half of the milk, adding more milk as needed to thin the glaze to the desired consistency.
See Also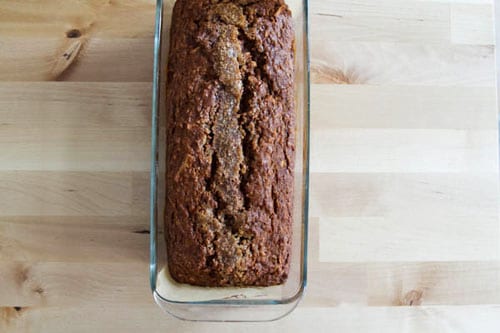 *To make soured milk, combine 1 cup milk (227 mL) with 1 tablespoon (15 mL) vinegar or lemon juice and let sit for 10 minutes.
Variations
Cinnamon Swirl: Combine 1/3 cup (75 grams) granulated sugar and 2 ½ teaspoons (12 grams) ground cinnamon. Add 1/3 of batter to pan, sprinkle with cinnamon sugar, add another 1/3 of batter, sprinkle with sugar, then add remaining batter and top with cinnamon sugar. Press lightly on the top of sugar to adhere.
Orange Cranberry: Chop ½ cup (50 grams) dried cranberries. Soak in 2 tablespoons (30 mL) orange juice or Grand Marnier. Stir in zest of 1 orange and soaked cranberries into batter. For glaze, whisk 1 cup (110 grams) confectioners' sugar (sifted) and 1 – 1/2 tablespoons (22 mL) freshly squeezed orange juice
Blueberry Streusel: Add 1 cup (236 grams) fresh blueberries to batter. For streusel topping, in medium bowl mix ½ cup (115 grams) sugar, 1/3 cup (40 grams) flour, ¼ cup (55 grams) cubed butter, and 1 ½ teaspoons (7 grams) ground cinnamon with fingers until crumbly. Top batter with streusel and press in lightly to adhere.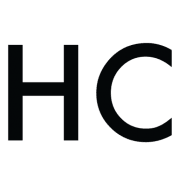 Sara Schewe
Sara Schewe blogs about her cooking life at My Madison Bistro, focusing on simple, earthy, soul-satisfying food. She firmly believes the secret to happiness is to first satisfy both body and soul through cooking and baking.