These monkey bars are lightly sweet and made with bananas and almond butter for a perfect snack we can't stop eating.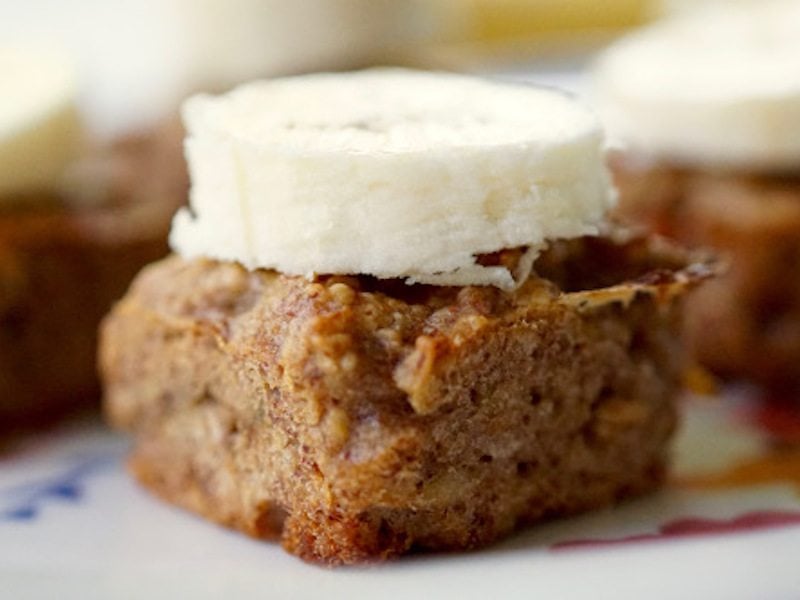 Here's what I can say about these Banana Monkey Bars…
The first batch disappeared before they even had a chance to cool. By the next morning, my son, daughter, and husband had each separately asked if we could make more.
The answer was yes. One bowl, six ingredients, and very uncomplicated. So nice to add to back-to-school lunch boxes, or grab for an after-school snack.
But this is the jaw-dropper. These are very moist and they have a tender crumb! Let's be honest – this simply can NOT always be said of whole grain vegan baked goods that are free of all added oil, flour, or sugar, right?
So here's to the best Banana Monkey Bars in the world! Hope you love them too.
Vegan Monkey Bars
Ingredients
2

bananas

1/4

cup

almond butter

1/4

cup

Medjool dates

pitted

1

teaspoon

vanilla

3/4

cup

rolled oats

2

teaspoons

baking powder
Instructions
Preheat oven to 350 degrees.

Into the bowl of a large food processor, add all ingredients in the order listed above. Pulse or process until the mixture is well combined.

Remove bowl and blade from the base. Divide batter evenly, filling 18 to 20 sections of either a silicone brownie-bites pan or a nonstick miniature muffin pan.

Bake for 14 minutes. Remove from oven and place on cooling rack, serve with bananas or banana chips if desired.
Vicki Brett-Gach
Vicki Brett-Gach is a food writer, recipe developer, cooking instructor, Certified Vegan Lifestyle Coach and Educator, and Certified Personal Chef. She specializes in simple, low-fat, heart-healthy plant-based nutrition, and writes, coaches, teaches, and blogs about delicious vegan food. Find more of Vicki's recipes on her blog, Ann Arbor Vegan Kitchen at AnnArborVeganKitchen.com.