Create a deceptively creamy, queso-like dip loaded with spicy jalapeños for dipping and drizzling on so many things.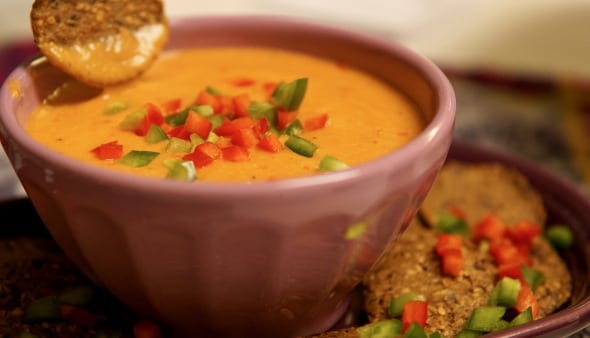 It almost strains credulity that plant-based ingredients alone can create a queso this creamy and versatile.
Dip your baked whole grain tortillas HERE..of course. But don't stop there. Drizzle everything you're ready to love even more – from bean burgers to baked potatoes, and from pasta to broccoli.
Caution. This queso is spicy, so please tone it down (just use less jalapeños) if your family prefers less heat.
Click HERE for the recipe.
Vicki Brett-Gach
Vicki Brett-Gach is a food writer, recipe developer, cooking instructor, Certified Vegan Lifestyle Coach and Educator, and Certified Personal Chef. She specializes in simple, low-fat, heart-healthy plant-based nutrition, and writes, coaches, teaches, and blogs about delicious vegan food. Find more of Vicki's recipes on her blog, Ann Arbor Vegan Kitchen at AnnArborVeganKitchen.com.