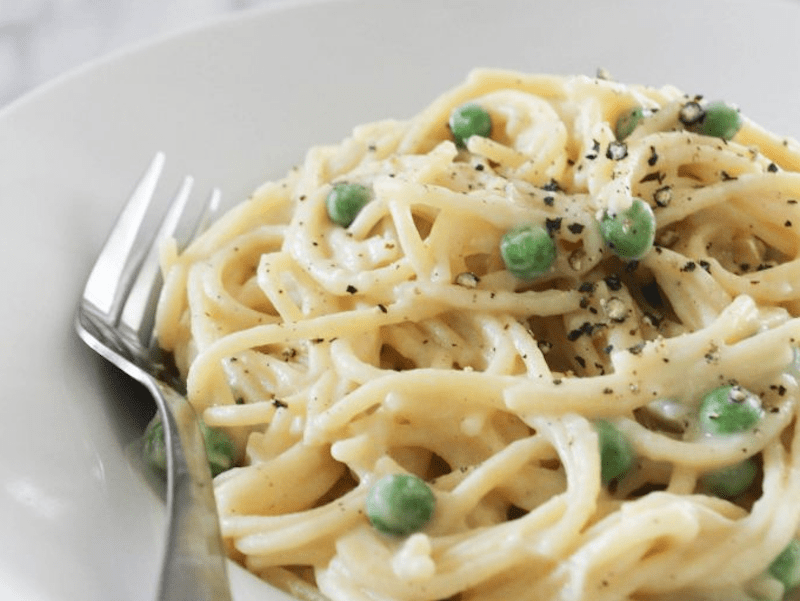 PARTNER POST: Discover how delicious dairy-free sweet and savory cooking can be with DREAM Ultimate Almond.
Made with a rich and creamy almond beverage instead of dairy, this vegan pasta sauce is the a perfect substitution with delicious spiced and nutty flavors.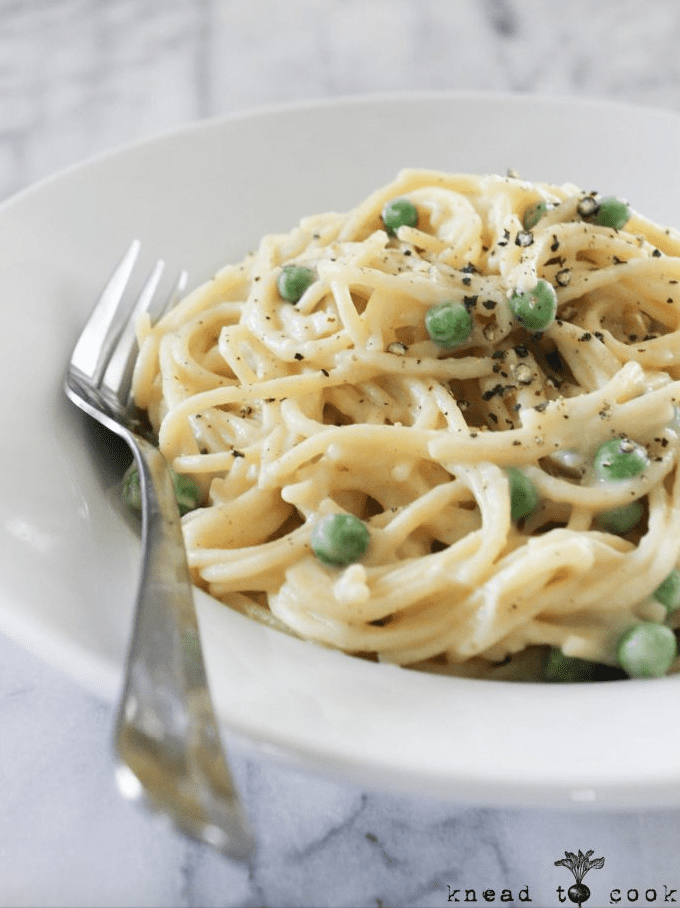 Eating a plant-based diet can be perceived by many as very restrictive. Favorite creamy foods that are dairy-based are no longer an option. But honestly, any traditional recipe can be recreated into a wonderful, healthy vegan option. This recipe is my case in point. This sauce is creamy, garlicky heaven. It was light and beautiful and packed with protein. The Dream Ultimate Almond added the luscious, thicker texture and nutrients without a caloric overload. Made with four times more California almonds in every cup, you can immediately see and taste the difference. This beverage is rich, creamy, and packed with 5g of natural protein from almonds. I used the unsweetened version and it paired perfectly with my spice selection.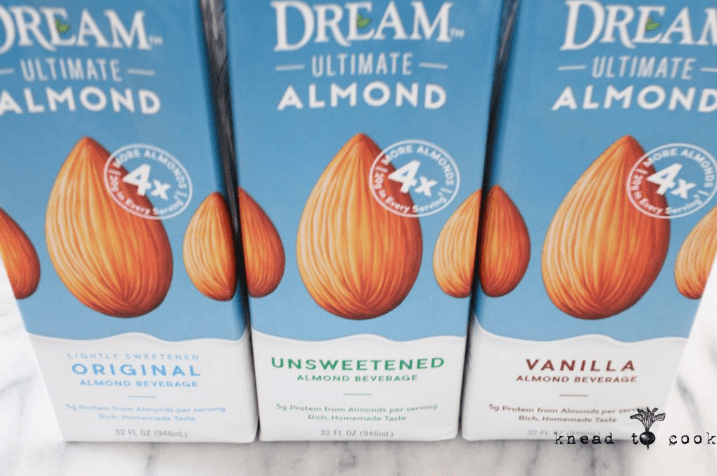 As with all of my recipes, feel free to add more or less of the spices to work with your preferences. Being Italian, my family loves garlic so I was a bit heavier handed with that. This recipe is ready in the time it takes you to boil your pasta. Seriously. The perfect weeknight dish and to speed up your preparation – you can steam your cauliflower beforehand so you have it when you're ready to whip up this sauce. I hope you enjoy!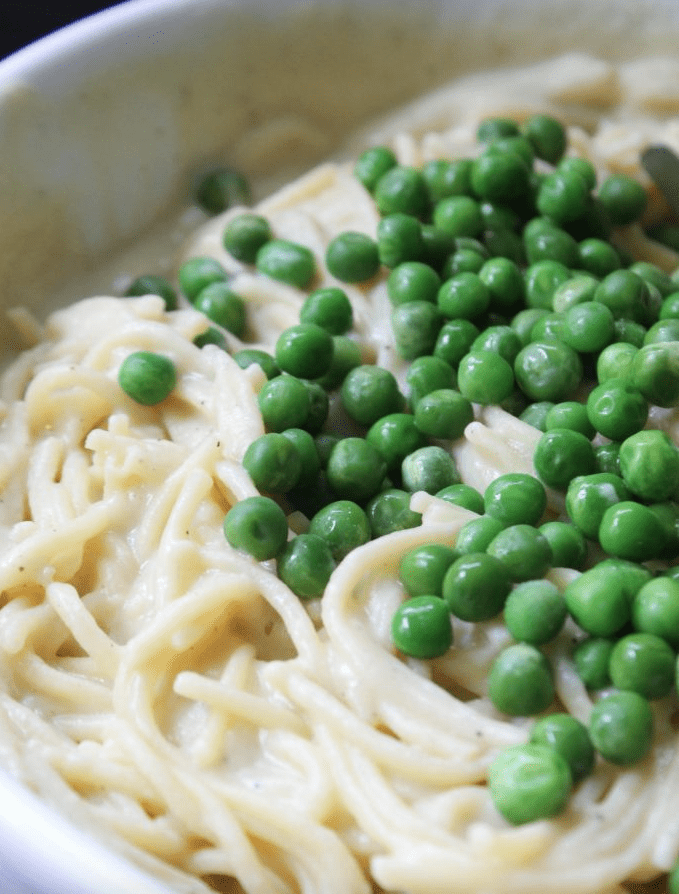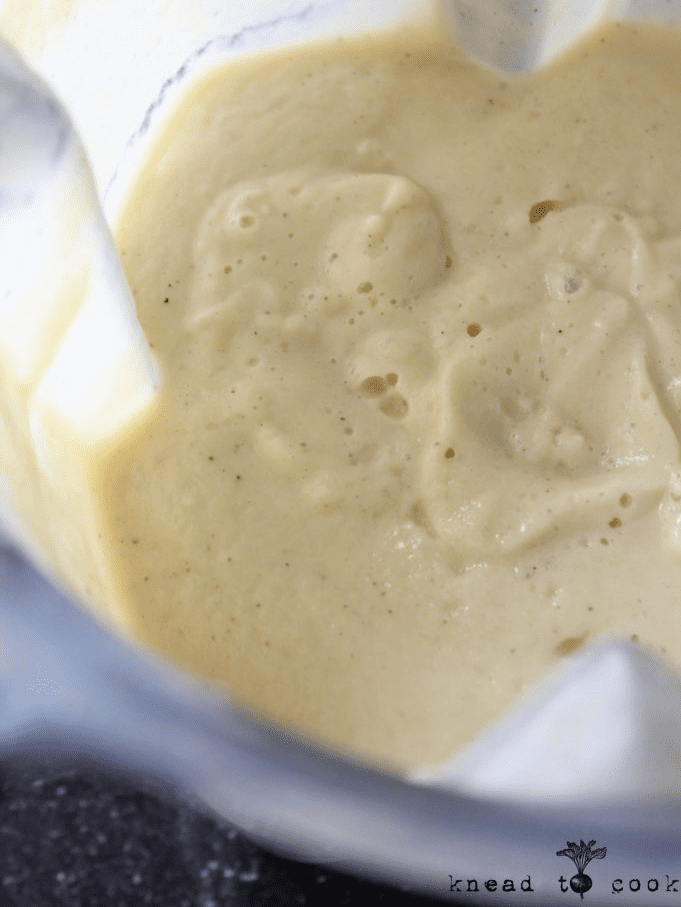 The new DREAM Ultimate Almond beverage can be found now at Whole Foods and soon at your local Sprouts. Click here for a coupon.
For more inspiration, check out this turmeric smoothie bowl: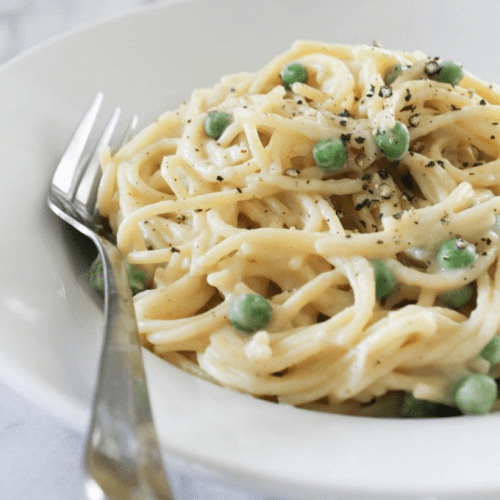 Robin Runner
Ingredients
One medium sized head of organic cauliflower

washed & cut into florets

1

cup

of Dream Ultimate Almond beverage

unsweetened

1/4

cup

of nutritional yeast

1-2

cloves

of garlic

peeled

Pinch

nutmeg

1

tablespoon

of Dijon mustard

1

tablespoon

of lemon juice

Freshly ground pepper

1/3

cup

fresh or frozen organic green peas
Instructions
First, bring a large stockpot of water and a few pinches of salt to a boil for your pasta. I used a gluten free pasta.

Next up:: In a steamer basket/pot on the stovetop, bring your water to a boil and steam your cauliflower until fork tender (4 minutes or so). Then carefully drain and set that aside. Into your high powered blender or Vitamix, add your cauliflower, Dream Ultimate Almond, nutritional yeast, garlic, nutmeg, Dijon and lemon juice. Blend until smooth and creamy.

Taste the sauce once you're done blending. Add salt and pepper to taste and blend again quickly to incorporate. Then reserve the sauce until your pasta is done cooking. If using a gluten free pasta – drain in a colander and do a quick rinse (a trick I learned when using gf pastas). Then add to pasta to a large serving bowl. Top with your sauce and peas (I normally let the peas out at room temperature while I'm prepping the sauce so they thaw a bit). Give it a good toss to coat the noodles with the sauce. Season with fresh ground pepper and enjoy!
Robin Runner
Robin Runner is the blogger behind www.kneadtocook.com. She grew up around two of her greatest inspirations, her Italian grandmother and her aunt. Both believed in farm to table foods, purity in nature and love as the main ingredient for anything on their menu. Today, Robin is a strong advocate of farming and buying local ingredients, as well as composting to help repurpose food scraps into rich soil for our garden.