PARTNER POST: Discover how delicious dairy-free sweet and savory cooking can be with DREAM Ultimate Almond.
Whip up this peanut butter cup chia pudding for breakfast or dessert and satisfy all your cravings while getting some nutrients too.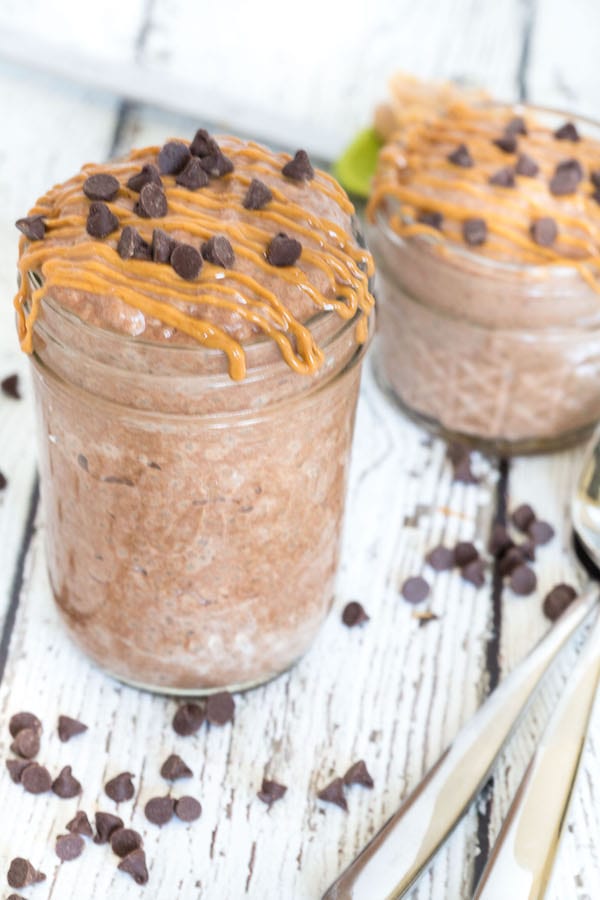 I have a super healthy but also super delicious breakfast/snack/dessert recipe for you today!
I've recently become hooked on chia pudding and I really don't know why it took me so long to get on board with it! I guess it's probably because whenever I had the craving for something like pudding, it was at 8:00 at night and chia pudding needs a good 3-4 hours to set up. While chia seeds are kind of sesame seed-like when they're dry, when they are combined with a liquid, they soak it all up and become gel-like, hence the pudding texture.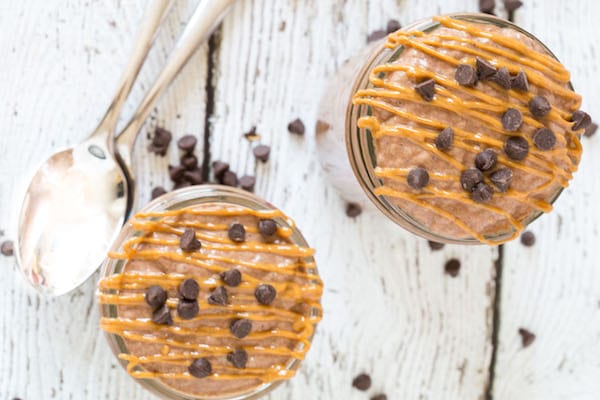 The thing is, chia pudding is dessert-like but also healthy enough for breakfast. Chocolate peanut butter cup pudding for breakfast?! Uh, yeah please!
When it comes time to eat it, you can either eat it as is or you can blend it up for a smoother texture. I tend to like the more textured/unblended version of this chia pudding, but if you're not a texture person, blend it up!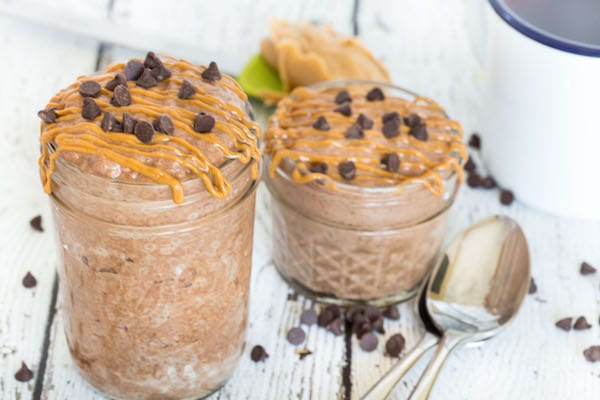 I've made a simple almond butter and vanilla version of chia pudding too, but I have to say this peanut butter cup chia pudding is definitely my favorite. The chia pudding is lightly sweetened by agave nectar, has the chocolate flavor from unsweetened cocoa powder, and of course is super creamy from the Dream Ultimate Almond.
The peanut butter swirl at the end to top it off really makes this a super yummy breakfast or dessert, and if I'm eating it for dessert I might as well add some chocolate chips to the top! Okay okay, I admit – I added the chocolate chips when I had this for breakfast too.
But seriously, it's like a peanut butter cup in chia pudding form. Boom.
I have my typical go-to brands of almond milk that I pick up on a weekly basis, but just recently was introduced to Dream Ultimate Almond. Not only is it thicker, richer, and creamier than the almond milk I'm used to (probably because it has four times as many almonds!), it's also packed with 5g of protein from the almonds. It made this chia pudding super creamy!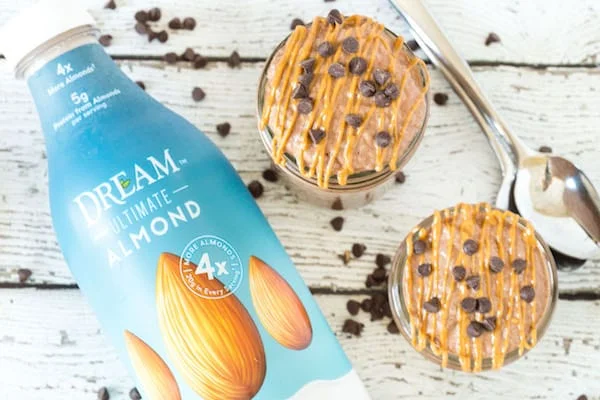 The new DREAM Ultimate Almond beverage can be found now at Whole Foods and soon at your local Sprouts. Click here for a coupon.
For more inspiration, check out this grilled Caesar salad with a dairy-free dressing: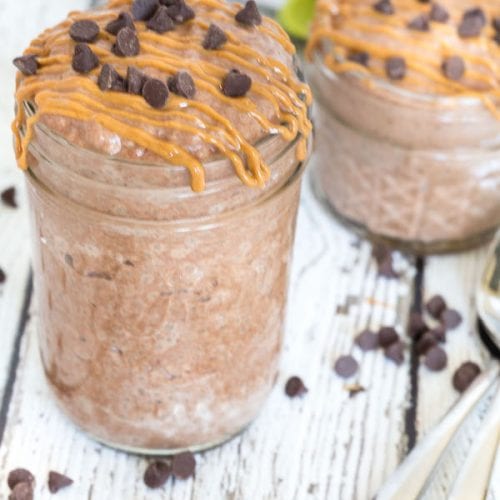 Taylor Kadlec
Course
Breakfast, Dessert
Ingredients
3

tablespoons

chia seeds

1

cup

Dream Ultimate Almond milk

I used vanilla, plus an additional 2-3 tablespoons if desired

2

tablespoons

cocoa powder

1

tablespoon

agave nectar

or maple syrup

¼

teaspoon

salt

2

tablespoons

peanut butter

for drizzling

Mini semisweet chocolate chips

for topping
Instructions
In a mason jar or container with a lid, combine chia seeds, almond milk, cocoa powder, agave, and salt.

Stir with a spoon or top with lid and shake vigorously until well combined.

Refrigerate overnight, or at least 3 hours.

After refrigerating, you can add a couple more tablespoons of almond milk if you prefer, to make it a little creamier. I did this because mine was pretty thick after sitting overnight.

Once ready to eat, heat peanut butter in microwave for 30 seconds.

Drizzle peanut butter over chia pudding and top with chocolate chips, if desired.
Taylor Kadlec
Taylor Kadlec is a lover of all things food including baking, cooking, and of course, eating. She is a self-taught baker and cook, and she shares her kitchen adventures on her blog Greens & Chocolate, where healthy cooking meets sinful indulgence.