Today is the National day of pineapple upside-down cake. Why stick to the pineapple and cherry combo when there are so many options perfect for any event?
By Annelise McAuliffe
Celebrate the day of the pineapple upside-down cake with varieties to highlight any fruit or flavor. It is supposed that a skillet baked pineapple cake became popular in 1911 when an employee of James Dole invented a tool to slice pineapples into rings. The cake continued in popularity when home cooks yearned for a simple cake that could be made with convenience items, but still looked stunning.
Here are ten different takes on the classic pineapple upside-down cake.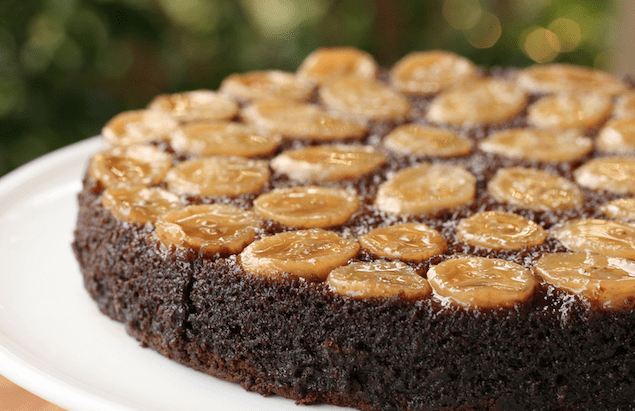 http://www.foodlibrarian.com
Chocolate Upside-Down Cake with Caramelized Bananas
This recipe swaps out the usual vanilla batter for a cocoa cake made moist with buttermilk. The batter bakes on top of a layer of sliced bananas that caramelize amidst butter and brown sugar as it bakes. Get the recipe here.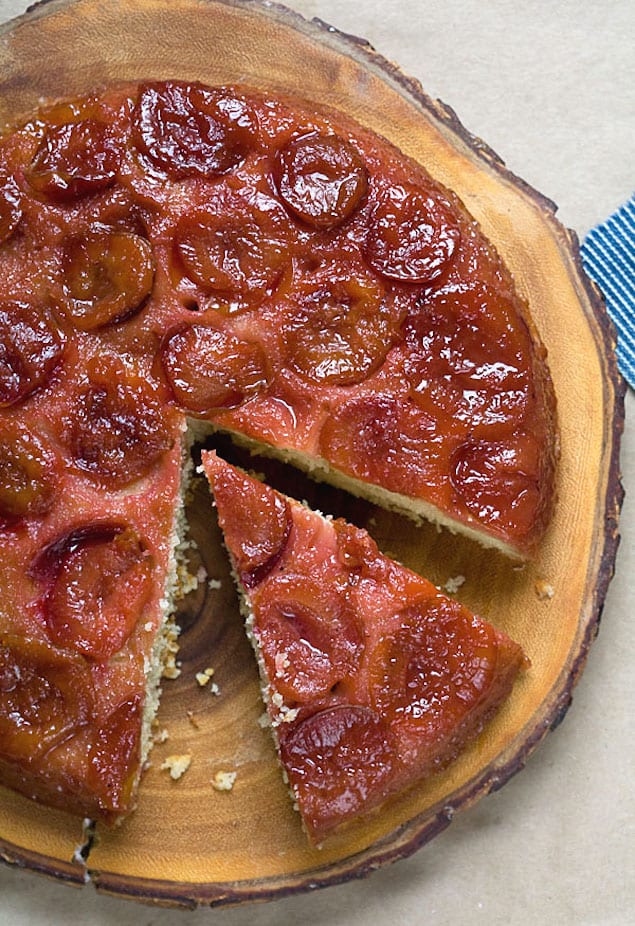 http://acozykitchen.com
Sour Plum and Brown Butter Upside-Down Cake
If you have a bunch of unripe plums this cake is for you. Slightly tangy plums give this sweet cake and nutty brown butter a perfect contrast. Be sure to serve with a dollop of whipped cream or a scoop of ice cream for pure bliss. Get the recipe here.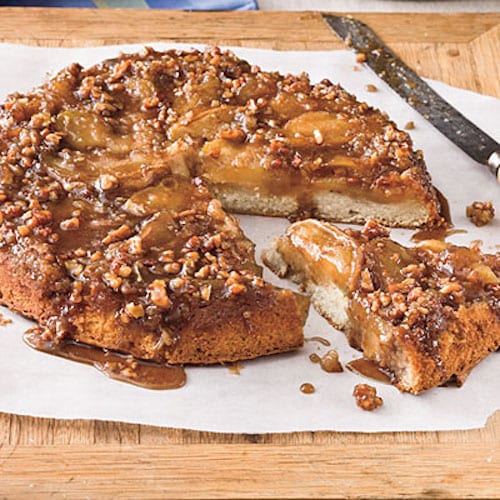 Photo: Jennifer Davick; Styling: Buffy Hargett
Caramel Apple Upside-Down Cake
Save this version for a perfect fall cake. Brown sugar, slightly crunchy pecans, and apples top off this spiced cake. Once baked and un-molded it is a gooey dessert that needs no additional toppings, just devour! Get the recipe here.
http://brendanbakes.co.uk/
Lemon Upside-Down cake
Lemon, honey, and ginger can be warmed to soothe a sickness, but it can also be baked together to beautifully soothe a sweet tooth craving. Tart lemons and honey caramel make a great team with an extra crunch of almonds. Get the recipe here.
http://www.nutmegsseven.co.uk/
Spiced Blueberry Upside-Down Cake with Elderflower
The blueberries bake right into this cake and become soft little purple pockets of goodness. Hints of floral elderflower and nutty almonds peek through this cake and we think it would be even more splendid with a hint of cinnamon or cardamom. Get the recipe here.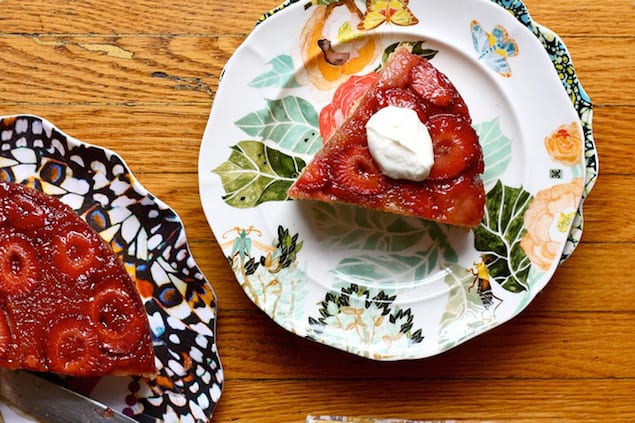 http://joythebaker.com
Strawberry and Cardamom Upside-Down Cake
Summer's strawberries that are not quite ripe or bruised beyond enjoying raw are calling to be included in your baking plans. This sweet cake with a touch of cardamom can be served with a tart scoop of sour cream. Get the recipe here.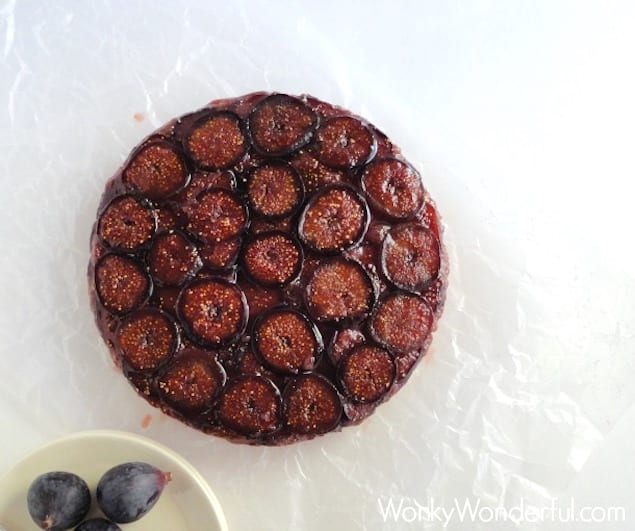 http://wonkywonderful.com
See Also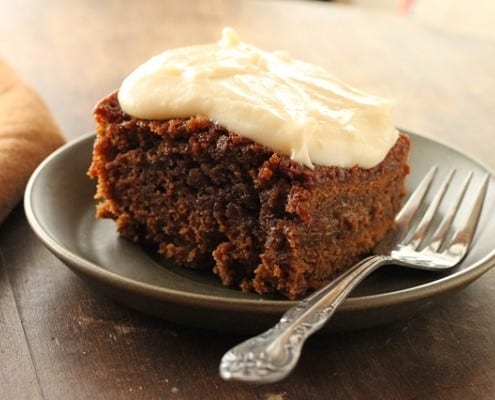 Fig Upside-Down Cake
A soft buttermilk cake is bake on top of two sweet layers of figs. The figs swim and bake in a decadent honey, brown sugar, and butter syrup. Get the recipe here.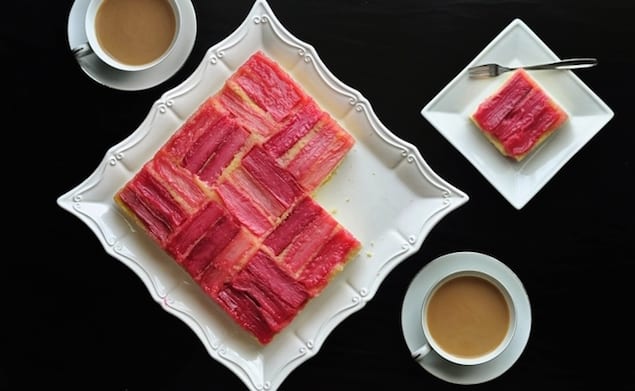 www.10thkitchen.com
Rhubarb and Bourbon Upside-Down Cake
Create a stunning pattern with linear, vibrant rhubarb stalks. Sugary, boozy rhubarb is baked to perfection with a simple golden cake with just a touch more bourbon, too. Get the recipe here.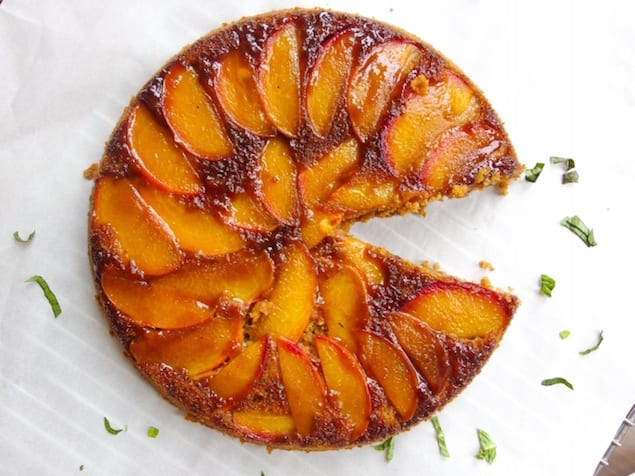 http://yupitsvegan.com
Vegan Peach or Nectarine Upside-Down Cake
A spelt cake with a healthy dose of ginger brings beautiful pairing flavor to stone fruits. We immediately thought of adding some cornmeal to the mix for great texture too. Try this cake using coconut oil and almond milk for those that can't do diary. Get the recipe here.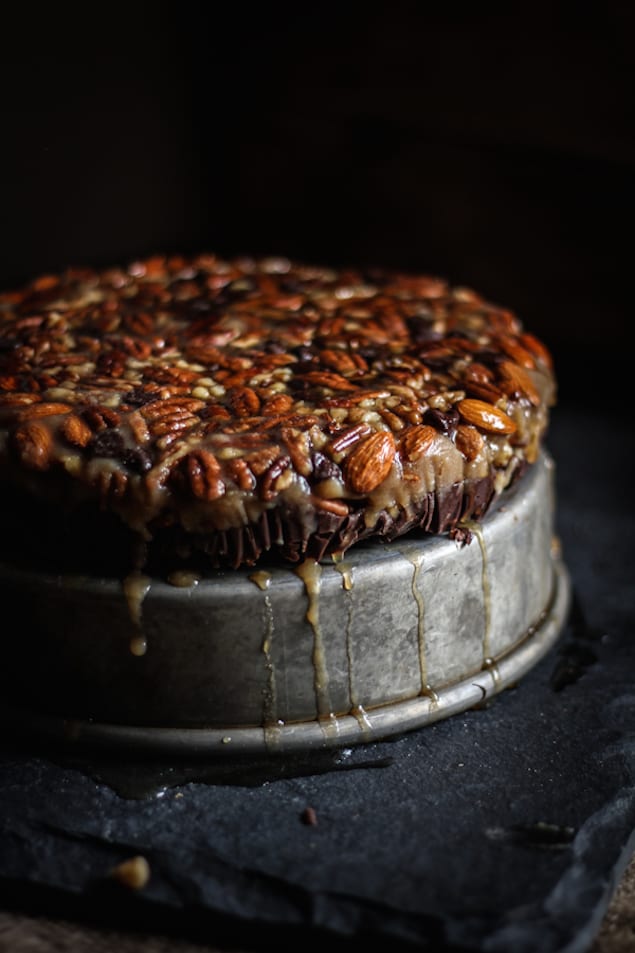 www.adventures-in-cooking.com
Turtle Upside-Down Cake
This cake is more like candy or fudge. The first layer that goes into the pan is a mixture of nuts and chocolate chips. Then comes a thick salted caramel and finally a thick layer of ganache before it is all set in the fridge. What emerges is a cross between candy, fudge, and a rich, flourless chocolate cake. Let soften a touch before serving. Get the recipe here.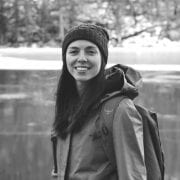 Annelise McAuliffe
Mandatory family outings to the Detroit farmers' market and nightly home-cooked meals cultivated Annelise's respect and curiosity for food. A graduate of The Culinary Institute of America, she spends her free time in New York City recipe testing, eating breakfast all day, and dreaming up international culinary adventures.