For breakfast or lunch, this protein packed bowl complete with salmon and egg with keep you full with flavorful olives, feta, and micro greens.
By Carlene Thomas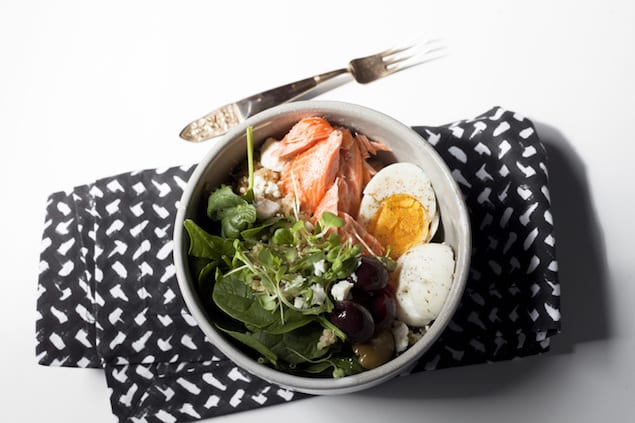 This recipe is a game changer. You guys loved my Mexican protein breakfast bowl with scrambled tofu and black beans so much I knew I had to make some other versions! This "Mediterranean" (very loosely…just go with it) protein bowl will keep you happy and full for hours. I made this for our weekend lunch amidst the husband building a huge built in wall shelving unit for my food props, painting color swatches on our plaster walls and spring cleaning/switching out our wardrobes for the new season. This kept us fueled.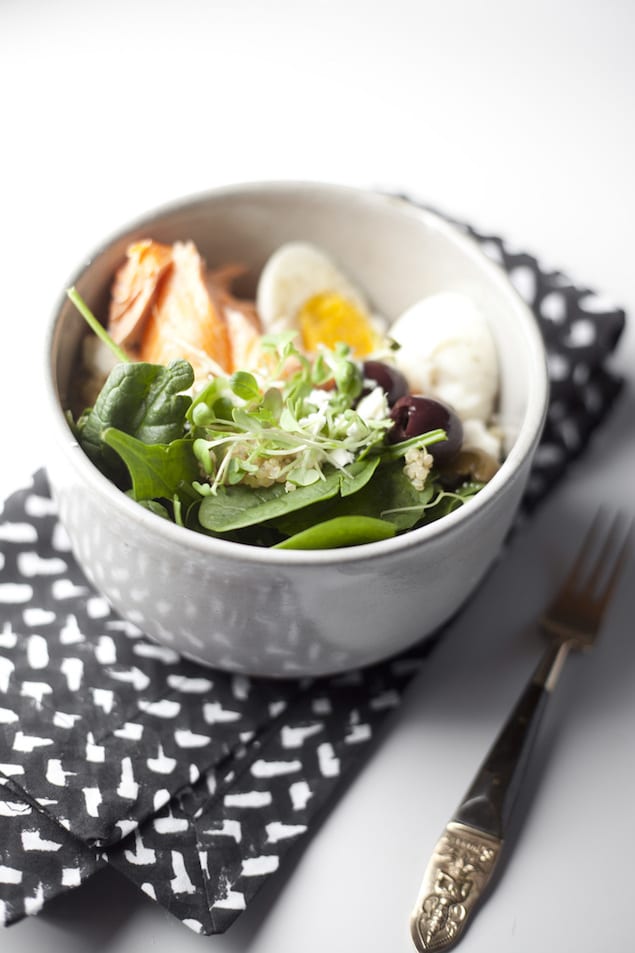 The secret to a good protein bowl is texture and color one one hand and nutrition balance on the other. Micro greens seem totally unnecessary in this recipe, but they make it. This bowl needs a little bit of light crisp that the spinach can't give. AND it also gives a dose of minerals which most of us are majorly lacking. The quinoa is protein and carb fuel in a healthy way. It provides something fluffy to mix every ingredient with. And then let's talk about the good stuff: the salmon, the hard boiled egg, the kalamata olives and feta cheese. Healthy fats, beauty booster foods and protein galore.
See Also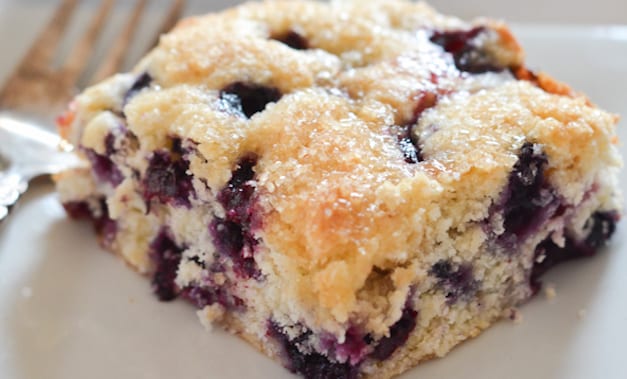 The best part? Basically all of this can be made before and you can have ALL the ingredients ready to go for a few mornings. Bake the salmon the night before, hard boil some eggs and whip up some quinoa! Just remember, you can't make fish on Sunday and eat it on Thursday safely. Those are dangerous waters.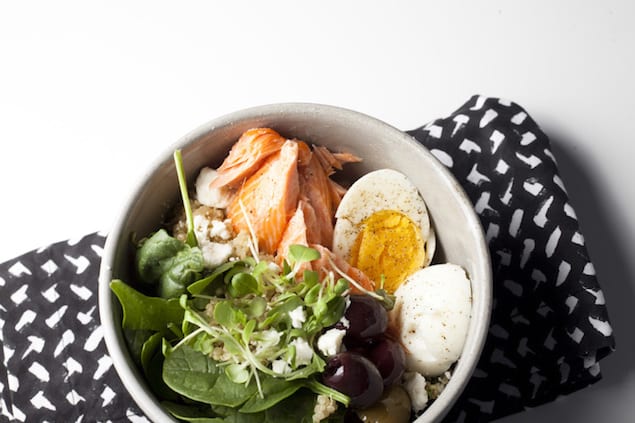 The Mediterranean Quinoa Salad Bowl
For breakfast or lunch, this protein packed bow complete with salmon and egg with keep you full with flavorful olives, feta, and micro greens.
Recipe Type:
Main, Breakfast, Lunch
Ingredients
1 cup Baby Spinach
a few inches of ½ inch thick Salmon, baked with salt, pepper and olive oil
3 kalamata olives, pitted
1 hard boiled egg
drizzle of olive oil (or use some of what the olives are packed in)
1 T feta cheese
2 T micro greens
½ C quinoa, cooked
squeeze of lemon
Instructions
To make salmon, add salt and pepper and olive oil to the top of the fish and bake scale side down at 350 until the fish is flaky and no longer 'wet/translucent' on the inside (about 15 minutes). To check, take your fork and see if you can flake into the fish. Many recipes have you bake salmon in the 400 degree range, but this cooks it slow to keep it moist and will give you more time if you're a beginner to get it just right without rushing.
To compile the bowl and spinach and quinoa at the bottom in two halves. Top with the remaining ingredients and finish with a squeeze of lemon.