Almond Crusted Eggplant with Garlic-Paprika Aioli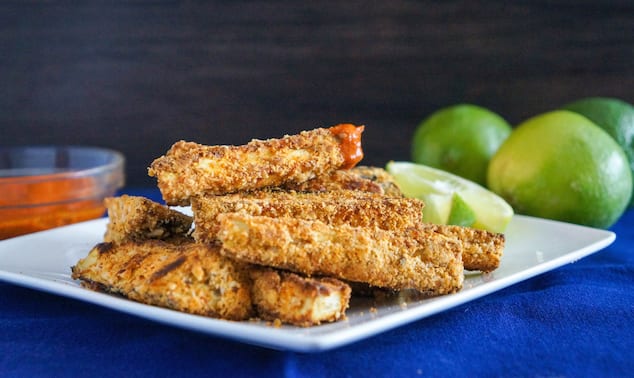 Similar to a crispy fry, this eggplant version uses crunchy almonds and a bold dipping sauce to satisfy your snacking cravings.
By Carolyng Gomes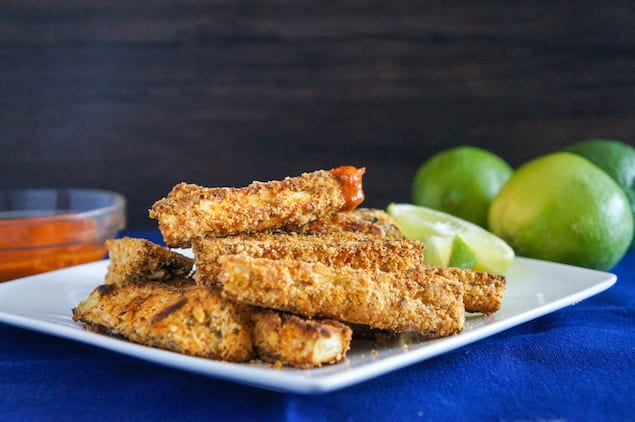 I had some major requirements for these "fries":
To make something I would enjoy when I was craving a fry.
To make something that I would like to eat besides or alongside fries, which means they would have to be just as satisfying even if they aren't the same.
To make something I wouldn't feel was a diet food, but just a tasty alternative with healthful ingredients.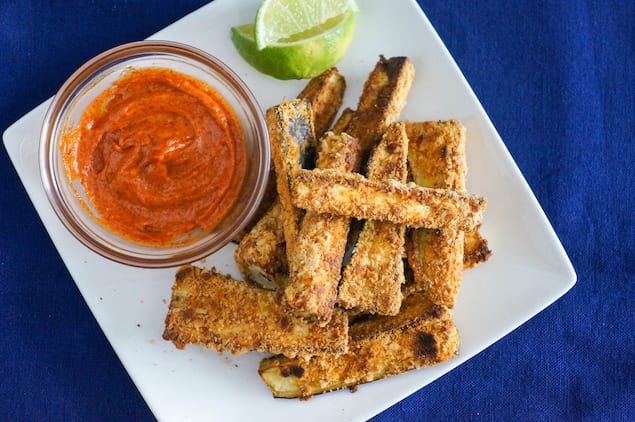 Ladies and gents, I've got to tell you, this recipe tears through my requirements and then some.
Enjoy them fresh from the oven, dip them in some smoked paprika garlic mayo, they are AWESOME.

Almond Crusted Eggplant with Garlic-Paprika Aioli
Similar to a crispy fry, this eggplant version uses crunchy almonds and a bold dipping sauce to satisfy your snacking cravings.
Recipe Type:
Appetizer, Snack, Side
Ingredients
Crispy Almond Crusted Eggplant
1 cup almond meal
1 tsp coriander, ground
1½ tsp paprika
½ tsp salt
1 egg
1 tbsp olive oil
1 medium eggplant, cut into fries ¼" inch thick
Garlic Paprika Mayo
2 tbsp garlic mayo
¾ tbsp smoked paprika
Instructions
Preheat oven to 450 F. Line baking sheet with aluminum foil, lightly grease and set aside.
In a small bowl combine almond meal, coriander, paprika and salt. In another small bowl whisk egg and olive until combined.
Using 1 slice of eggplant at a time, dip each side in egg wash, then in almond meal mixture and place on baking sheet. Repeat with remaining eggplant, ensuring fries are ¼ inch apart on baking sheet.
Transfer eggplant to oven and bake for 20 minutes, flipping midway.
Meanwhile, in a small bowl whisk garlic may and paprika. Set aside.
Serve eggplant fries hot with a side of garlic mayo and a few lime slices.
Carolyng Gomes
Carolyng loves to eat, loves to cook and loves to eat more. To her a recipe is more a list of suggestions, saving time doesn't mean sacrificing on flavor and when in doubt, a splash or two (well, a nice pour) of wine never hurts. Welcome to her Cocina Latina, where South American and Latin fusion dishes are always on the menu.