This recipe was originally developed for its penny-pinching properties but it has all the makings of an instant classic comfort food, regardless of your means.
By Yuliya Childers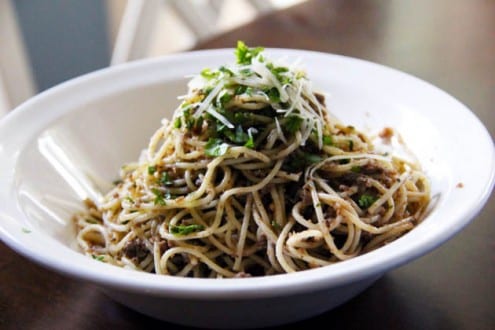 Growing up in USSR, pasta was a food for the people who couldn't afford anything else, it was the cheapest foodstuff you could find, besides the bread. I was surprised to find that in USA pasta is a staple food for the majority of the population, and is being consumed regularly. You see, my mom cooked pasta as a last resort, when we were out of anything else, and payday was not around the corner. She would buy vermicelli, which was a very thin spaghetti like pasta, clipped in short lengths. She would then fry lots of onions, mix them with minced boiled beef (a boring leftover from last night's dinner), and sent the whole thing through the meat grinder a few times to give it smooth texture. Then a generous portion of black pepper was added, and finally this meaty goodness was added to the vermicelli. If we were lucky to have leftover cheese, a small quantity of it was grated and added into the plates, but most of the time, we went cheeseless. And that was just fine with us.
Mom called this concoction Pasta Navy Style. Don't ask, I don't know why and how this name came about. Russian Wikipedia hints at the Italian origins of the dish, which came to Russia some time in the XVIII century, but this is not what's important here. We loved our Pasta Navy. It was ultimately un-fancy, but we loved it because it was a splendidly tasty meal made out of almost nothing — just pasta, onions and boiled meat — a beautiful manifestation of humility and taking care of the ever-hungry kids, and most importantly, making the best of the slimmest of means.
My perfectly American family loves Pasta Navy. I am lucky, because I can cook it on a whim and not because I have to; I am fortunate to be able to add fancy Parmesano Reggiano to it on any day of the week, regardless of when my pay day is; I am blessed to have thyme and basil readily available to flavor the meat. And for that I am grateful.
Print
Updated Pasta Navy
---
Author:

Yuliya Childers

Total Time:

40 mins

Yield:

6

-8

1

x
Description
This recipe was originally developed for its penny-pinching properties but it has all the makings of an instant classic comfort food, regardless of your means.
---
1

16 oz pack of vermicelli or thin spaghetti pasta

2

–

3

tbsp cooking fat, I used tallow

1

lbs ground beef

1

very large onion, preferably sweet variety, such as Vidalia, finely chopped
a few sprigs of thyme

1/2 tsp

ground black pepper

1 tsp

salt

1/2 tsp

paprika (optional)

1/2 tsp

dry basil leaves (optional)

2 oz

Parmesano Reggiano or similar hard well aged cheese, grated
fresh parsley to garnish
---
Instructions
Cook pasta according to instructions in lightly salted water with a few tbsp of olive oil added to prevent sticking. Drain and set aside.
While pasta is cooking, prepare the meat. Heat the cooking fat in a large skillet, over medium-high heat.
Add the finely chopped onion, and saute for a few minutes, until onion becomes translucent and very fragrant.
Add the ground meat, stir well to incorporate onions throughout, breaking the meat apart with a spatula.
Add thyme, salt and pepper, paprika and whatever herbs you desire.
Saute the meat over medium-high heat, until it's nicely browned and no longer juicy. We want an almost dry version here. It may take, depending on your onions and meat qualities, sometime between 10 and 15 minutes.
Taste the meat and adjust seasoning if necessary. Remove the thyme sprigs.
Transfer the cooked meat in a processor and mince until smooth.
Combine drained pasta, meat sauce, grated cheese and fresh chopped parsley in a pot where pasta was cooking. Mix very well, working the meat into the pasta. It will seem at first like combining them is impossible, but it will work, trust me. Add a tablespoon or two of olive oil if needed.
Prep Time:

10 mins

Cook Time:

30 mins

Category:

Main
Yuliya Childers
Yuliya Childers is a self-proclaimed cooking and writing addict born and raised in a cosmopolitan city of Odessa on the Black Sea coast. She started cooking at quite an early age and learned most of her skills by watching others and reading cook books. Made-from-scratch naturally grown food is her passion. Yuliya believes that truly good food either creates or invokes memories. Her blog Eat Already! is focused on everyday creative yet un-pretentious cooking that anyone with basic skill can replicate. Yuliya's recipes are usually accompanied by childhood memories or family stories related to the dish in some way. Her recipes are honest, eclectic, multi-cultural, imaginative, and often outside the box. Currently she's into artisan breads, traditional cooking, and everything fermented… Yuliya is cooking and writing about it from Alabama.