Pumpkin gets back to its savory roots in a one-dish dinner with roasted chicken drumsticks.
By Zerrin Gunaydin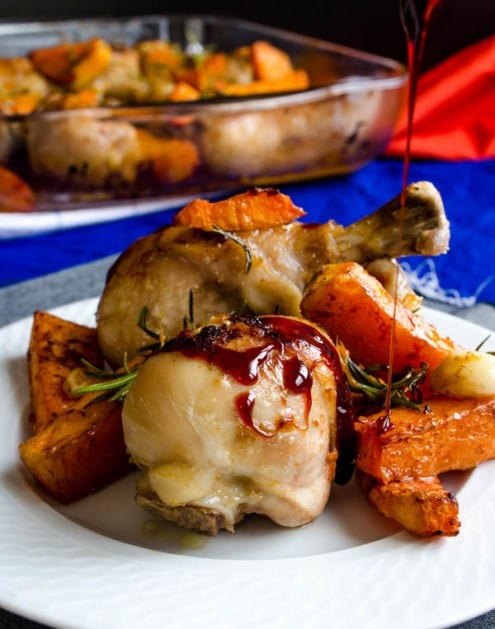 Roasted Chicken and Pumpkin
Pumpkin gets back to its savory roots in a one-dish dinner with roasted chicken drumsticks.
Ingredients
8 chicken drumsticks
½ cup water
500g pumpkin, peeled and cut into finger size slices
¼ cup olive oil
8 cloves garlic
A few sprigs rosemary
1 tsp pomegranate molasses
½ tsp salt
A pinch of ground black pepper
Instructions
Preheat oven to 200C.
Wash chicken drumsticks and place them in a non stick pan.
Pour ½ cup water into it, cover and cook over medium high heat until chicken releases water.
Bring it to medium low heat and keep cooking until tender.
Transfer them in a baking pan.
Pour that little stock in a bowl.
Heat half of the olive oil in the same pot.
Saute pumpkin slices in it for 5 minutes.
Transfer them in the baking pan.
Toss in rosemary leaves and garlic cloves.
Sprinkle salt and black pepper on them.
Heat rest of the olive oil in the pot and pour the stock into it.
Add in pomegranate molasses and cook until a little caramelized, about 5 minutes.
Drizzle it over chicken and pumpkin.
Cook in oven for 20 minutes until golden.
Serve hot.
Zerrin Gunaydin
Zerrin Gunaydin is a food blogger living in Turkey. She loves to share recipes mainly from Turkish cuisine on her blog Give Recipe. Zerrin is trying to inform people around the world about Turkish cuisine, which has a very large repertoire with its various kind of dishes.