Tippled Red Wine Linguine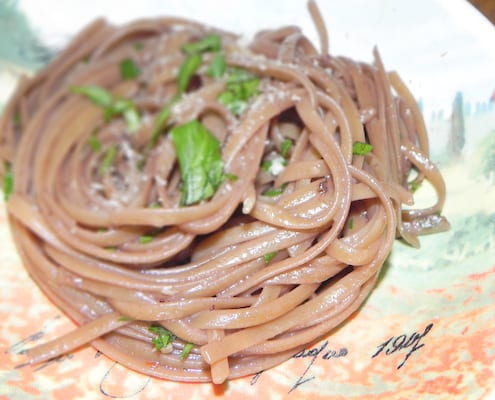 If you're seeking a way to infuse your Valentine's Day dinner with more romantic hues, this simple pasta dish will redden up your table right quick.
By Amanda Marsteller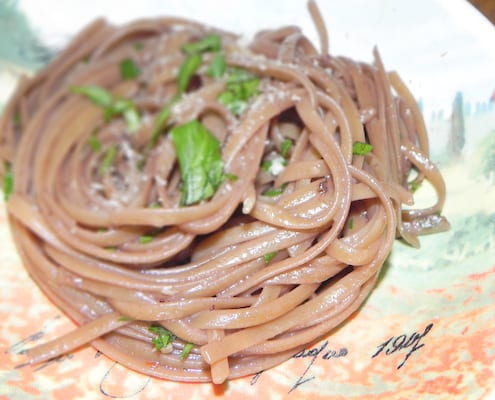 There isn't much that can't be improved by a tipple or two, especially when the drink in question is scarlet red wine. If you're seeking a way to infuse your Valentine's Day dinner with more romantic hues, this simple pasta dish will redden up your table right quick. Most importantly, you'll still have wine left over for drinking out of a proper glass afterwards. I find that adding water to the cooking liquid mutes the red wine flavor, so if you can, boil the pasta in straight wine without diluting it. In addition, adding even more wine to the bacon and garlic helps continue that flavor in the pan sauce, as it would be a shame to let all that crimson quality slip away. The end result is a savory, slightly tangy and ultimately schnockered spin on celebratory linguine. Forks and bottoms up!

Tippled Red Wine Linguine
A Valentine-appropriate tipsy pasta entree, flavored by a bottle of red.
Author:
Amanda Marsteller
Ingredients
3 cups red wine plus ¼ cup
Salt
½ pound linguine
4 slices bacon
1 clove garlic, minced
Dash red chili flakes
¾ cup grated pecorino romano
2 tablespoons chopped parsley
Instructions
Salt the 3 cups of red wine and bring it to a boil in a pot.
Add in the linguine and cook to al dente.
Meanwhile, slice the bacon strips into lardons and fry them in a pan until crisp over medium heat.
Add in the garlic and saute for another minute.
Drain the pasta when it's finished cooking.
Add the extra ¼ cup of red wine to the bacon and garlic and turn up the heat until it simmers.
Add the cooked pasta to the pan along with red chili flakes and the pecorino romano, stirring to incorporate.
At the last minute, add in the chopped parsley and serve.
Amanda Marsteller
Amanda is an associate producer in food television and editor of mobile culinary apps. While new recipes and restaurants enrich her everyday eating, she finds a certain thrill in exploring the public library's historic menu collection and reveling in the dishes of days gone by. With the Brooklyn Bridge in view, she believes that her borough is one of the most exciting locales to experience food, in both the present and the past. She also pens a blog called The Choy Luck Club, in which she shares the bounty of community-supported agriculture.