Tim Raue was one of the first Michelin-star restaurants I experienced.
Let's say – Check-point Charlie, Brandenburg Gate, Tim Raue – a great experience in Germany. Although Tim Raue is known for his excellence and appreciation for Asian cuisine, Brasserie Colette, a toned-down French-style restaurant is one of Chef Raue's creations under his empire of restaurants.
With Tim Raue, once again making the top 50 in the World's Best Restaurant List ( if you believe and like the list!), Michelle Tchea's Chefs Collective shares  Tim Raue's Brasserie Colette Boeuf Bourguignon<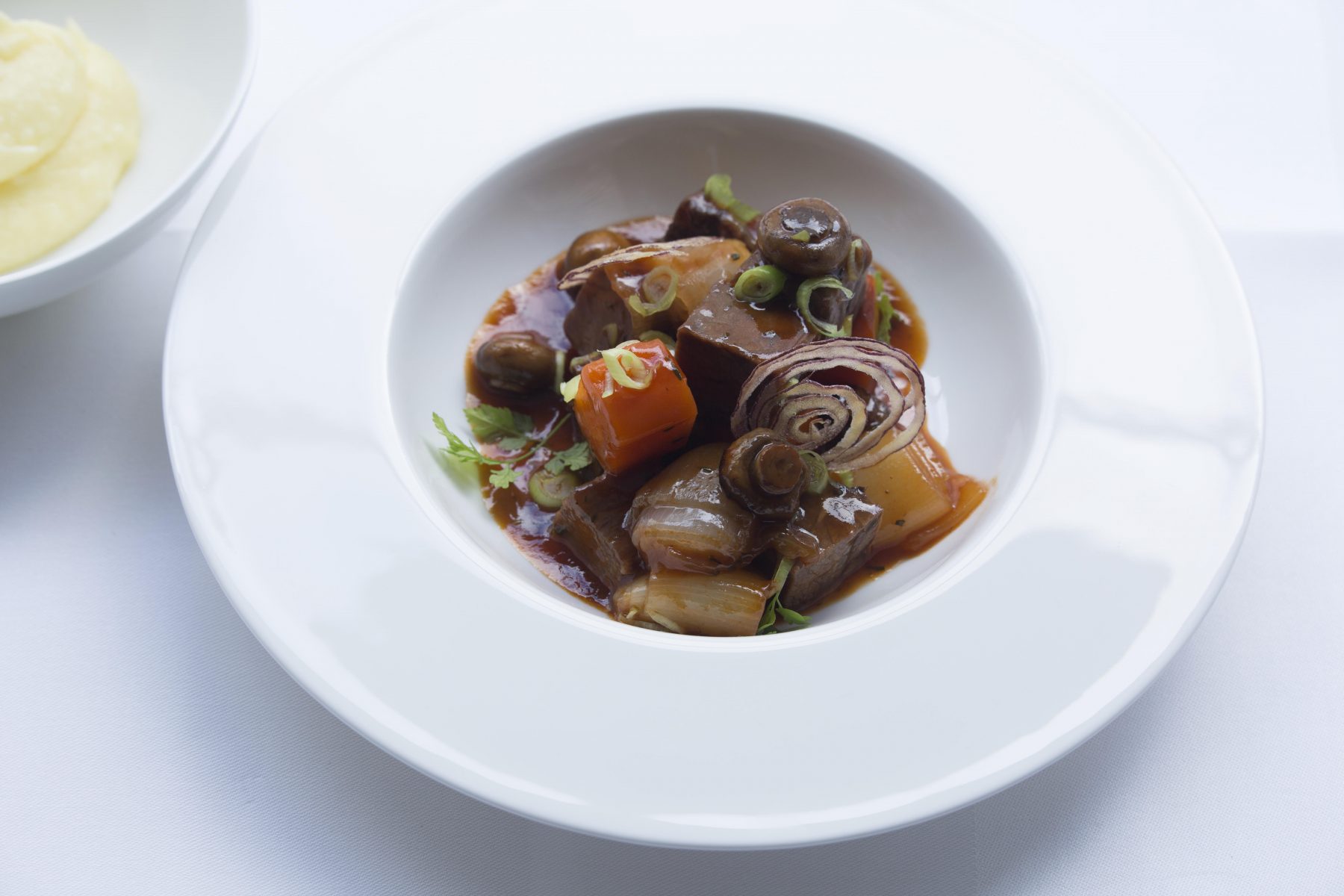 CREDIT – Photography Credit Jörg Lehmann
Ingredients: 
500ml beef stock
250ml red wine from Burgundy
Meat from ox cheeks
3 tablespoons tomato paste
100ml olive oil
3 cloves of garlic
thyme
rosemary
sea-salt
… sear the ox meat, garlic and tomato paste briefly in the olive oil, then add the beef stock
and the red wine, flavour with salt and herbs. Let it cook slowly for 10 minutes.
ox cheeks
4 pieces of ox cheeks
sea salt
… cut off excess fat from the ox cheeks. Sear the meat on high heat from every side. Add
the beef stock and put it in the oven – 90 °C for 6 hours.
Strain the stock through a sieve and thicken it with a little cornflour if necessary. Cut the meat in big cubes and put them back in the sauce.
VEGETABLES
8 small spring onions
2 medium sized carrots cut in approx. 2cm big pieces
16 small champignons
3 l rapeseed oil
1 laurel leaf
2 juniper berries
half teaspoon of entire white pepper
… boil the spring onions, carrots and mushrooms with the herbs in the rapeseed oil for 3
hours on 90°. Take them out of the fat, drain them and add them afterwards to the meat.
belly bacon
180g belly bacon
… cut the bacon in big cubes and add them afterwards together with the fat tot he meat.
serve:
Mix all Ingredients carefully and add olive oil, salt, pepper, thyme and rosemary.
DECORATIONS
2 laurel leafs cut in thin stripes
dried onion slices
Serve it with mashed potatoes!
Michelle Tchea
Michelle Tchea is a 4-time bestselling author. Her books include, Building a Perfect Meal, My Little SoHo Kitchen, Signature Dishes (Australia's Best) and Chefs Collective. Her work can be found in other leading luxury travel and food magazines including Travel+Leisure Asia, SMILE, NUVO Magazine and The Telegraph