This linguine baked pie comes right out of the oven crispy on top, oozing with cheese on the inside, and worthy of swirling around your fork.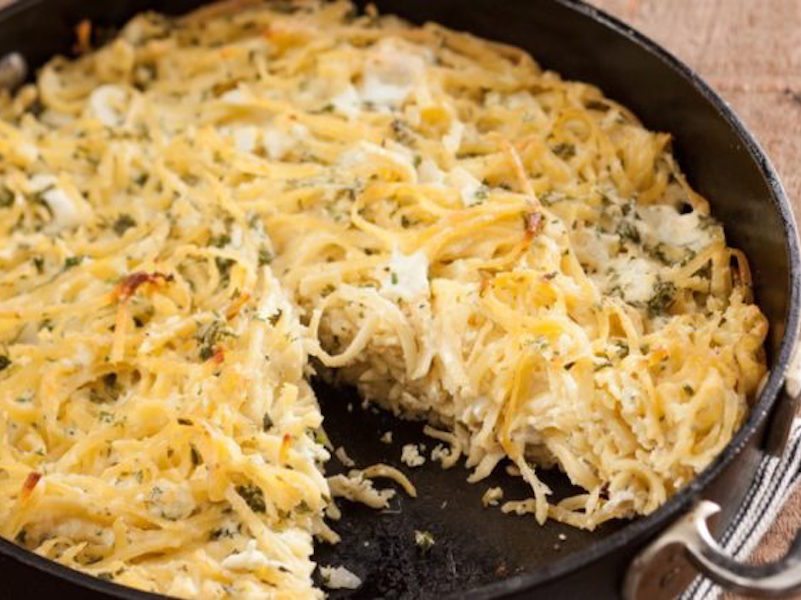 Mark Boughton Photography
Burrata cheese comes in tubs like fresh mozzarella. If you like, grate a little extra cheese—Parmigiano Reggiano, Pecorino or Provolone—and sprinkle on top of baked pie, along with a drizzle of extra-virgin olive oil.
This article was originally posted as, "Three-Cheese Linguine Pie" on Relish.

Three Cheese Linguine Baked Pie
Ingredients
1pound dry linguine, broken in half
¼cup (1/2 stick) butter
1 small white onion, diced
1 (8-ounce) tub burrata cheese, chopped
2cups whole-milk ricotta
1cup grated Parmigiano Reggiano
1cup chopped parsley
3tablespoons chopped chives
2 eggs
1teaspoon freshly ground black pepper
Instructions
Preheat oven to 350F. Butter a 2-quart baking dish or deep 9-inch ovenproof skillet.
Cook pasta according to package directions until al dente. Drain and place pasta in a large bowl. Toss with butter and let cool to almost room temperature.
Add remaining ingredients, except pepper. Stir well. Place in prepared pan. Bake about 20 minutes, until golden brown. Pie will be crispy on the outside and soft on the inside. Remove from oven and sprinkle pepper on top.
Let rest about 30 minutes and then cut into wedges to serve.