The Perfect Breakfast – Egg Omelette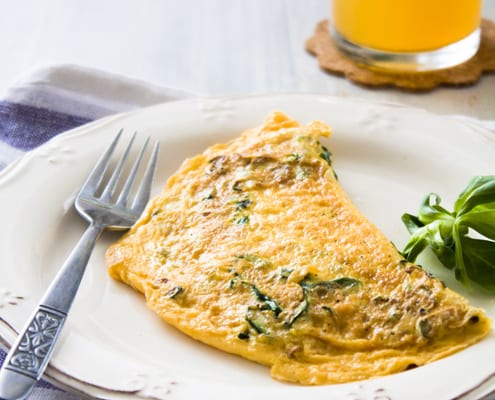 Being very versatile and quick to prepare, this protein packed food is a perfect way to start your day.
By Tamara Novakoviç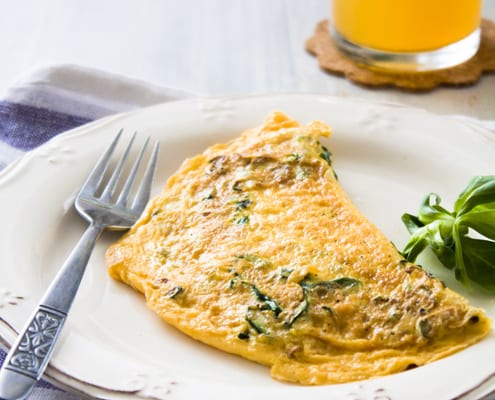 Eggs are one of my personal breakfast favorites. Being very versatile and quick to prepare, this protein packed food is a perfect way to start your day.
Egg omelette is very simple and easy, and which ingredients you'll pair with eggs is completely up to you. I went with seasonal spinach and added some zucchini and cheese.

The Perfect Breakfast - Egg Omelette
My favorite breakfast choice!
Ingredients
2 eggs
handful of spinach
½ large zucchini
salt
pepper
olive oil
some red pepper flakes
2 tbsp grated cheese
Instructions
Wash and shop zucchini into cubes. Heat them on olive oil, until they soften a bit. In the end, add washed spinach leaves.
Whisk eggs with spices and add to the skillet, on top of vegetables. Reduce heat to low and let it sit for a minute. Then add cheese and turn over your omelette half way. Bake for half a minute and remove from heat.
Serve immediately.
Tamara Novakoviç
Tamara Novakovic is a passionate self-taught cook, food blogger, freelance food writer and photographer behind bite-my-cake.blogspot.com. Her life journey has led her through Faculty of Humanities in Zagreb, Croatia to discovering passion for making cakes. She is currently a weekly food columnist for Croatian newspaper V magazine and food magazine Repete.