This year, Hannah Keyser had a Scottish twist on a traditional Thanksgiving dish.
By Hannah Keyser
For the past however many years I can remember, my immediate family has hosted Thanksgiving for my Dad's side. There are dozens of people in attendance; some years the total count is almost 60. But this year, we celebrated Thanksgiving a little differently. With my sister still living in Scotland and me spending the semester in London, my parents decided this was the perfect opportunity to escape having to host a small army of very hungry relatives and made plans for the whole family – Mom, Dad, sister, two brothers and I – to convene in Edinburgh.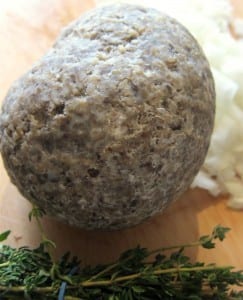 Now, as you may remember, I am an enthusiastic eater of Scotland's greatest epicurean contribution: haggis. And as such, fully supported my nearly nationalized sister's ambitious plans for a haggis-stuffed turkey.
The unprepared (raw? Is haggis sold raw?) haggis was grey and cold. It didn't look very good. It didn't even look edible. The recipe does not say to cook the haggis. Just mix it with the chopped onions, grated apples, breadcrumbs and whiskey and fill the turkey that had to be ordered months in advance here in a country where this is just another Thursday. We debated this point for a long time. The sausage in sausage stuffing is always precooked, so is the bacon in bacon stuffing. But four hours in a turkey in the oven seems like plenty of time to cook a few hundred grams of meat and we were eager follow the recipe as closely as possible. We put the un-fried-haggis-stuffed turkey in the oven and set about on the many side dishes.
Four hours later, the turkey w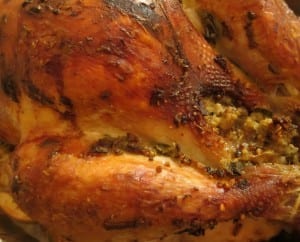 as beautiful. The mustard-base rub had cooked into a crispy crust on perfectly-browned skin. Before we could convince my Dad to carve into it, the smell and the hunger and the curiosity drove us to start sampling the stuffing. And it was…not very good. The breadcrumbs this recipe called for could not sufficiently replace the chunks of cornbread that ought to serve as the substance in stuffing. The whiskey was not just overpowering in flavor – each spoonful felt like a shot going down – but also in ratio, leaving a liquidy mess.
My sister's British boyfriend professed to enjoy it, but I suspect he was exaggerating out of a sense of misplaced nationalism.
We gorged ourselves on the far-too-many other dishes we had prepared and called the night a success. The following morning as we pulled out Tupperware after Tupperware, I was struck with a stroke of culinary brilliance. I liked haggis because it indulged my nostalgia for scrapple and despite the protests from the more authentically European in our group, why not fry it up for breakfast like any American might do with a congealed mass of meat scraps?
A Scottish twist on a traditional Thanksgiving dish.
Author:
adapted from Delicious Magazine
Ingredients
25g butter, plus extra for greasing
1 tbsp olive oil
1 onion, finely chopped
1 good-quality haggis (about 450g), split, insides chopped, skin discarded
75g fresh breadcrumbs
1 apple, peeled, cored and grated
2 tbsp chopped fresh sage
50ml whisky
1 large free-range egg
Instructions
In a frying pan, melt the butter with the olive oil and gently fry the onion over a low heat for 5 minutes until softened. Tip into a bowl and allow to cool before mixing in the remaining ingredients. Season well and set aside.
Preheat the oven to 190°C. With your fingers, fill the neck pocket with half the stuffing – carefully ease the skin away from the breast to fit in more stuffing. Spoon the rest into a buttered ovenproof dish.
Cook in your turkey at20 minutes per kg, plus 90 minutes.
The stuffing still lacked the structural integrity to yield a fried meat patty of sorts, rather it crumbled a bit as the mix browned. But it crisped up, lost some of the alcoholic strength, and was reborn as the centerpiece of a delicious breakfast sandwich.