Beef Wellington is a classic English dish, named after the Duke of Wellington and comprised of a tenderloin filet of beef covered in duxelles and wrapped in puff pastry.
By Ruby Moukli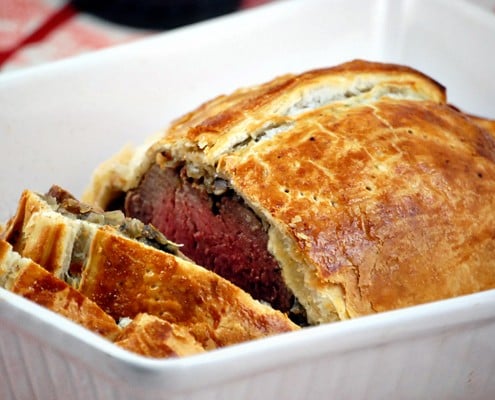 In Britain, turkeys are for Christmas. But when hubby and I first got married, and were establishing new traditions of our own, I decided that repeating a turkey dinner for Christmas, when we'd just digested the Thanksgiving bird, was too much.
You may ask what I did for Christmas before moving here, and that would be a good question. I can't remember, and there was certainly no set tradition. I think each year was different – often turkey again, sometimes roast beef or even baked salmon. The Christmases I spent in Provence were epic affairs and included a luxurious variety of seafoods. Something I look forward to experiencing again one day, but not anything I could hope to reproduce annually.
Finally, after sniffing around for something that was manageable but still special, I settled on Beef Wellington. If you're looking for a dinner party menu (for any occasion) that has the 'wow' factor but won't leave you exhausted on the kitchen floor, look no further.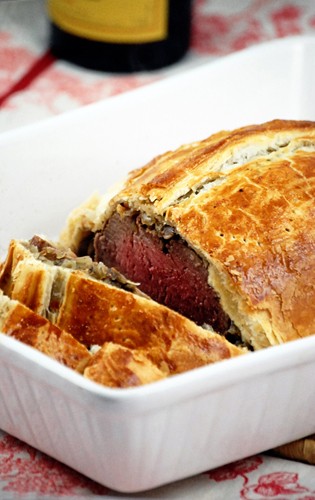 Beef Wellington is a classic English dish, some say named after the Duke of Wellington, that is comprised of a tenderloin filet of beef covered in duxelles (sautéed mushroom and onions) and wrapped in puff pastry. (Pâté is sometimes added to the duxelles, but not in my version.) It is impressive enough to be festive, yet easy enough to be stress-free on what is already a busy day.
See Also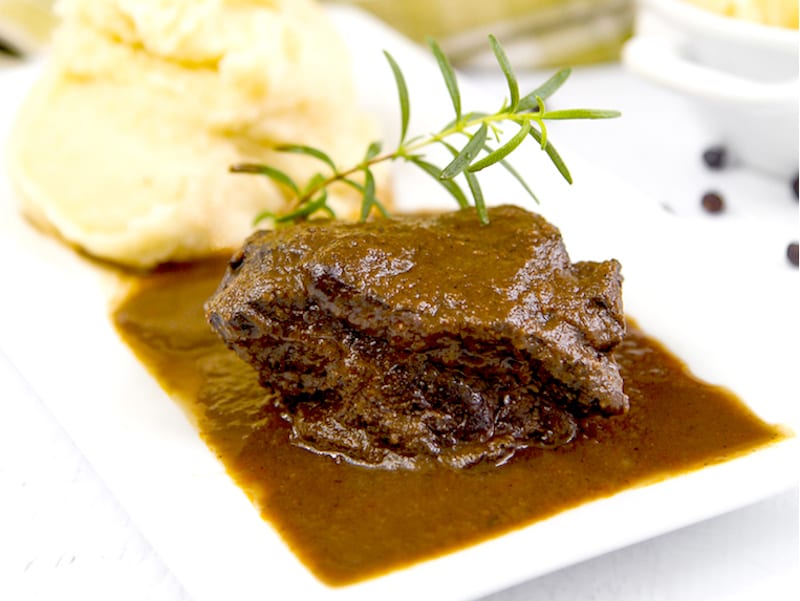 I don't crowd the Wellington with lots of side dishes. Since there's a good portion of pastry in each slice, I don't do potatoes or any other starch. For a while I actually struggled to find something that went well with this, since hubby and kids don't care for Brussel sprouts, which are another British Christmas tradition. I finally settled on balsamic roasted green beans and carrots. Simple, easy and everyone likes them. And sticking to just two dishes helps ensure we still have room for the all-important Christmas pudding!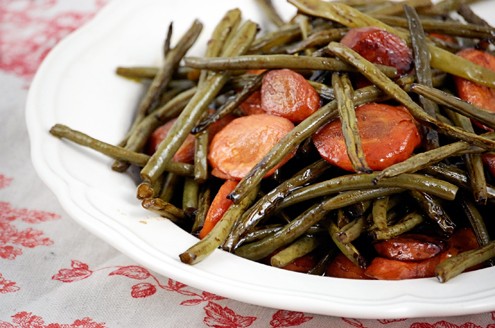 The following recipe is for the entire dinner pictured above: Beef Wellington with Balsamic Roasted Green Beans and Carrots, along with gravy. It should even leave you with a bit of red wine to wash it all down (although having an extra bottle ready is always a good idea). Enjoy!
A Bite of Britain: Beef Wellington
Ingredients
Wellington:
750g (1lb 10 oz) thick beef tenderloin filet
1 onion, chopped finely
175g (6oz) chestnut mushrooms, chopped finely
350g (12oz) puff pastry
1 egg, beaten
3 Tbsp butter
2 Tbsp vegetable oil
2 cloves garlic, minced
Handful fresh parsley, chopped
Good pinch of thyme (fresh or dried)
½ cup dry sherry (optional)
1 flour tortilla or crêpe (optional - you can skip this or use a piece of sliced bread)
Salt/pepper to season
Roasted Vegetables:
3-4 handfuls of fresh green beans, washed and trimmed
3 medium carrots, peeled and cut into ½ inch thick diagonal slices
2 Tbsp olive oil
2 Tbsp balsamic vinegar
Salt/pepper to season
Gravy:
2 Tbsp plain flour
1 bottle good red wine (something you'd like to drink with it - I used my favourite, Châteauneuf-du-Pape)
Salt/pepper to season
Instructions
Preheat oven to 220 C/425 F/Gas Mark 7.
Smear 2 Tbsp of the butter all over the filet, then season with salt and pepper.
Place in roasting tin uncovered and bake for 20 minutes.
Meanwhile, make the duxelles by heating the oil and the remaining Tbsp of butter in a large pan and sautéing garlic, onion and mushrooms until they begin to soften.
Add sherry (if using) a splash at a time and wait for it to cook out before adding more. Add in parsley and thyme and season. When it's all browned nicely (about 15-20 minutes), remove from heat and let cool.
When meat has baked for 20 minutes, remove from the oven, cover with tin foil and let cool.
Pour the juices out and set aside to make gravy later.
Roll out pastry until you have a rectangle large enough to wrap the meat in, with a bit of overlap. It will probably be less than 1cm thick and that's fine, just so long as it's not thin enough to tear.
Beat the egg and lightly brush the entire surface of the pastry with it.
Place the tortilla or crêpe (if using) in the middle, then spoon about ¾ of the duxelles over the surface, leaving a border of about 2 inches.
Place the beef in the middle and spoon the rest of the duxelles onto the top of it.
Wrap the sides of the pastry over the filet, just as you would a Xmas present. Pinch the edges together and use any remaining or excess pastry to patch up gaps or make decorative shapes if you like.
Pierce a few holes into the top and then brush the rest of the egg wash over the whole Wellington.
Place back in the roasting tin, on a wire rack if possible, to help guard against 'soggy bottom syndrome', and bake for 30 minutes. This gives medium-rare meat. Leave it another 10 minutes or so if you like your beef well done. Check frequently and if it's starting to brown early, cover with foil.
While the meat is roasting, put the beans and carrots in an ovenproof dish and toss (using your hands is easiest) with the olive oil, balsamic vinegar and salt/pepper. Set aside.
Remove the Wellington from the oven and let rest for about 10-15 minutes before slicing into thick (1½ inch) with a serrated knife.
While the meat is resting, put the vegetable dish in the oven and roast uncovered for 15 minutes, stirring once halfway through.
Meanwhile, make a gravy using the juices from the meat. Heat them up in a saucepan and whisk in the flour slowly. Add up to 2 cups of red wine and season to taste.
Serve along with the remaining wine.
Notes
1. To really make life easy, do steps 2-12 a day or two before and keep the Wellington in the fridge until you're ready to bake it, at which point start with step 1 and then skip to 13. 2. For a smaller group, try making individual Wellingtons for each of your guests. It's a bit more work, but people do love getting their own little package on a plate.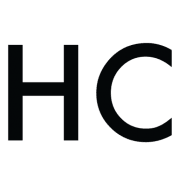 Ruby Rasa
Curious about her British mother's seemingly bizarre love of cheese & onion sandwiches, Ruby moved to England and discovered an island full of people eating them. She now lives among them, works as a freelance writer and photographer and yes, occasionally enjoys a good cheese & onion.