I thought I experienced authentic Spanish cuisine prior to dining at New York's Soccarat Restaurant, I was wrong. My false introduction to Spain's cuisine was in the form of Paella at a Cuban restaurant. First off, it's obvious authentic Spanish cuisine cannot be served at a Cuban restaurant. Yet I was unaware or too excited about the piping hot pot of rice of meats, seafood, and other ingredients. The paella was not authentic to Spain.
As in any country, authentic cuisine celebrates the simplicity, unpretentious, and beautifully ingredients of said country. For Spain, some of these ingredients include paprika, saffron, olives, meats, seafood, and rice. All important when preparing an authentic dish like paella. While these ingredients such as rice exist in other countries, they differ by country. Heck even by region and so does the cooking techniques. Using my first paella experience as an example. I remembered a deep pot of longer rice grains served on the table. Both qualifying my first paella experience as a fake.
In fact, Spain grows shorter grain rice and as a result, uses it for its paella. Paella activists say that the short-or medium-grain rice is best because it soaks up the most liquid and flavor. Whereas the pot rather the pan used for paella is shallow. "Paella", a Valencian word derived from the Latin term for "pan." Hence pans must be used and are wide and shallow. The width and shallowness allow the liquid to evaporate. Forming as much crispy golden crust or socarrat on the bottom as possible.
Although there are many paella variations (meat, seafood, etc.) they all must have this beautiful slightly burnt rice at the bottom. Like the "bun bun " of Trinidad's national rice dish pelau. A pelau sans a spoonful of bun bun is not pelau.
Leading me to my first real paella and Spanish cuisine experience at Chef Jesus Lolo Manso's Socarrat. Earning raving stars from multiple culinary critics like Eric Asimov author of the 2004 Times review on his restaurant La Nacional. For over 15 years he enlightened the palettes of many with Spain's humble cuisine like paella. While La Nacional is closed, he successfully opened three Soccarat restaurants. I had the pleasure of dining at Soccarat Chelsea.
Dining at Soccarat.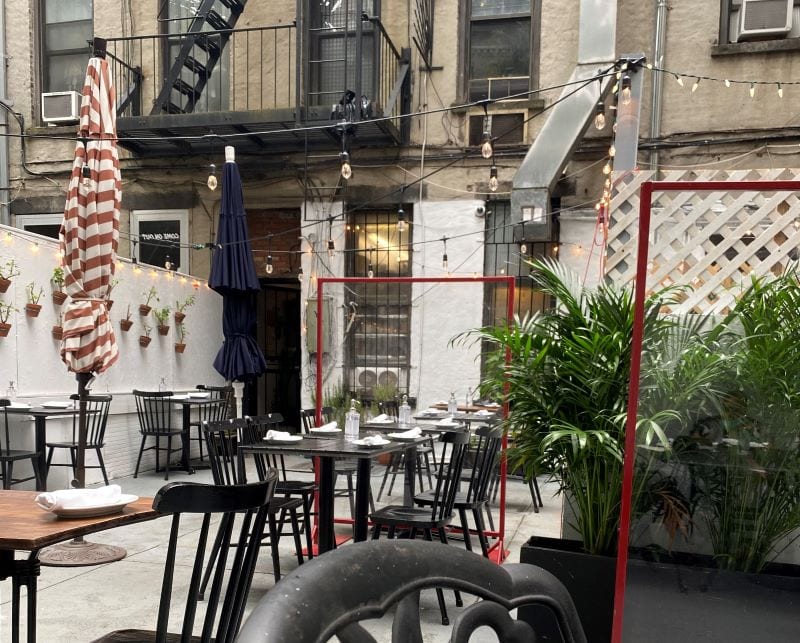 I want to disclose, I have a soft spot for any restaurant that has the ability to transport you to another place. Soccarat's ambiance has a charming romantic feel. My aunt ( guest of the night) and I sat on the Spanish style furniture in the outdoor patio at Soccarat's Chelsea location. Complimenting the cooling breezes of fall's approach, the sounds of soft Spanish guitar melodies were thrumming. Even before biting into the incredible food, we were smitten.
Warming up for the decadent paella we ordered other signature Spanish tapas (snacks and small plates). We started with Gambas al Ajillo; sizzling shrimp cooked in olive oil, minced garlic and Guindilla peppers. Pulpo a la Plancha (Seared Galician Style Octopus) and Calamar a La Plancha (Seared Squid) both seared to perfection, offering earthy smoky flavors representing Spain's unpretentious culture. Raptured by the warmth our starters we were ready for the golden star of the night; the Paella.
Soccarat's Golden Cuisine.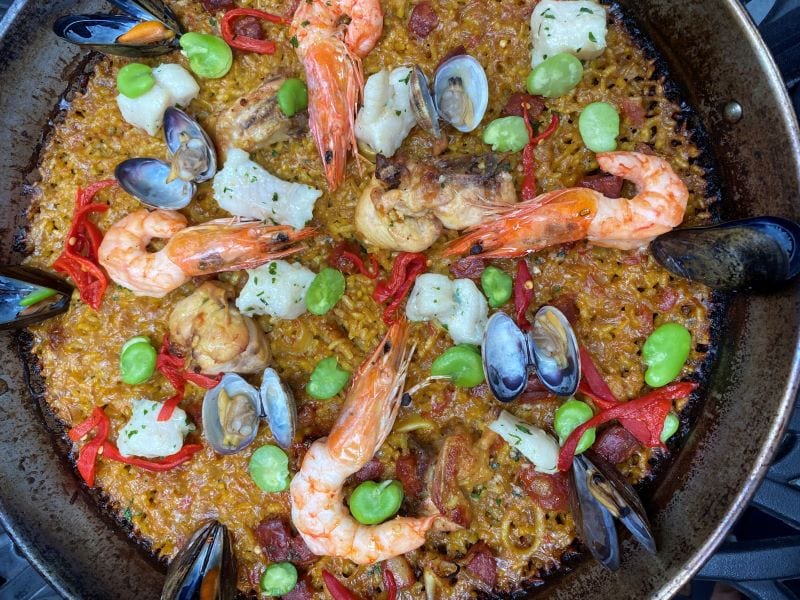 To note the first of its kind, Paella or Paella Valenciana has chicken, rabbit, and snails. Spiced with smoky sweet paprika and a few strands of golden saffron. "Authentic" Paella does not include the rabbit and snail. It uses traditional short cut free techniques, fresh ingredients, and passionate cooking like Chef Lolo's.
When the massive pan of golden-brown rice hit the table, my eyes lit up. The golden glow of the rice had chicken, chorizo, shrimp, white fish, squid, mussels, cockles, fava beans, peppers, tomato sofrito. I could hear crackles as the spoon scraped the socarrat from the bottom. I said in sotto voce this is incredible to my aunt and took a large spoonful, straight from the pan. The rice was the perfect combination of softness and chewiness, just as Chef Lolo described. I could taste the earthy flavor of the saffron, followed by the sweet and slightly smoky paprika. With every bite came a new texture and flavor, the savory taste of the meats, mild sweetness of peppers, and saltiness of the sea.
On my way home, I thought about the Cuban paella served in a pot. Tasting Soccarat's, I can't imagine eating the Cuban's version again.