There are crème brûlées that are delicious. And then there are crème brûlées that are genuine works of art.
The first mention of crème brûlée in a book was in France, in 1691. Thus, French claim its origin as well as English and Spanish do. This version, made in Saint Petersburg, Russia takes this traditional recipe to a new level.
If you know Russian culture, literature, poetry, and history then you quite easily can understand Igor Grishechkin's universe. But even if not, you cannot but help being amused by his cooking's playfulness, almost as telling fairy tales to a child.
Through creativity, he has set a clear culinary path by telling grand tales of Russia's history through his dishes. From the opulent era of the Tsars, over the Communist Soviet Union, to a tantalizing New Russian Cuisine partly shaped through the struggles of embargoes. Of a proud heart, he cooks the very soul of his home country.
This results in an experience that narrate stories of Russian yesteryear in the present, conjures the spirit of especially Saint Petersburg that delights your inner-child and only cooked with pristine products from the North-Western part of the world's largest country.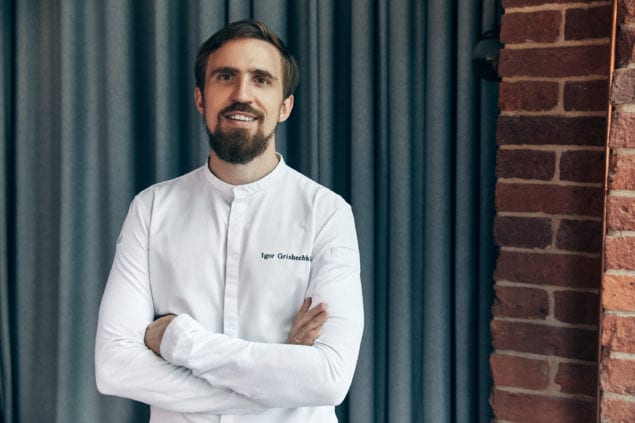 Igor Grishechkin's breakthrough came after moving to Saint Petersburg in 2012 when he took the helm at the famous CoCoCo restaurant; the brainchild of celebrity, style icon, global diner, and patron of the ballet, Matilda Shnurova. With a nymph-like elegance befitting the Silver Age of Russian poetry Matilda and Igor created Saint Petersburg's most fashionable restaurant.
Take Igor Grishechkin's Cameo Crème Brûlée – a stunning example of food art, mixing history and flavors. This iconic signature dessert will also be served on the tasting menu at the upcoming CoCoCouture to open at New Holland Island in the heart of Saint Petersburg, Autumn 2020.
Print

Cameo Crème Brûlée
---
---
Cameo
Crème brûlée
125

gr Creme

125

gr Milk

45

gr Sugar

3

un Egg yolks

2

gr Vanilla
Yogurt Jelly
750

gr Sour cream

30

gr Icing sugar

18

gr Gelatine

42

gr Lemon Juice

1

gr Xanthan
---
Instructions
Crème Brûlée
Boil cream with milk and vanilla
Bake it at 100 degrees for 25-35 minutes
Pour brown sugar and make caramel with a burner
Pour it into yolks with sugar, strain it and pour into 60g plates
Cameo
Soak gelatin in water
Mix sour cream with powdered sugar and lemon juice
Heat the gelatine so it becomes liquid and combine with sour cream mixture
Pour into molds, leave in the refrigerator for 1 hour and tthen freeze until it solidifies
Plating
Smear the surface of the crème brûlée with a paper napkin to collect moisture excess
Place de Cameo profile on top of the brûlée
Spray rose water
Category:

Dessert

Cuisine:

French-Inspired, Russian
Learn more about Cococo Group through their website and the story behind the opening of their three new restaurants in time of crisis, previously featured by Honest Cooking.
Natalia Bohórquez Rodríguez
Colombian based in Barcelona • Master in Marketing / Gastronomy • PR & Culinary Liaison • Food writer • @nataliabhqz