Enjoy unobstructed views of the Sea of Cortez from every room, an infinity pool with a swim-up bar, a saltwater pool, a rooftop bar with stunning sunsets, and an award winning restaurant at The Cape, a Thompson Hotel in Los Cabos.
If rainy winter months aren't working for you, hop on a short two-hour flight from Los Angeles to Los Cabos, Mexico, where It's summer year-round, an excellent antidote for seasonal depression.
Feel the cool ocean breeze, embrace the warm sunlight on your skin, and take in the beautiful Baja peninsula. Instead of the classic hacienda-style resorts, book something bold and modern like The Cape, a Thompson Hotel. From there, enjoy unobstructed views of the Sea of Cortez from every room, an infinity pool with a swim-up bar, a saltwater pool, a rooftop bar with stunning sunsets, and last but not least, look forward to award-winning chef Enrique Olvera's restaurant, Manta.
Mexico City's Javier Sánchez, Benedikt Fahlbusch, and Mexican interior designer Marisabel Gómez Vázquez are the creative force behind The Cape. Together, these talents blend a vibrant 1960s Baja-meets-Southern California vibe. Don't let the dark exterior fool you; the Cape's mid-century modern aesthetic, combined with its warm, beachside ambiance, encapsulates the pulsating Mexican spirit. 
Once checked in, walk through the lobby while taking in the panoramic view of the ocean kissing the sky and, of course, El Arco; it's a distinctive piece of granite in the shape of an arch, a Los Cabos landmark. Most rooms have a private terrace and a daybed, perfect for relaxing and enjoying the views. One of the features worth mentioning is the copper-leaf bathtub adjacent to your bed. The Cape wants you to have an ocean view at every moment. For those seeking luxury comforts, consider the signature Surfer Villa, a three-bedroom, two-story luxury suite with a private entrance, an outdoor grill, and a plunge pool, among other lavish amenities.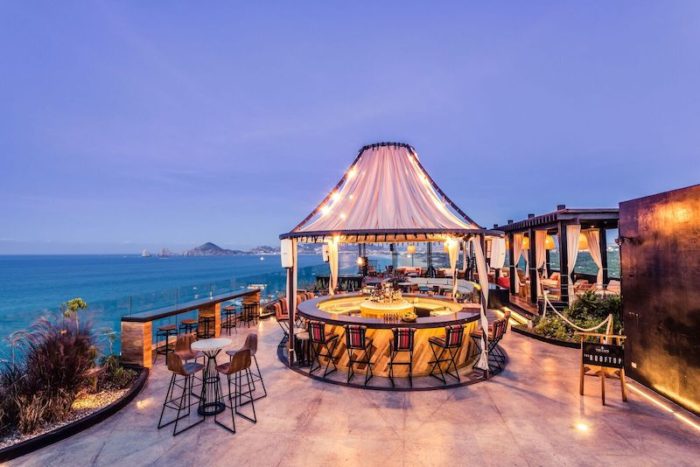 The Rooftop
For drinks before dinner, head over to The Rooftop. On the 6th floor, The Rooftop is surrounded by lush greenery, two chic open-air bars, fire pits, and views of the ocean and downtown Los Cabo. You'll find a stunning circular bar with a beautiful circus-like canopy roof as you walk. Sip on a hot & spicy margarita with tequila, chile ancho, and serrano pepper, and revel at the moment as you watch the colorful orange hues of the sun go down.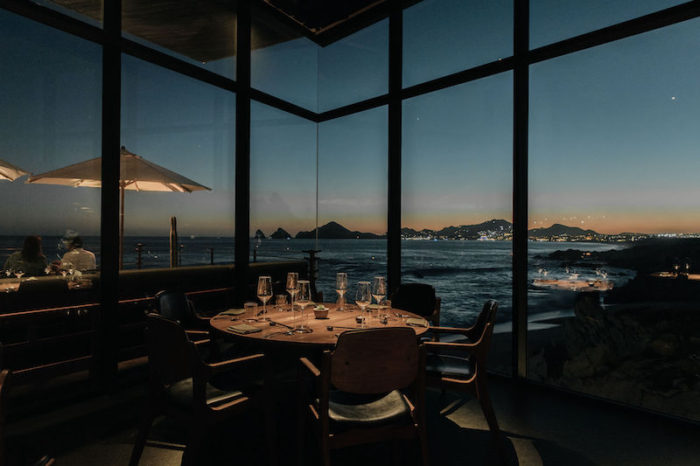 Manta 
For those who have not visited Enrique Olvera's three-star Michelin restaurant Pujol in Mexico City or his restaurant Damien in Downtown Los Angeles, Olvera is a culinary innovator of modern Mexican cuisine. So, making a reservation at Manta at The Cape is a must. The 114-seat restaurant exudes sophistication, starting with its large hand-crafted dark wooden door and dimly lit room with wood, leather, and dark stone textures accentuated with a wine wall. Then consider its five-course tasting menu. Well-thought-out dishes include beetroot with ginger and habanero, chocolate clams in leche de tigre and ginger oil, and chile-crusted ribeye and grilled fish.  But the shockingly good entree was the roasted sweet potato with almond mole. The sweetness from the sweet potato harmonized with the saltiness and bitterness of the almond mole, making it a masterpiece of culinary creativity.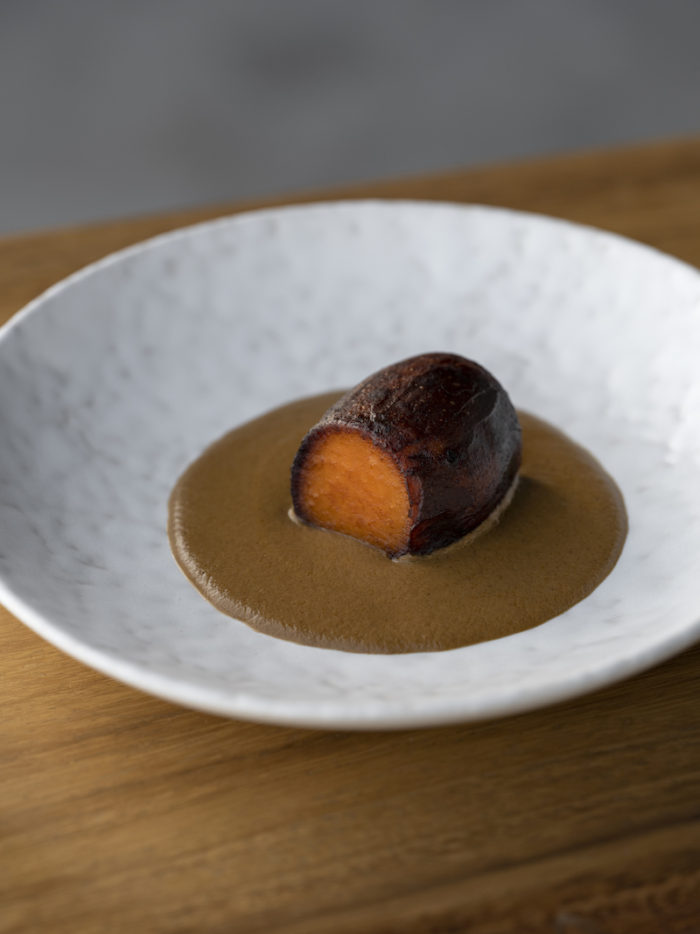 Currents Spa 
For maximum relaxation, make an appointment at Currents Spa. The dark, charcoal-gray walls of the spa and its minimalistic art help center you as you sip cucumber spa water.  Enjoy the steam room or sauna, or jump in the freezing cold plunge pool if you're brave. Or look out into the water, breathe in the ocean air, and unwind into a state of peacefulness. Celebrity trainer Modu Seye offers wellness classes in a workout room with panoramic wall-sized windows if you're looking for more wellness activities like HIIT (high-intensity interval training)  classes. Check the schedule for rooftop cycling, or arrive early for sunrise beach yoga. Or, if you want to be babied, go directly for a relaxing massage.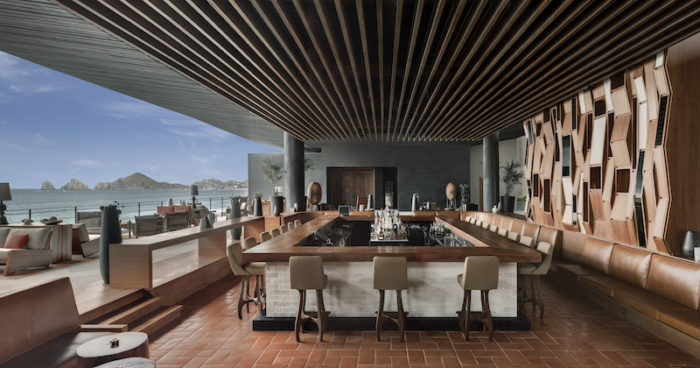 Sunken Bar
Sunken Bar is the casual lobby lounge that's sunken into the lobby floor. It makes you feel like you're sitting in a close friend's mid-century modern living room with Mexican rugs, wood accents, and bold furniture. Wake up early and grab a warm cappuccino and flakey pastry, or head over for lunch, where you can look forward to an incredible sushi menu. Order sashimi and smoked nigiri platters of fresh escolar (butterfish), king salmon, and hamachi. Have you dabbled in Mexican wines? Ask for a Valle de Guadalupe Chenin blanc or a sparkling rosé from San Miguel De Allende for a dry and crisp pairing to your melt-in-your-mouth sushi experience. For something more substantial, Sunken bar has an extensive selection of mezcal that won't disappoint. 
Sunset Sailing
For an unforgettable experience, ask the concierge to book a sunset sailing yacht around the Sea of Cortez. The gracious captain and staff start you with celebratory bubbles. Then you're off to sail among the turquoise waters passing the famous El Arco at the southern tip of the Baja peninsula. You'll see sea lions basking in the sun or sleeping in the water there. Make your way to the edge of the yacht, jump in, and snorkel, becoming one with the sea life.  Or,  if you're like me, you can easily watch all the action from the boat because the water's as clear as the day ahead.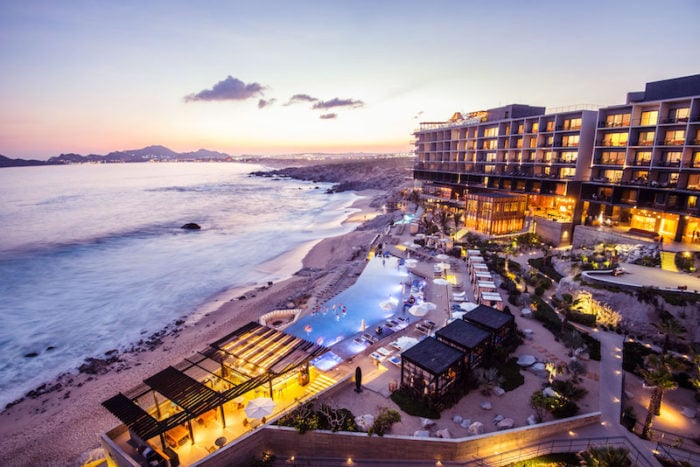 The Cape, A Thompson Hotel
Website
México 1 Km 5, Misiones del Cabo, 23455 Cabo San Lucas, B.C.S., Mexico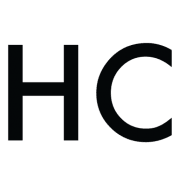 Keyla Vasconcellos
Keyla Vasconcellos is a passionate, freelance writer regarding all things food, lifestyle, and travel. She is usually searching the streets of Los Angeles for the next great bite, or she is shooting food photography for restaurant clients, or daydreaming about her next travel destination.