Standing proud in the foothills of the mighty Canadian Rockies is a hotel so iconic, so legendary that it is a tourist destination in itself. The Fairmont Chateau Lake Louise, one of the most famous hotels in the world, so uniquely in tune with its surroundings that it has become part of the natural scenery.
Clinging to the edge of the turquoise waters of Lake Louise, this once humble log cabin is now a castle-like marvel of luxury and refinement. With incredible views of the dramatic environment that surrounds it, there is a constant feeling of actually being in nature, even as you cruise down the warm and plush hallways of the hotel.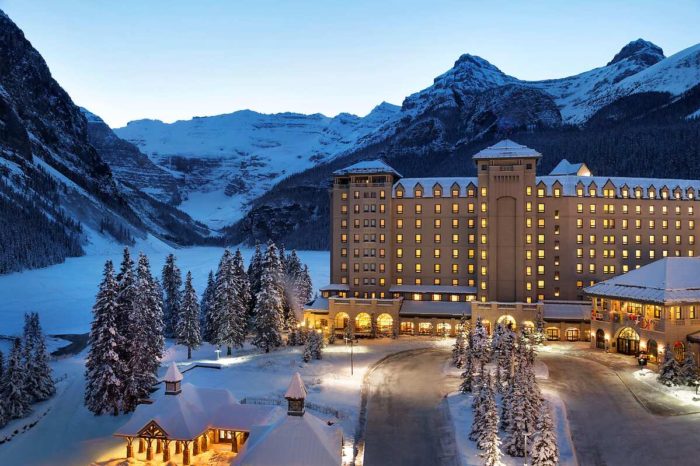 The open plan lobby spills into a massive lounge that overlooks the lake, and the scenery on the outside is matched by the ornate and dramatic design. Soaring ceilings, elegant furnishing, chandeliers and wooden details emphasize the historical importance of the place, while at the same time oozing old-world charm and refinement.
VIDEO: FAIRMONT LAKE LOUISE

Outside the windows, the natural world adds even more drama to the picture, the location is so stunning that it's sometimes impossible to choose between what beauty to focus on.
While any hotel of this stature and magnificence obviously has tons of amenities – ranging from spa treatments and an indoor pool, to shopping and outside activities like ice skating and snowshoeing – hungry travelers also have plenty of reasons to visit the chateau.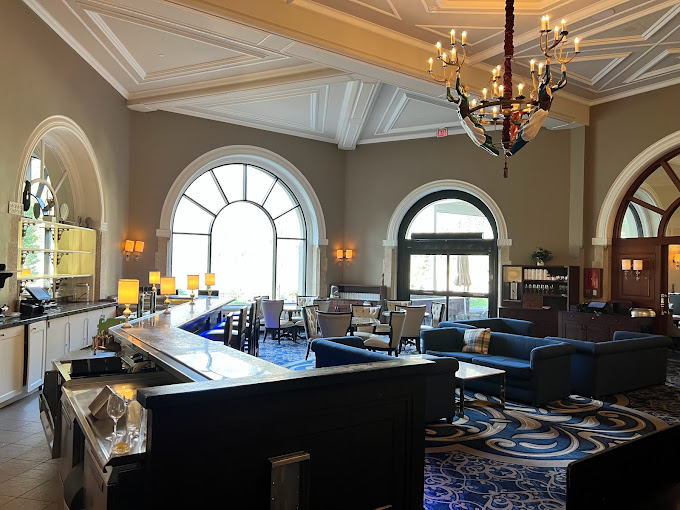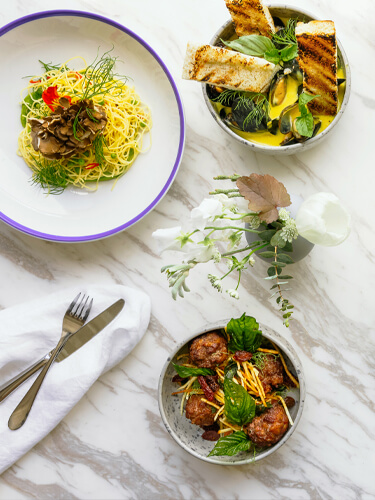 Starting with the grand Lakeview Lounge – with massive windows that frame the spectacular vista, this is your go to place for both lunch and dinner, serving upgraded hotel fare, ranging from seafood to pastas – all accompanied by an incredible view from each table. The lounge is also a great pitstop after skiing, grab a cocktail and a small bite before heading back to your room to get ready for the evening.
Menu favorites at Lakeview Lounge include the spinach and cheese tortellini served with jalapeno basil pesto, the seared scallop and prawn linguine, and the blackened sockeye salmon served with mint and skyr yogurt.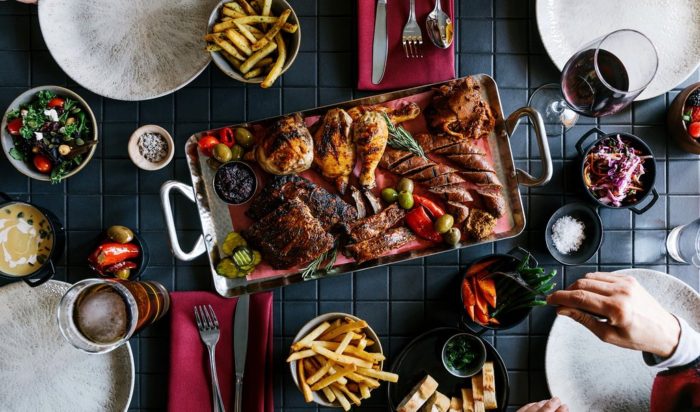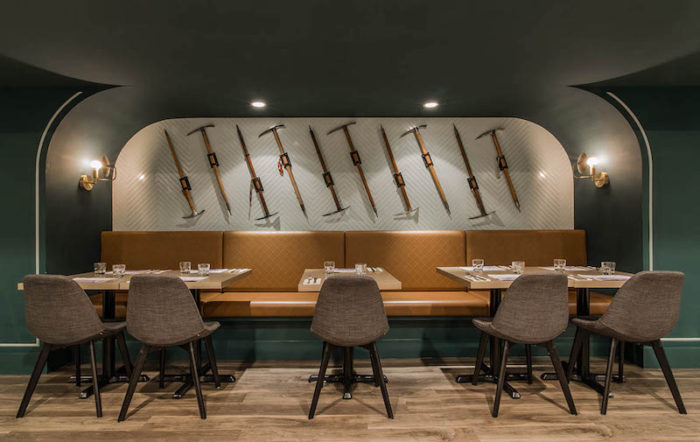 Next up is Alpine Social, a welcoming mountain pub that carries more than 40 types of bourbons and whiskeys, and serves up classic alpine comfort food in a modern environment. Among our favorites were the bratwurst sausage, served with Yukon mash and jus, the duck confit cassoulet and the Montreal smoked brisket sandwich, served with Saurkraut and gruyere cheese. It's big, it's bold, and it's damn delicious.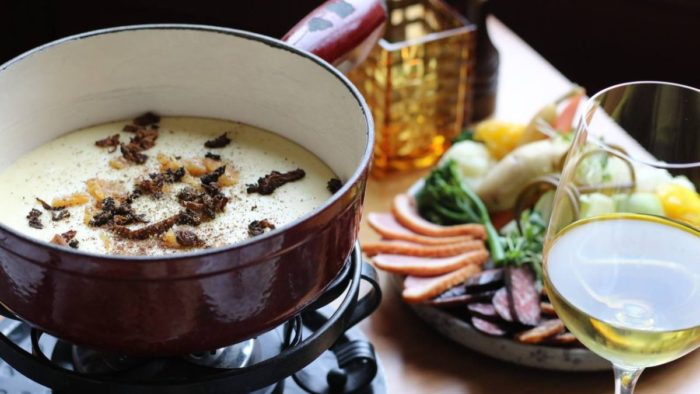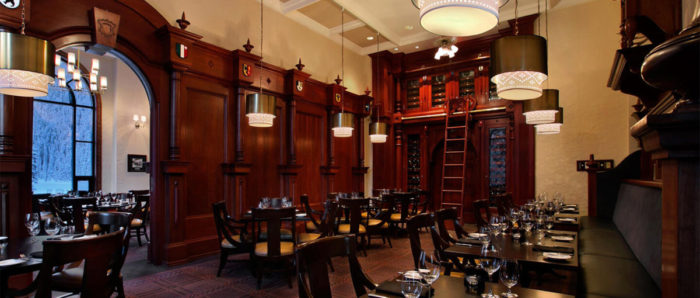 If the vibe at Alpine Social isn't quite mountainous enough for you, head over to the Walliser Stube, the hotel's signature restaurant and an experience in and of itself. This cozy Alpine-hut-like restaurant offers a uniquely romantic setting with wood paneled walls, booths and an ambience that has to be experienced. Here, you'll be feasting on true alpine classics – it's fondue time. The menu boasts both cheese and beef fondues – and yes, there's obviously a chocolate fondue to round things off in the best way possible. The Walliser Stube is a must visit at the Chateau, and we still dream of that pot of delicious, melted, simmering cheese.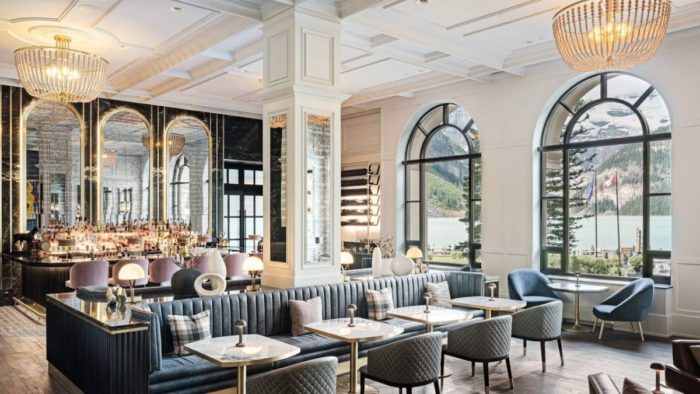 The most sophisticated restaurant at the Fairmont is the Fairview Bar and Restaurant. Adjacent to the Lakeview Lounge, it's more intimate, the interior invoking Gatsby, and the food a celebration of local produce and history. This is upscale dining, the food is vibrant, tasty and beautifully presented. Try the AAA Alberta steak tartare served with qual egg and parmesan aioli, the seared scallops with diablo butter sauce, and the bison ribeye, and you'll be going back to your room with a full belly and a smile on your face.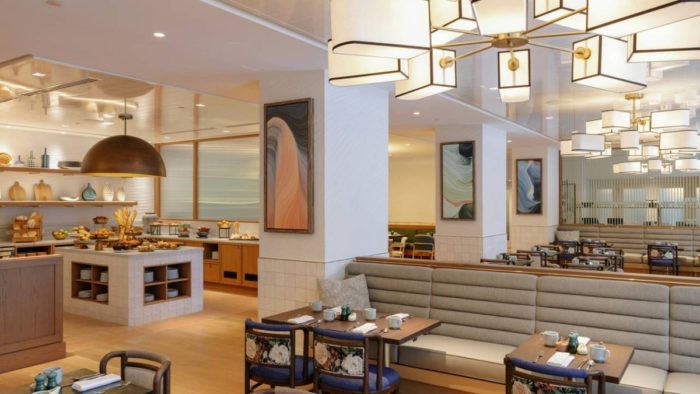 Restaurant Louiza boasts a Mediterranean inspired menu in an elegant dining space, and it is also the home of one of the best breakfasts in mountains anywhere. So much to choose from at the sprawling buffet, and you can even order small individual plates to accompany the luxurious spread. Can we have some more cinnamon buns please?
When you are done eating, you might be in the mood for some other activities, and the Fairmont Chateau Lake Louise has you covered in that area too.
The hotel provides its own adventure services such as guided hiking, horseback riding, and canoeing. After a day of exploring, guests can indulge in a treatment at the full-service spa or take a dip in the indoor pool with a view of the encircling mountains. For those who seek adventure, the surrounding area offers a wide range of outdoor activities, the prime of which is some of the best skiing in the world.
In every way, the Fairmont Chateau Lake Louise is a destination that is both luxurious and authentic, offering a true sense of place that is rare in today's world. It is a place where nature and elegance come together in perfect harmony, creating an experience that will stay with you long after you leave.
Fairmont Chateau Lake Louise
Website
111 Lake Louise Drive, Lake Louise
Alberta T0L 1E0
Canada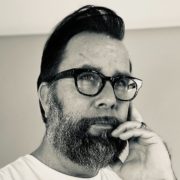 Kalle Bergman
Kalle Bergman is a food writer and media entrepreneur who is the founder of Honest Cooking and PAIR Magazine. As a food writer, his writing has been regularly featured in publications like Gourmet, Los Angeles Times, Huffington Post and Serious Eats. He is obsessed with simple food, more often than not from his native Scandinavia.