Whether you're seeking a hidden elevator entrance, a cocktail served in a planter, or a sophisticated art deco abode, speakeasy culture has kept NYC's cocktail landscape intriguing.
The good news is that there's no sign of it slowing down. With the resurgence of the modern-day speakeasy, new and innovative prohibition-inspired bar experiences continue to pop onto the scene. Here are three swanky new Manhattan bars worth having a clandestine drink in.
GG Tokyo
Hidden behind a heavy brown door inside a hotel alcove is the unassuming entrance to GG Tokyo. This dimly lit izakaya borrows elements from its namesake, Tokyo's Golden Gai district, to tastefully tap into art, music, and splendor. Inside, an endless brush stroke weaves a pattern along one wall while a colorful neon mermaid adorns the other. A carefully curated playlist featuring the likes of Kendrick and Biggie accent the trendy atmosphere. Warm hues of gold fill the energetic room, making it the perfect venue for a date night or a night out with friends.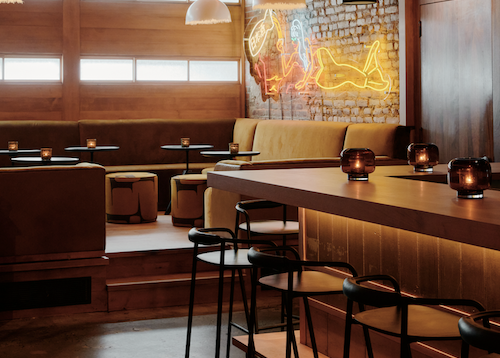 Designed with a Japanese twist, the drinks here will leave an impression. Try the Tomadachi, merging Casamigos, Ume plum liqueur, agave, butterfly pea flower, and furikake. The complementing menu is particularly ideal for cocktail hour or late-night bites. Featuring everything from fresh sashimi and tartare with fried capers to the traditional okonomiyaki, a Japanese pancake composed of ramen noodles and topped with mayo, apples, and tuna, its flakey movement will have you mesmerized.
Apotheke NoMad
Descending down a spiral staircase filled with hundreds of dried wildflowers and herbs, a pair of sage green velvet curtains part to unveil a basement speakeasy. And that's only one half: You may even get ushered into an elevator and emerge at their penthouse lounge. Apotheke Nomad's overall concept takes inspiration from old-world apothecaries and natural remedies. Whether you find yourself in the cellar speakeasy or the penthouse, the bars are lined with glass vessels holding bushels of herbs and ornate potions.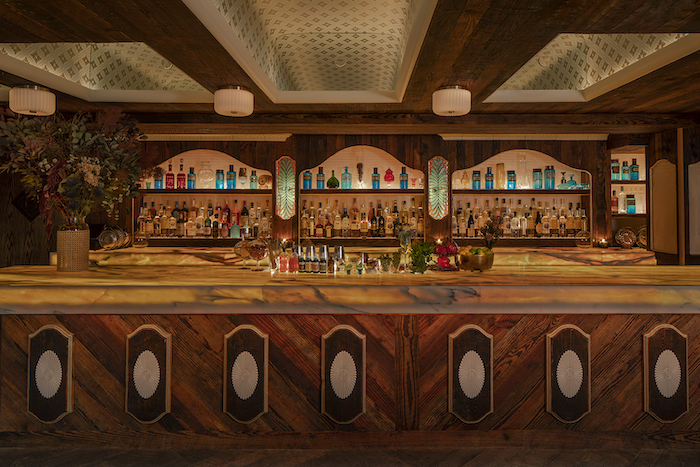 The apothecary-inspired cocktail menu is organized into desired impact, with categories like Aphrodisiacs, Euphoric Enhancers, and Stress Relievers. With an array of ingredients that hold restorative properties, libations here uniquely infuse herbs, roots, and botanicals, many of which are grown on-site.  If you're in the mood for a 'Euphoric Enhancer', Send the Light is sure to be an amusing option. This drink incorporates tequila, yellow chartreuse, papaya, celery, lime, habanero bitters, and seals each sip with Old Bay seasoning on the rim. For an unexpected but intriguing combination, take a bite of the celery garnish with each sip.
Madame George
Deep in the Valerie's underground space is Madame George, evoking a vintage feel. Teal velvet tufted seating and art deco influence the whimsical space, creating an intimate mood for late-night imbibing.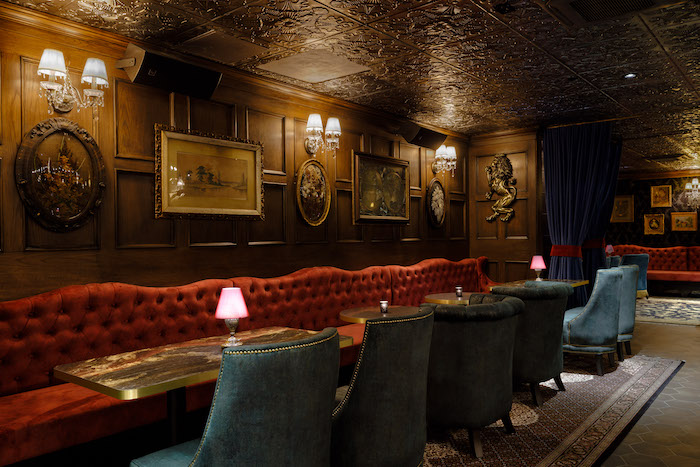 Madame George's extensive cocktail list is an ode to New York City, broken thematically with categories like Coney Island, Stalwarts of New York, and Subways. Celebrating the underground pulse of the city are cleverly named drinks like the Sunset Stoop and Pickpocket. If you're feeling adventurous, try the New York Bodega Sour, featuring a bacon washed Breuckelen 77 rye, lemon, maple, orange bitters, egg white, and everything bagel aroma, served in a quintessential NYC coffee cup. Each sip is sure to remind you of a new element of your local bodega. A rotating menu of delicious light bites from wagyu carpaccio to ahi tuna are also available for nibbling.