Originally from Stockholm, Fredrik Berselius is the talented chef behind the success of Aska, the only two Michelin-starred restaurant in Brooklyn. There, he realizes his dream of creating tasting menus that taste and feel like small chapters of his own personal story, one that combines his origin and his new home and that encapsulates his love for nature.
Over a decade ago, a young Fredrik Berselius created Aska, a fine dining restaurant where his goal was to cook tasting menus with meaning. Menus that tell his personal story as a whole but where each dish can also stand out for what it is. After opening his first location in 2012 and earning his first Michelin star, Berselius expanded his vision, changed partners and moved locations to then reopen in 2016 – and in only four months, he earned two Michelin stars and shortly after an outstanding three starred review by Pete Wells in The New York Times.
VIDEO: ASKA RESTAURANT IN BROOKLYN

Aska, Swedish for ashes, stands today as one of the quintessential Nordic restaurants in New York City and America. Everything happens in a restored 1860s warehouse hidden in the shadows of the Williamsburg Bridge. A blac dining room is the perfect frame for this experience where 14 dishes are served straight out of the open kitchen by the chefs themselves and where guests are taken on a journey through the natural landscapes of New York, the North East of the US, and Scandinavia.
From Sweden to the United States
The story of Fredrik Berselius' move to the U.S. can be summed up in one word: Curiosity. As a teenager, surrounded by Sweden's wild nature and relative tranquility, occasional summer trips to London to visit his sister, who, at the time, studied hotel management, gave Berselius his first experiences working in a kitchen, sparking his interest in gastronomy and planting a seed for the future.
"I never imagined that I might one day become a chef. My sister Michaela was my first introduction to the industry. When I was a teenager, she moved to London to study hospitality and had several close chef friends there who worked with legends like Alain Ducasse and Pierre Koffman. We all spent a lot of time together and I did a few kitchen stints while visiting. The whole experience opened my eyes to the industry in ways I had never considered before. I would listen to stories about cooking at that level and all the pressure and intensity that came with it – it was like putting on a performance every night. I found it fascinating and it planted a seed. Eventually I wanted to see something different from my Stockholm life, and since I had already spent time in London, I wanted to explore New York. During my visit I ended up becoming a model by chance after being scouted on the street one day, and then working as one for almost two years until I decided to change paths", explains Fredrik.
Ultimately his innate curiosity and creative spirit led him back into the kitchen where he found endless inspiration.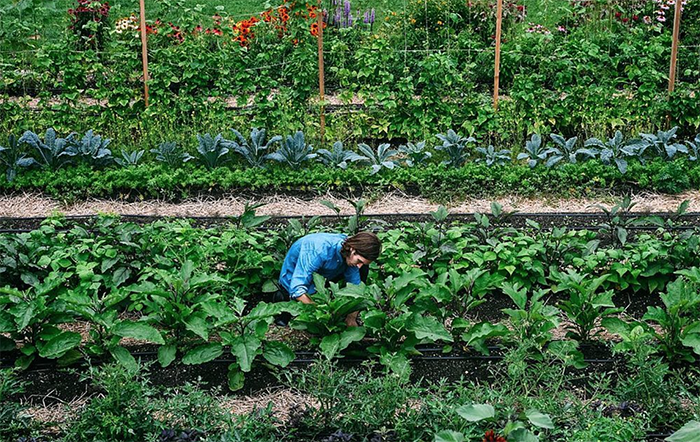 Intuition and Inspiration
At a very early stage of his culinary career, Fredrik worked with a couple of chefs in a Swedish grill in New York. There, he realized that he wanted to pursue a career as a chef. A fine dining chef that would eventually open a tasting menu restaurant. And yes, in 2023 this sounds very obvious, but almost two decades ago, this wasn't the goal of most young cooks. One experience that left a lasting impression on him was watching how these two chefs created menus and dishes seemingly out of thin air to take care of a group of their friends that were visiting from out of town. For him, this was the first time he noticed people cooking in a restaurant kitchen with a certain level of care and intuition paired with a genuine intention to make others happy, to make them feel taken care of.
"I remember them (the two chefs) having friends visiting from out of town and they offered to cook a meal for them instead of ordering from the menu. It impressed me how they took the time to prepare and create a one-of-a-kind tasting menu and present each dish to the table. I admired their creativity and care, the level of hospitality that I witnessed and the impact it had on the guests. I realized working in a restaurant could be so much more than just cooking food but how the entire experience mattered. I called my mother the next day to let her know I wanted to pursue this as a career." explains Fredrik.
In that quote, maybe without noticing it, Fredrik mentions his other big inspiration: His mother. Like many chefs he stumbled into this profession by chance but something that he can recognize is the influence his mother had and still has on his cooking style. She was an excellent home cook, preparing dinner every night for the family, and it wasn't uncommon she would bring Fredrik and his sister to pick wild mushrooms and berries in the forests nearby to later prepare or preserve in various ways. It was a very natural thing to do as a Scandinavian, to have that daily contact with ingredients in this very organic and raw form, and that is still a big part of what he brings to the table at Aska, but now done in his new environment.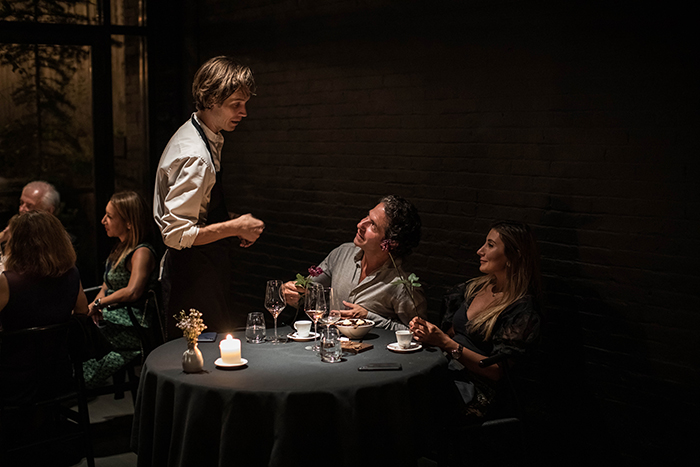 Hard Work and Time
One of the most important ingredients in fine dining is time. That's a big part of the luxury. The time that it takes for a chef to gain all that knowledge, technique and skill and to make their talent blossom. The time that it takes to create a concept, a dish, a team, an experience. The time needed to find the best possible ingredients (that usually also require time to grow or get produced outside of the restaurant) and then to transform them, clean them, ferment them, cook them, and plate them into delicate confections that will get devoured and judged in a couple of minutes.
For Fredrik Berselius this means 20+ years and since he first got in a kitchen over two decades ago, he's never stopped working hard. From small cook jobs to cooking school, two Michelin-starred Aquavit and three starred Per Se, the road to independence was not easy. Being the first one in and the last one out of service as a young competitive chef who once got a taste of the fine dining world by working at Aquavit and never looked back. Having to overcome failure in the early stages of his career. Having to basically build his restaurant himself. All these things are just a few examples of the conviction that a chef needs to create a vision like Aska in a city like New York. 
After working at Per Se, Fredrik had the opportunity to run a small restaurant as a chef de cuisine for a year and a half. His plans to open his own restaurant were put on hold when the economy crashed in 2008 and he ended up taking different job opportunities. "I ended up running a restaurant where we received a Michelin star. In a way, that became a big motivation for me: Michelin. I wanted to get a star for every restaurant that I worked for. To me it meant that I was delivering the food and experience at its highest level, and coming from Europe, Michelin was always the bar, it was the highest accolade. There's always something very special and mystical about the Michelin Guide." says Berselius.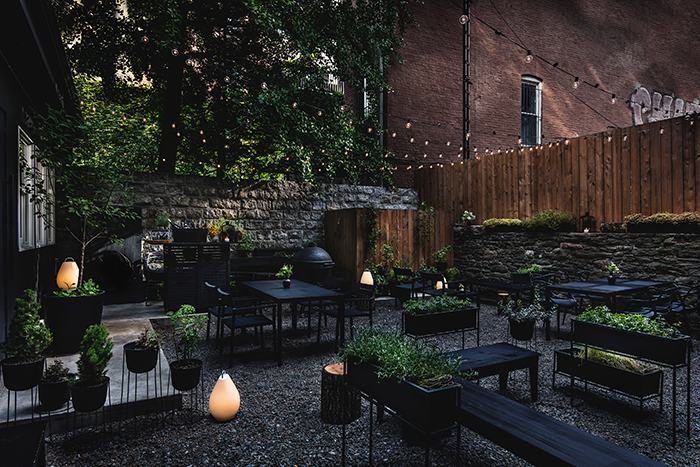 Aska I & Aska II
Aska means ashes in Swedish. When Fredrik first tried to open a restaurant it was called 'Frej'. Frej is the Norse god of fertility, peace, rain and sunshine and the word means seed. In Norse mythology the world ends in a big fire where Frej is killed and everything burns down, but then the world comes back together, and for the chef it felt like that could be the name of a new start. Ashes. If you imagine a forest fire, so many things thrive after that. So he wanted to look at it as this new growth. Something new, exciting and different. A new energy coming out of the ashes. 
"It definitely didn't happen overnight and there were several times I was close to pushing the 'go' button, yet the circumstances ultimately weren't right. I dreamed of this restaurant soon after I started cooking and it took a long time to make it a reality. In 2011, after the lease on a space in lower Manhattan fell through, I along with a former chef colleague of mine opened a restaurant called Frej that operated three days a week in a space we shared with a bar and café. It started with only the two of us cooking and serving all the food, however within a few weeks the word started to spread and the New York Times and others wrote about us. Eventually we couldn't keep up with reservations and the waitlist was so long. Then I launched Aska in the same space and we received a Michelin star within the first year.
It was a dream come true but Berselius soon realized that he needed a proper space to evolve, so he made the decision to close that location in 2014 and star preparing to find a new one. It was a big risk for the chef to move at a peak moment of success, but he simply felt that they outgrew the original building. And even though the process ended up being a prolonged search, it ultimately led them to where they are right now.
"I fell in love with this particular space the moment I found it, although it required a lot of imagination to get it where it is today, and we did quite a major renovation and reconstruction. The time between closing and opening was perhaps after all a blessing in disguise – it allowed for me to refine my vision, not only in terms of food, yet in every aspect of the process from the design of the restaurant, to building the team and developing the style of service. The process of reopening was truly a labor of love and I worked on it constantly, on every element beyond just the food and concept. Even though I had contractors and a team of builders I can say that I probably know every single screw in there. Since we faced certain delays, at one point I just had to decide to open it, even without it being fully ready. The building is from the 1860s and in addition to our main dining room has a cellar, garden and private dining room. I wanted Aska to have a home that we could grow with. I wanted a space where the food, service and atmosphere work in harmony." tells Berselius.
The struggle to open following turned into the struggle to stay open. But a text message that the chef got during a meeting with investors to discuss the situation changed everything. The famous red guide leaked days before it was supposed to be announced and Aska, after only four months of opening in this new location, received two Michelin stars. The restaurant went from zero to a hundred in days and Fredrik didn't even have time to blink for almost two years. It was the confirmation that his then unseen talent needed for people to give it a chance and the result was pure love.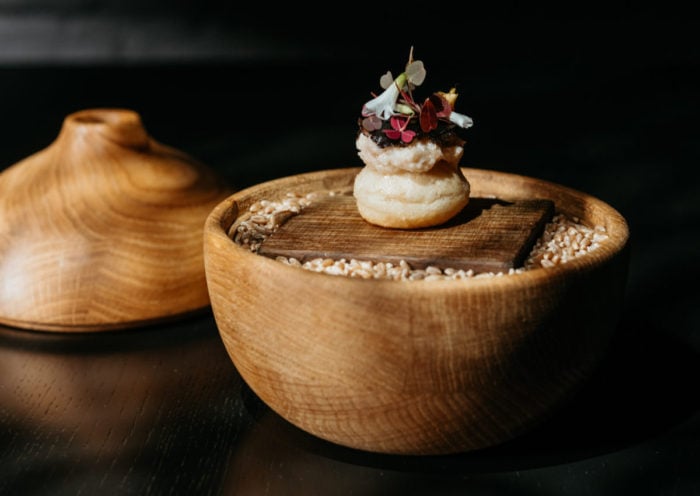 A Storyteller of Nature
Nature has always been the main pillar of Fredrik Berselius' life and the main character of the story that he wants to tell with his cooking at Aska. This doesn't mean that it is a static story, on the contrary, just as nature, his ideas, flavors and dishes change with the years and seasons. There's an evolution. A sense of maturity that the chef has found over the years and translates into his dishes.
"Nature is of course a huge inspiration, and the relationship between where I have come from (Sweden) and where I am now, here in New York, is central to what drives the narrative at Aska. Cooking has always been a medium for me to feel connected to where I'm from and to take guests on a little journey through flavors hopefully transporting them to the seaside, to a rocky beach with ice cold waters, a stunning old-growth pine forest or to fragrant flowering fields," says the chef in an almost poetic way that defines his love for nature and his source of constant energy and inspiration.
At Aska, Berselius and his team continually go out of their way to find exceptional ingredients to work with, many of which come from New York and the northeast region. 
"One place in particular that I love to look to for ingredients and inspiration is the pristine nature of the Catskills, where I also try to spend as much time as possible when the restaurant is closed. The natural landscape surrounding New York and especially when you drive several hours north of the city reminds me so much of areas you can find in Sweden, and many of the ingredients are similar. When I am there it always makes me feel reconnected to where I grew up, and I try to bring those flavors and feelings back to the restaurant. Many people forget that there is incredible nature surrounding New York. That's what we hope people will get a taste of when they visit Aska – to create an environment where people can come to the restaurant, have dinner and hopefully be transported in a sense."
A Place, A Dish
Fredrik Berselius refers to places as his true form of inspiration more so than memories of food. To this day he still does his best to spend time in nature, in upstate New York and when he does, he finds himself trying to encapsulate those trips into flavors for his dishes at Aska. Almost in the way that Jean-Baptiste Grenouille tried to distill the scents of everything that surrounded him in "Perfume", the chef wishes to distill his impressions and take them down to Brooklyn to share them with his guests.
For example, the first snack which is the bladderwrack, which is this type of seaweed. It grows on the rocks and the chef remembers playing with it as a child while his mother told him not to. Next to the seaweed on these rocks you could find blue mussels laying around. The snack is a dried bladderwrack seaweed with blue mussel emulsion that reminds Berselius of what it tastes like being right there on these rocky beaches with crashing waves and the sun shining.
"Another one is the linden flowers, that we source during the few hot weeks here in New York when you can just pick them from trees. In that season you can just walk down certain streets and they smell like this sweet honey. We preserve them to be able to serve this in the winter time, to bring back a little bit of the summer to our guests. The dish is the Kohlrabi compressed with linden leaf oil and linden flower vinegar," Fredrik explains.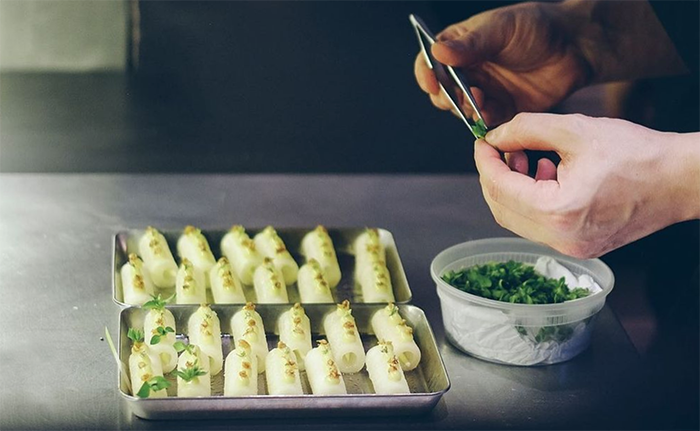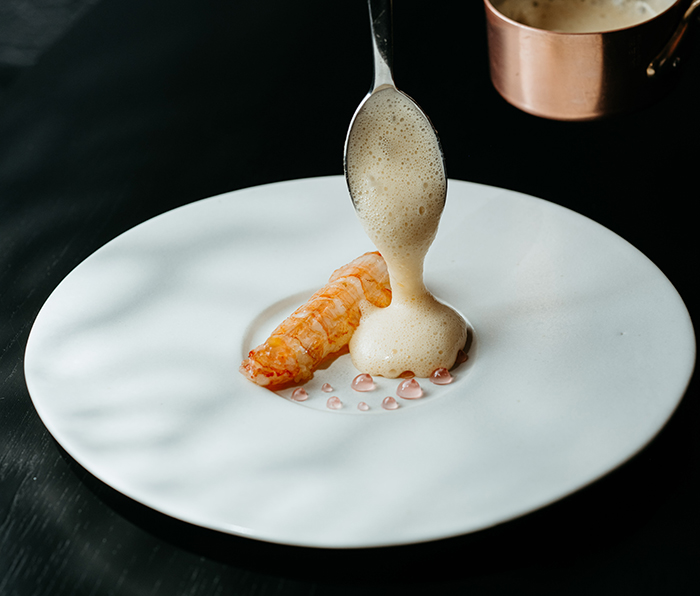 The Aska Flavor
Another example of the flavor and concept of Aska transformed into a dish is the trout serving. "For me it very much conjures memories from visiting my grandfather's summer house and the surrounding area, while simultaneously of the Catskills in upstate New York where I love to spend time. It's basically taken out of the ecosystem of that area, about three hours away from the restaurant and you have birch trees, reindeer moss, white currants, and trout swimming in the creek. You have everything there and we just put those elements and flavors on the plate and it tastes like nature and reminds me of my early days in Sweden," tells Fredrik.
A bite of any dish at Aska feels like a discovery of a new and exciting way to experience flavors that we all enjoy and recognize. The chef aims towards elegance, thoughtfulness and harmony, and his final goal is to make guests feel just as spoiled as the friends from his two bosses back in the Swedish grill years ago. A meal at Aska should always feel like a celebration and dishes like creme Royal with claw of lobster, trout roe and sauce Sandefjord; the Danish kingfish with pristine oscietra caviar, smoked eel, green gooseberry and juniper or the grilled tail of langoustine with a sauce of the caramelized shells and red gooseberry make for a great one.
In that way it shouldn't come as a surprise that the Michelin inspectors named Fredrik's seared New York state venison with plump sunchoke-studded morel mushroom and venison bones reduction infused with toasted hay as the first one of their list of the most memorable dishes of 2022.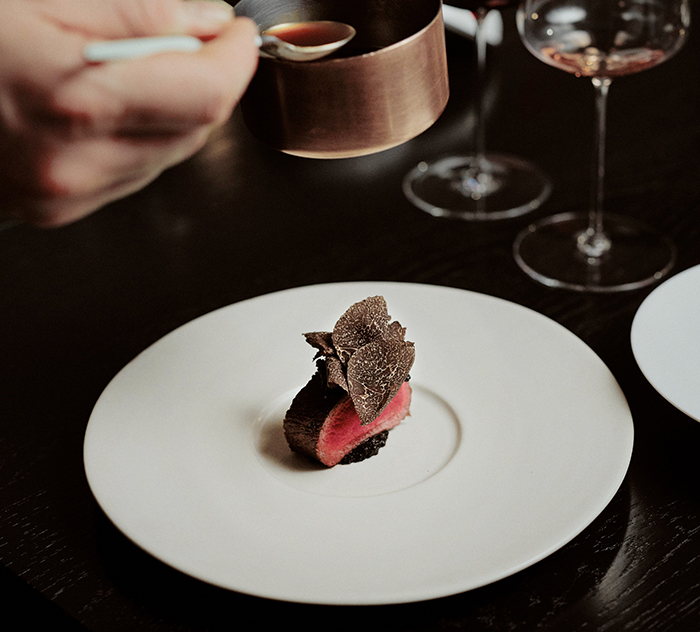 Aska
47 South 5th Street
Brooklyn NY 11249
+1 929 337 6792
www.askanyc.com