Smokey, tender meats in the Midwest? You bet. Discover a national favorite kitchen dishing out some of the best barbecue in Indianapolis.
By Janice Nieder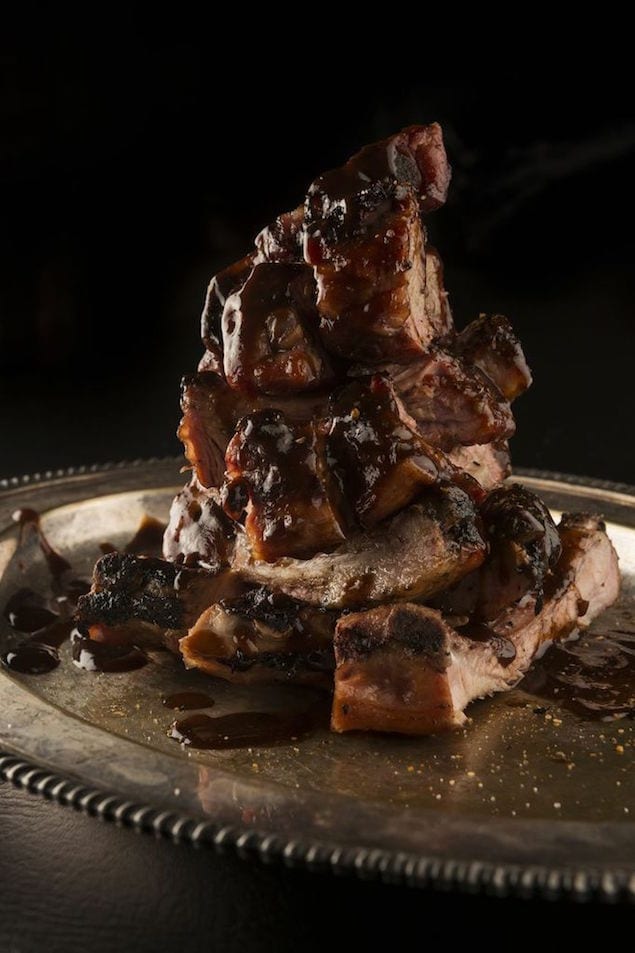 I've happily BBQ'ed in Texas, Alabama, Kentucky, and the Carolina's, although somehow, I've still never made it to the granddaddy of them all, Kansas City. Each state has produced some mighty spectacular BBQ. Quite frankly, I never considered Indiana to even be in the running…until I met Adam Hoffman, owner and Q-chef of the pirate-themed Big Hoffa's Smokehouse Bar-B-Que, and tasted his addictive sky-high, BBQ-busting-out-of-the-buns culinary creations.
Whether you choose the fall-off-the-bone ribs, baby-butt tender brisket, or moist and smoky pulled pork, you'll leave smiling, although I highly recommend you order combo-style so you can taste them all. You'll also feel the love in their kick-ass, sweet and spicy BBQ sauce, crispy seasoned fries, fresh coleslaw, really cheesy Mac and cheese, and a peach cobbler my granny only wished she could make!
On top of it all, Adam is a super nice, hard-working guy, who's doing his part to put Indiana on the culinary map. Big Hoffa's was voted 3rd best BBQ in the nation (by TabelogNY ) and #1 in Indiana by Consolidated Food Service.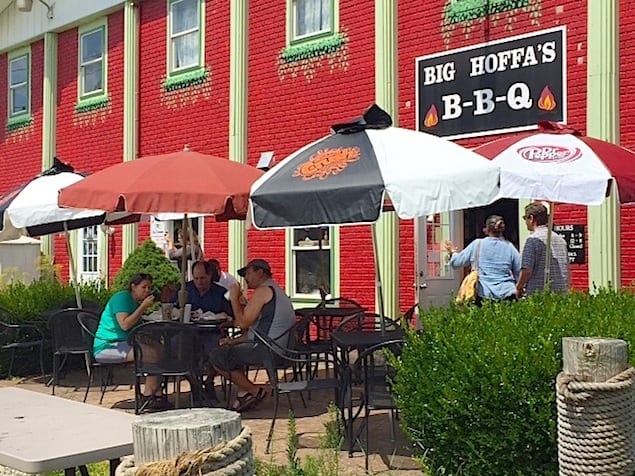 Check out our baker's Dozen of "Q" Questions:
How did you get into BBQ?
Adam Hoffman: "I was born and raised in Venice Beach, California. I was always "'queing" since I was a kid. Any time I wanted to get my friends together I would tell them I was making ribs and they would always show up. I lived in Los Angeles until I was 27 and decided to move to Indiana to follow my dream of opening my own restaurant. My father was in the catering business and my mother was a special education teacher. I left behind my whole family, my girlfriend and my job of 7 years at California Pizza Kitchen. I always talked about all the things I wanted to do but this time I finally did it. I sold my car and bought a truck, found a small apartment in Indiana and moved 2 weeks after I made my decision. My whole family supported me so it helped me get through the rough times. 13 years later I am still here. We now serve over 4000 people a week and have a great following."
Where did you get the name of Big Hoffa's? How long has the restaurant been open?
AH: "The name Big Hoffa's came from my last name Hoffman. It was sort of a nick name for me," Hey Big Hoffa!" It was catchy so I went with it. The restaurant has been open since 2003. I started out in a food truck for 3 years here in Indiana and decided to open a full restaurant in 2007. I have been in Westfield ever since."
I always thought that American BBQ was categorized by Texas, Carolina, Memphis, and Kansas so where does Indiana fit in?
AH: "Every state has their styles of BBQ. I would call mine a type of hybrid BBQ. My influences stem from California. I use many local ingredients from Indiana as well in my cooking. I use many different cultural influences in my cooking and in doing so, I am trying to put Indiana on the map."
What's your bestselling item on the menu?
AH: "Our bestseller is the Hoffanator. It is a base of Seasoned French fries topped with Mac and cheese, baked beans, pulled pork, BBQ sauce and ranch dressing."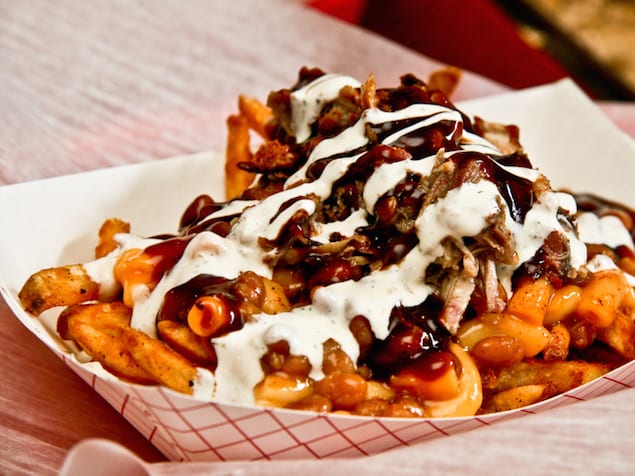 What's your favorite item?
AH: "My favorite menu item is the El Segundo or the Teriyaki Bowl. Both are my very own creations here."
What are you trying to do differently from other BBQ restaurants?
AH: "We differ from other BBQ restaurants because of our off the wall menu items. We put together creations that you would normally not find at other BBQ spots. We still have traditional menu items found in many BBQ spots but our innovative creations really provide some great flavors that you would not find anywhere else. For instance, the El Segundo is a bowl of Jasmine rice topped with spicy mayonnaise, Mac and cheese, pulled pork, cilantro, onions and a lime wedge. It has Spanish influences from California style tacos, as well as Asian influences with the spicy mayo and jasmine rice."
How did you invent your BBQ Sauce?
AH: "My homemade BBQ sauce comes from years of experimentation. I was never too proud of my sauce. When I first opened the restaurant I would ask customers for feedback. After many years I finally stopped refining the recipe and came to a sweet spot. Now we make over 200 gallons of it every week."
What is your proudest culinary moment?
AH: "As far as my proudest culinary moment, I do not have one specific thing that stands out. When I first opened the restaurant I would spy on my customers eating outside and look for the thumbs up. If I got it, it would make my day. My greatest satisfaction comes from complete strangers that compliment me on my food, especially those who have never eaten at my restaurant. The fact that they have enjoyed something I have created with my own two hands is priceless."
Other than Big Hoffa's, what are your favorite local restaurants?
See Also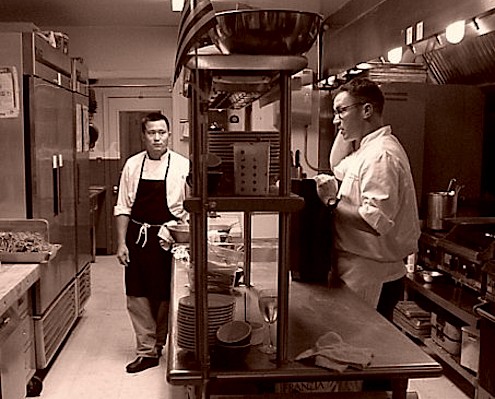 AH: "My other favorite local restaurant is called Bonges Tavern, run by Tony, a great friend of mine. He creates some amazing dishes in a really cool, simple atmosphere very similar to ours. It's a bit out of the way but well worth it."
If you were going to get a tattoo, what would it be?
AH: "If I were to get a tattoo, it would be cool pirate ship or an anchor on my arm. My father was in the Navy and he had a really cool anchor on his arm."
What drink goes best with your BBQ? (Side note: I'd vote for a chilled bottle of Champagne!)
AH: "I'd say some of our sweet tea or sassafras tea goes best with our BBQ."
Are there going to be more Big Hoffa's in the future?
AH: "I would like to open more locations in the future but for now we are very happy in Westfield."
Any BBQ tips you can share for home Q-ers, such as how to make sure your burger is juicy?
AH: "Cook slowly and be patient. Anything that tastes great takes time to do it."
(Side note on the importance of patience: Adam's succulent smoked pork ribs fall right off the bone, after being smoked for over 12 hours. The Beef Brisket is smoked for over 30 hours and the Pork is smoked for almost 25 hours.)
AH:: "When I make burgers at home I always add extra sharp cheddar cheese to the meat while I am forming the patties. I always add my BBQ sauce in the meat as well. It keeps it moist and gives it a great flavor when cooking it. I also toast the buns on the grill with garlic salt and brushed butter."
Print
Adam Hoffman's Grilled Chicken Breasts
Adam graciously agreed to share a great marinade for chicken breasts on the grill:
Author:

Adam Hoffman

Category:

Main

Cuisine:

Barbecue
6

full size chicken breasts

1/2 cup

soy sauce

1 cup

apricot nectar juice

1 tablespoon

sesame oil

1/2 cup

brown sugar

1 tablespoon

chopped scallions

1

pinch of black pepper

1

pinch red chili flakes
Instructions
Let the chicken marinade for 24 hours in zip-loc bag.
Grill and put it on toasted Hawaiian bread with mayo and sliced dill pickles.
Big Hoffa's BBQ
800 E Main St, Westfield, IN 46074
(317) 867-0077
http://bbqindianapolis.com
Janice Nieder
Janice could be the love child of Indiana Jones and Julia Child. She was a specialty food consultant in NYC with a client list that included Tavern on the Green and Dean & Deluca. A culinary trendsetter, Janice has visited almost 100 countries searching out gastronomic adventures. She might be found sharing a smoked monkey dinner with Shuar Indians in the Amazon jungle or "running with the dogs" while truffle hunting in Marche, Italy. To keep things in balance, Janice also writes about her Girlfriend Getaways, including everything from luxurious city penthouses and Michelin starred meals to bespoke travel in remote destinations. You can follow her travels at www.janicenieder.com