This dish is best started on a cool, lazy Sunday afternoon and allowed to roast all day long. Serve the fall-off-the-bone meat with mint pesto and the roasted vegetables for a completely satisfying meal.
By Anina Meyer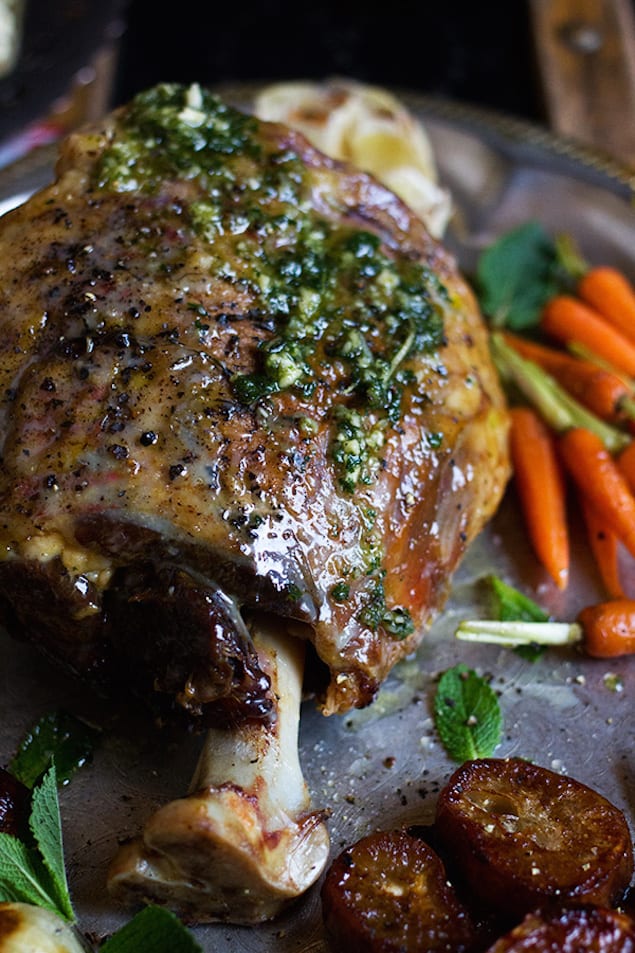 Cooking this leg of lamb put me right back to my childhood where making lazy, slow baked roasts for Sunday lunch was the norm. My mom used to have her leg of lamb in the oven before we even had our church clothes on, and the smell lingering in the kitchen as we got back from town was, well, like the one you will get ONLY from a roasted leg of lamb in the oven.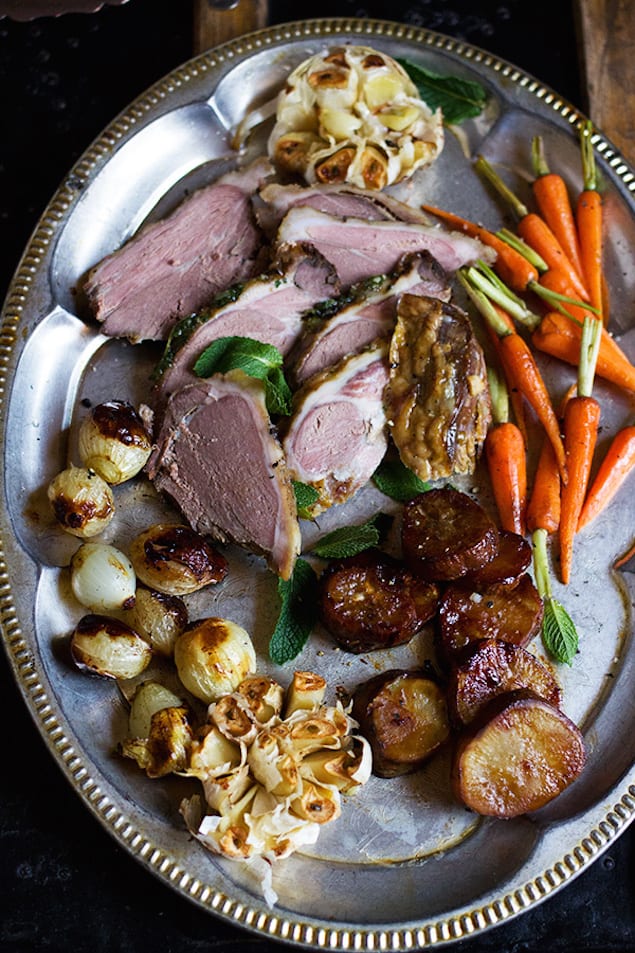 One thing I know without a doubt, is that when it comes to cooking a leg of lamb, 7 hours in the oven on low heat, IS the only way to cook a leg of lamb. Point. Fear not this elusive idea of time, my friends, because it really ain't that hard.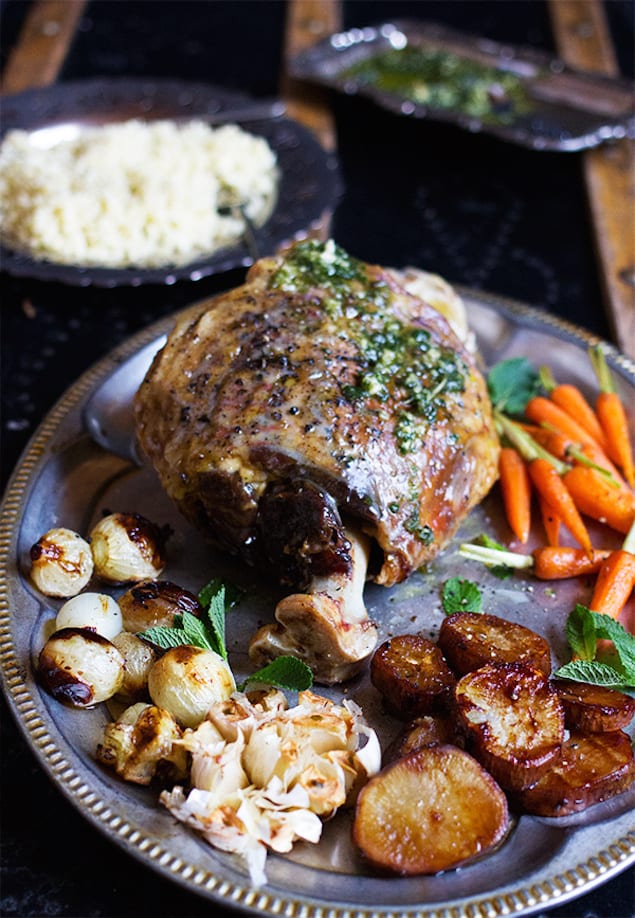 I had the oven on 120 degrees Celsius (250 degrees Fahrenheit), for 7 hours; simply seasoned the meat with salt and black pepper, a few sprigs of rosemary and thyme and had it covered for a good five hours of the cooking time. When it is done, it literally falls apart and served with a quick mint pesto, it is THE roast for this festive season.
See Also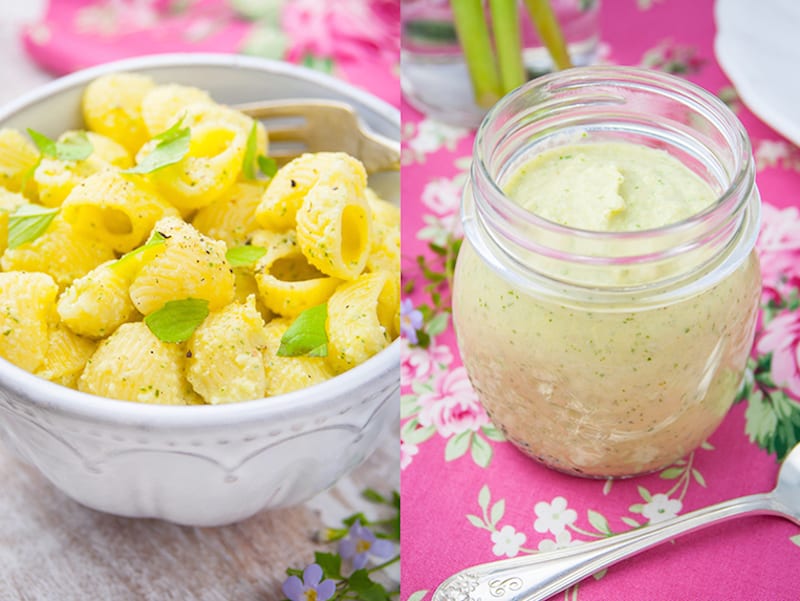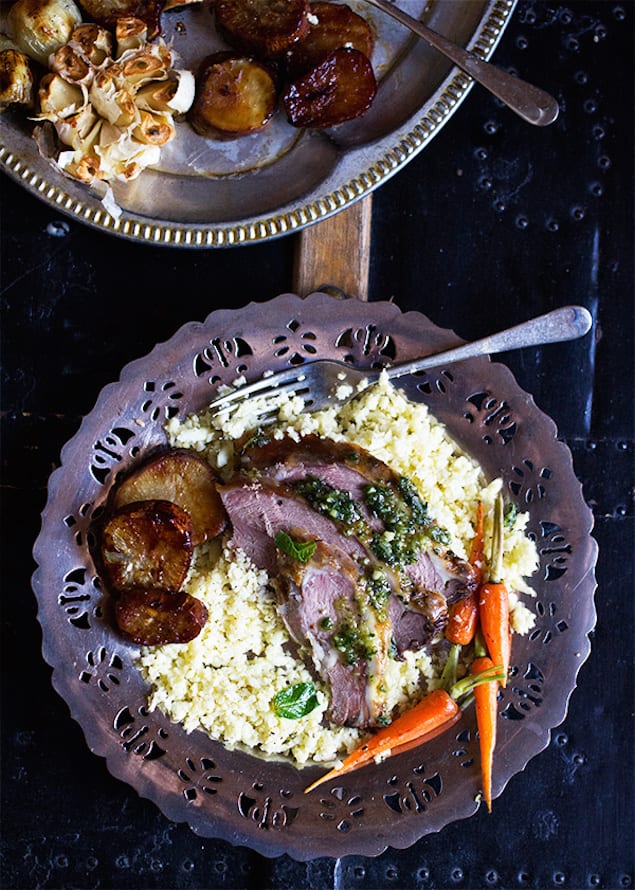 I also went all out by roasting whole garlic, pearl onions and sweet potatoes – IN the fat from the roasted lamb – with baby carrots and buttery cauliflower rice.

Tender Leg of Lamb Roast with Flavorful Mint Pesto
Start this on a lazy Sunday and allow to roast all day. Serve fall-off-the-bone meat with mint pesto and roasted vegetables for a completely satisfying meal
Ingredients
1.7 – 2kg (3.7 to 4.4 pounds) leg of lamb, bone in
salt and black pepper to season
fresh sprigs of thyme and rosemary
one large sweet potato, cut in rings
1 cup pearl onions, peeled
2 whole cloves of garlic, tops removed
4 tablespoons butter
2 cups baby carrots
4 tablespoons butter to saute caulirice
1 large head of cauliflower, grated
salt and black pepper to season caulirice
a handful of fresh mint
¼ cup chopped almonds
1 garlic clove
¼ cup grated parmesan
½ cup olive oil
salt and black pepper to season pesto
Instructions
First off, preheat the oven to 120 degrees Celsius (250F). Place the leg of lamb in an oven safe casserole dish and season with salt and black pepper. Add the thyme and rosemary, cover and leave in the oven for 5 hours.
After 5 hours of cooking time, remove the lid. Add the sweet potato, onions and whole garlic in the casserole dish. Roast for another 2 hours, checking the vegetables every now and then.
You can remove the veggies if they are done before cooking time.
Then, in the meantime, heat the butter in a saucepan and gently saute the baby carrots until caramelized. Remove from pan.
Add the rest of the butter, and gently fry the grated cauliflower. Season with salt and black pepper. Set aside.
For the pesto, simply combine the mint, almonds, garlic, parmesan, olive oil and seasoning in a pestle and mortar and grind until you have a rustic paste.
After roasting time, remove the leg of lamb, place on a platter and cut. Serve with mint pesto and all the trimmings. Serves four, with leftovers.
Anina Meyer
Having a dynamic, free and crazy personality, this shows in my cooking. I love sharing whole food recipes, honest food with easy accessible ingredients and mouthwatering photos. I am a recipe developer, food stylist and food photographer and owner of Aninas-recipes.com, my personal food and recipe portal.