This Instant Pot Beef Stroganoff recipe results in the most tender beef, in a saucy, creamy gravy. The egg noodles even cook in the same pot making for easy cleanup and a no-fuss meal. Plus, it's the perfect weeknight meal or dinner party main dish
When I was growing up, Hamburger Helper was definitely one of my best friends. While my Nana and Nanu were great cooks, my mom wasn't. And one of my favorite Hamburger Helper varieties was Stroganoff.
I promise this Instant Pot Beef Stroganoff tastes nothing like Hamburger Helper. While it still cooks up quickly and easily, in one pot, the flavors are superior, by far. Tender beef cubes. A rich, creamy gravy. A sprinkling of parsley, to brighten everything up.
And egg noodles that cook right in the Instant Pot.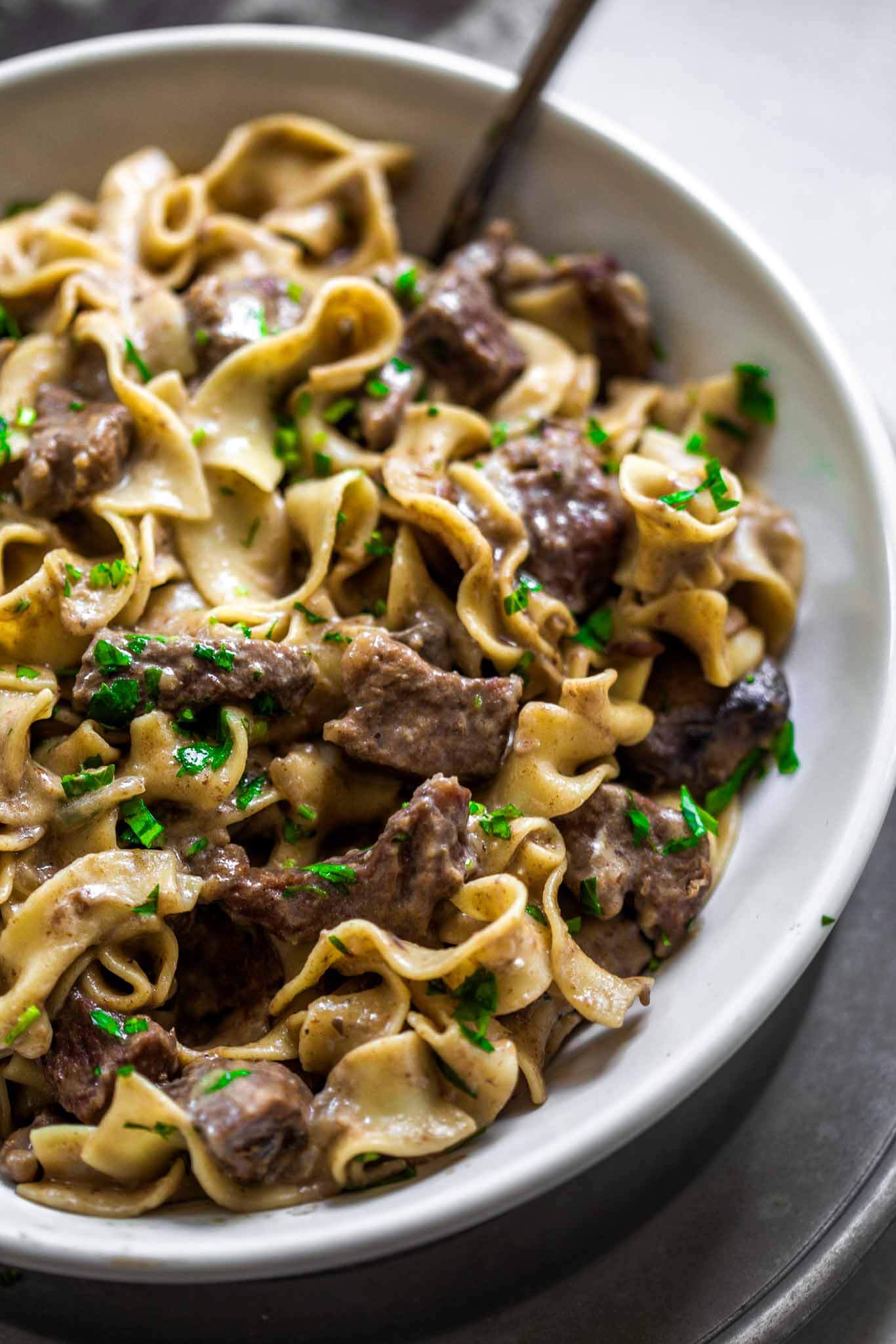 My key for making this Instant Pot Beef Stroganoff extra delicious is by spiking it with brandy and red wine. Of course, I always have red wine on hand, so it was easy for me to add some in this recipe. And, we seem to have a bottle of brandy in the cupboard that lives there indefinitely. I just use a little here and there, mostly for cooking.
But, if you don't have red wine or brandy on hand, you can definitely swap it out… Use all red wine (no brandy). Or use sherry in place of the red wine and brandy…
If you're planning on drinking white wine with your meal (see my suggestions below) you can add that in here… Or you can leave the alcohol out entirely. In that case, you could maybe add in a few glugs of Worcestershire sauce. Any of these will add a bit of extra flavor… a nose of umami and a bit of acidity. The perfect balance to the rich, creamy sauce that's made that way from the addition of sour cream.
While my original stovetop Beef Stroganoff recipe takes over two hours, this Instant Pot Beef Stroganoff will be on your dinner table in under an hour, and most of the cooking process is entirely hands off… leaving you free to open up a bottle of wine and chill for a bit.
Rick and I both prefer different styles of wine with our beef stroganoff.
I'm always more of a white wine girl, and he prefers reds. So, sometimes, I'll open up a couple bottles to pair with dinner.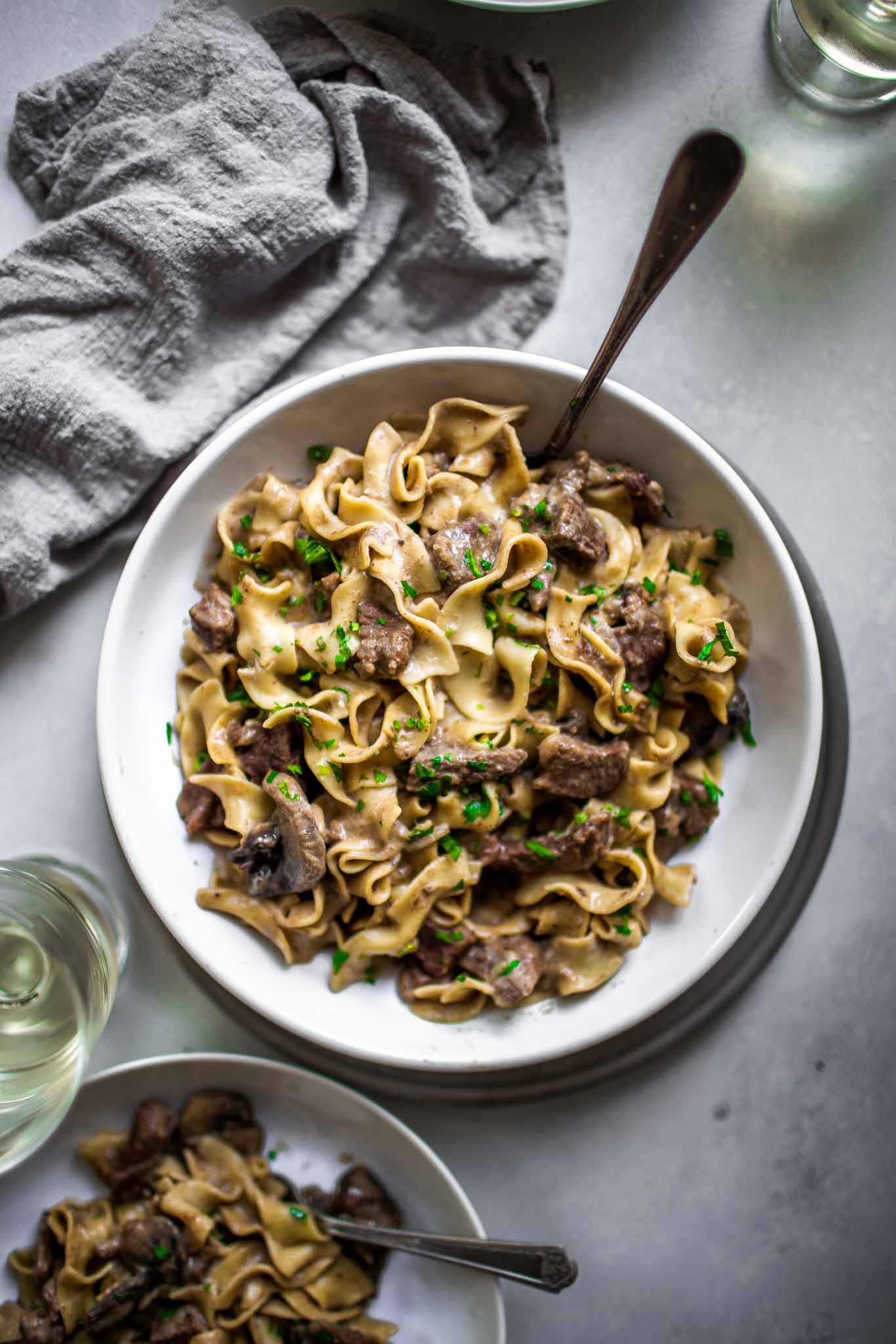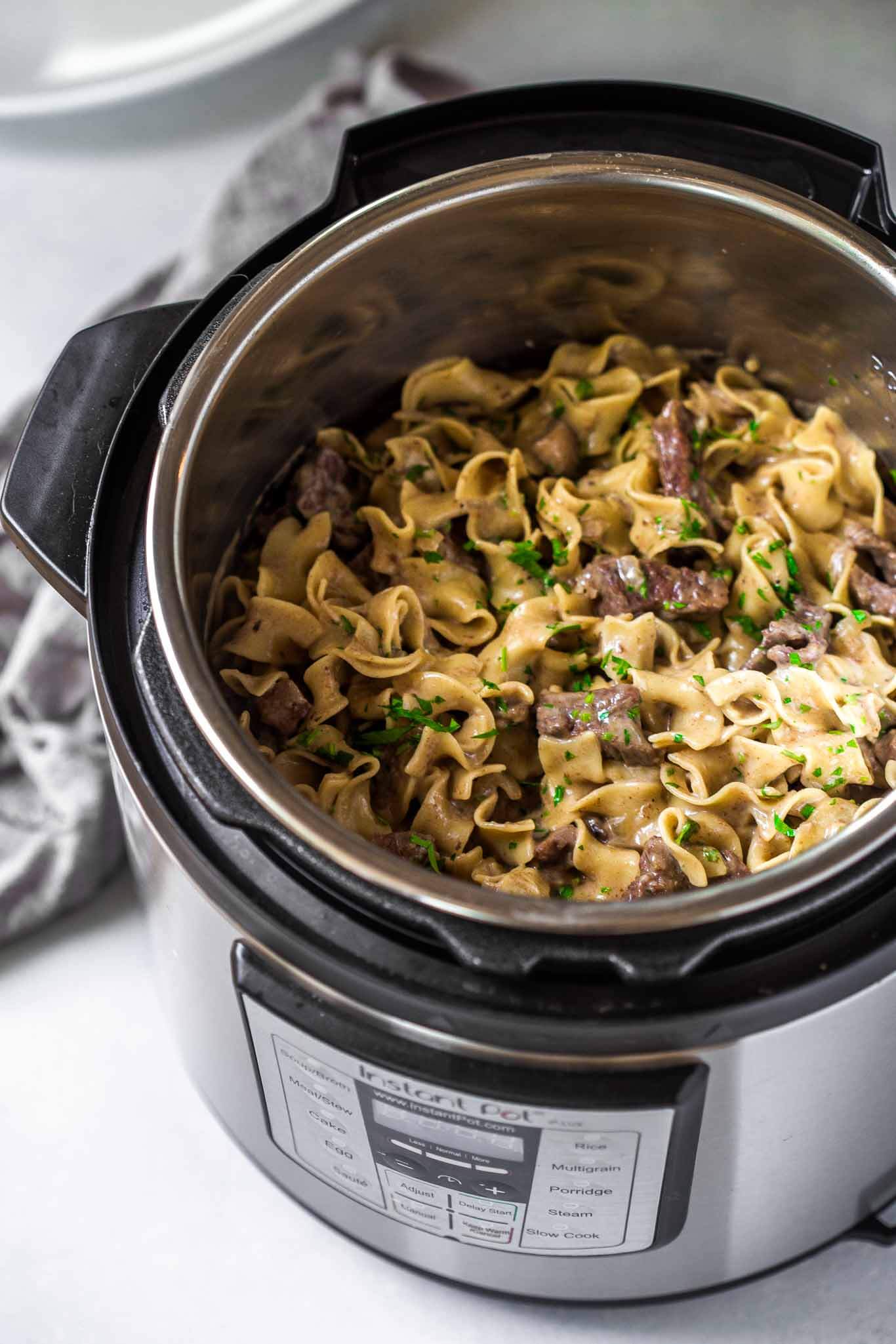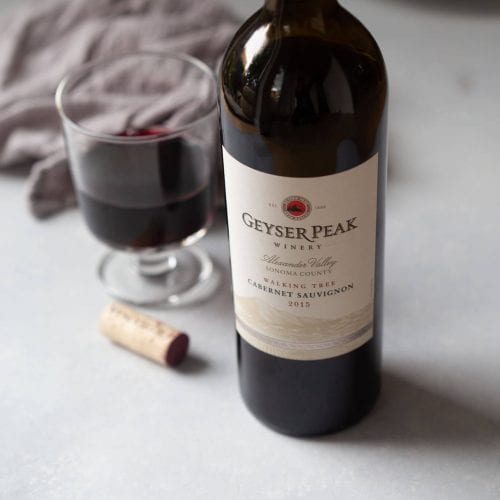 Wine Pairing with Instant Pot Beef Stroganoff
Erin Rebecca
Ingredients
1/3

cup

flour

2

teaspoons

salt

¼

teaspoon

black pepper

1/4

teaspoon

garlic powder

1/4

teaspoon

nutmeg

2

pounds

chuck roast or stew meat cubed

2

Tablespoons

vegetable oil

1

large onion sliced

8

ounces

cremini mushrooms sliced

1/4

cup

brandy

1/4

cup

red wine

3

cups

low-sodium beef broth

1 12-

ounce

package wide egg noodles

3/4

cup

sour cream

3

tablespoons

chopped fresh parsley leaves

Salt and pepper to taste
Instructions
In a large bowl, combine 1/3 cup flour, salt, pepper, garlic powder and nutmeg. Pat beef dry with paper towels and add to the flour mixture in the bowl; toss to coat.

Set Instant Pot to SAUTE, add vegetable oil and brown the meat on all sides. Meat will not be cooked through. (Be sure not to crowd the pot - you will have to work in batches. I work in 3 batches). Transfer browned meat onto a plate.

Add onion and mushrooms, cook, stirring occasionally, until tender, about 5-6 minutes.

Stir in brandy and red wine, scraping any browned bits from the bottom of the pot.

Stir in beef broth and return beef to Instant Pot.

Cover and seal the lid - turn the vent to sealing. Hit CANCEL then press the MANUAL (high pressure) button and set the timer to 12 minutes. It will take about 15 minutes for Instant Pot to come to full pressure, then the display will show a countdown timer.

When finished, quick-release the pressure before removing the lid.

Add the egg noodles. Cover and seal the lid - turn the vent to sealing. Hit CANCEL then press the MANUAL (high pressure) button and set the timer to 5 minutes. When finished, quick-release the pressure.

Stir in sour cream and parsley and season with salt and pepper, to taste.
Erin Rebecca
I'm Erin - a self-taught weeknight cook. I occasionally like to delve into the more complicated recipes, like homemade pasta, Cioppino, and boeuf bourguignon. But for the most part, I work full-time, come home, pour a glass of vino and start cooking away.