Tallow Roasted Potatoes and Herbs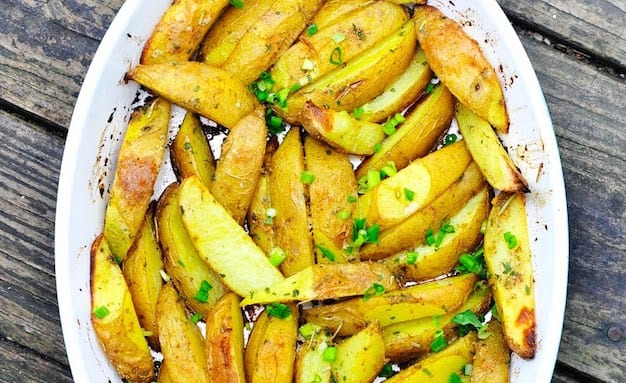 Tallow is rendered fat from beef or lamb bones. The rich marrow adds amazing flavor to make simple roasted potatoes into a decadent side dish.
By Sherron Watson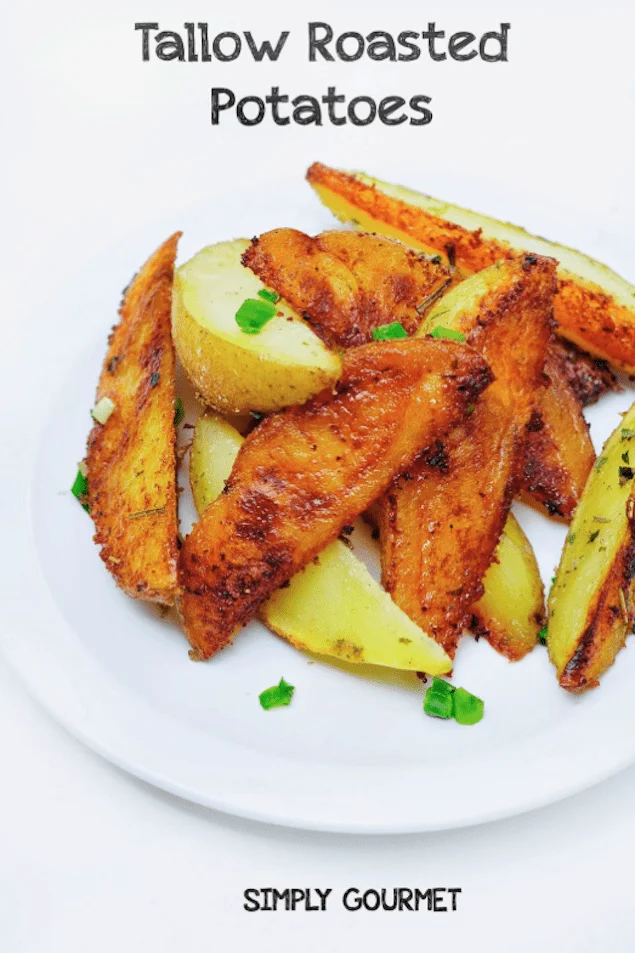 Tallow is rendered fat from beef or lamb bones and/or large pieces of fat. I make my own beef and lamb tallow or pork lard to use in a variety of recipes. Some times I buy extra bones and freeze them just for this recipe. My favorite bones are those with bone marrow. I have also used regular beef bones from my butcher. While roasting with the larger bones, the fat "melts" away and roast the potato wedges. You just don't get the added benefit of digging the marrow from the centers of those bones.
I started roasted potatoes this way a few years ago and they are a family favorite. I roast the bones to make beef stock. By adding the potatoes it seemed that I was saving time, cooking two items at once and using my oven more efficiently.
See Also

Depending on the type of fat you use, the flavor from that animal, will impart a reflection of the beef or lamb flavor profile. The lard does not have much flavor and will not be as pronounced.

Tallow Roasted Potatoes and Herbs
Tallow is rendered fat from beef or lamb bones. The rich marrow adds amazing flavor to make simple roasted potatoes into a decadent side dish.
Ingredients
5-6 small marrow bones, cut 1 inch in thickness (ask your butcher to do this)
6-8 potatoes, wedged or diced
1 small onion, sliced (optional)
salt, pepper, garlic powder, onion powder and dried parsley (season with a light hand)
Instructions
Preheat oven to 400 degrees.
Place bones and potatoes on a large cookie sheet. Season potatoes with a variety of spices and dried herbs. I have listed what I usually use but I do switch it up every once in a while. There are no measurements because use what your family likes.
Roast for about 40-50 minutes. The potatoes will be very crispy on the bottom and soft and pillowy on the top.
Remove from oven and serve with your favorite dipping sauce. Refrigerate left overs and reheat in the microwave.
Sherron Watson
Sherron Watson is a writer and photographer. Her passion for food started at a young age while working with her family in their restaurant business. A career in photography gave her the experience she needed to start capturing images of her favorite dishes. This led to the creation of her blog: simply-gourmet.com. She is currently a food writer for Capital Style Magazine in Annapolis, MD.