Asian-Inspired Green Mango Salad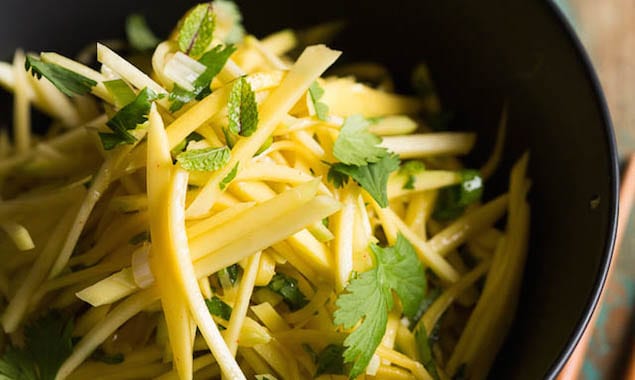 Unripe mango is perfect for a refreshing salad spiced with red chilies, Asian shallots, and fish sauce. Try this as a fun topping for burgers, tacos, or on its own as a flavorful salad.
By Simone Van Den Berg
We were on a trip through Thailand and during a stop somewhere along the way in a small and rather dodgy little restaurant, Sandra our guide, told us that we should really try the green mango salad. Now I am a real mango fan, but eating an unripe mango did not immediately strike me as the ultimate culinary delight. But it was shockingly hot that day and a nice refreshing salad sounded like just the thing I needed. But one bite of the stuff and I was convinced. This was soooo good. Sweet, salty, bitter… Perfect for hot weather! If you have another, more authenthic recipe, than please feel free to share.

Asian-Inspired Green Mango Salad
Unripe mango spiced with red chilies, Asian shallots, and fish sauce is a great topping for burgers, tacos, or on its own as a flavorful salad.
Author:
Simone Van Den Berg
Ingredients
1 or 2 large mango's, cleaned and cut finely
1 handfull of mixed mint, thai basil and Vietnamese mint if you can find any
2 red Asian shallots, cut finely
1 red chili, finely sliced
Dressing
1 tbsp of fish sauce
1 tbsp sugar
60 ml of hot water
Instructions
Combine the ingredients for the dressing in a mixing bowl and whisk until the sugar is dissolved
Place the mango, herbs and shallot in a salad bowl. Add a bit of the dressing and mix well.
Garnish with the peanuts and chili and drizzle with some more dressing if you want. Serve the rest of the dressing on the side
Notes
I left out quite a few things. Here is the list! I did not put in: 3 tbps of dried shrimps, 100 gr of smoked trout, 2 tbsp of roasted peanuts and ½ tsp of garlic oil
Simone Van Den Berg
Simone van den Berg is a Netherlands based freelance food photographer and food blogger. She has a passion for cooking, food and travel, which she shares on her blog Simone's Kitchen and of course right here on Honest Cooking.