Tahini and Maple Sweet Potato Pancakes with Coconut
Make filling and festive brunch pancakes out of sweet potatoes with a hint of maple and tahini in the batter and coconut sprinkled on top.
By Emily Watson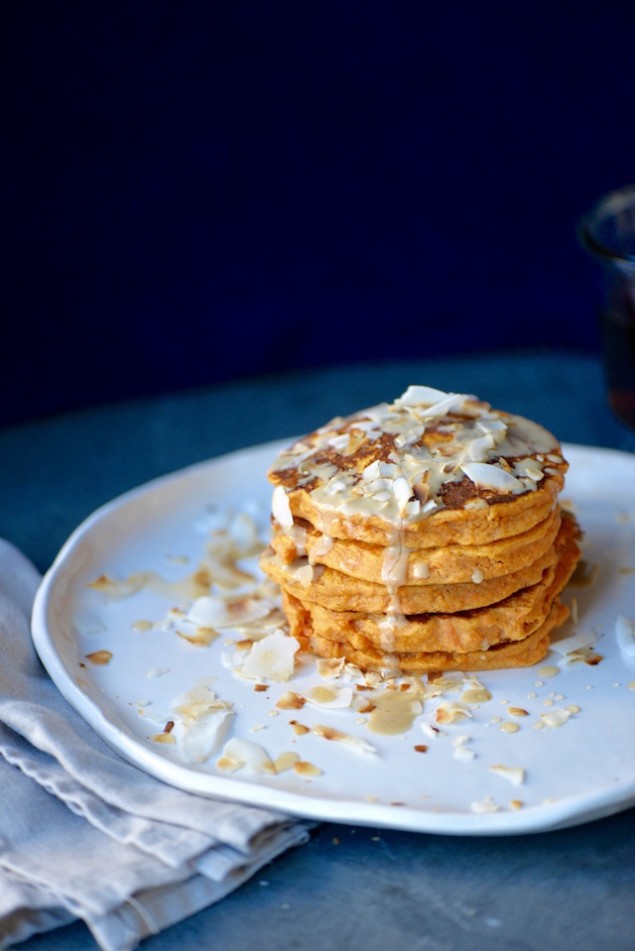 These pancakes are perfect for winter. They are quite a bit more dense than my Lemon Ricotta Pancakes, but they are still wonderfully light on the body due to the mashed sweet potato. I also find them more filling than traditional pancakes which I appreciate because ever eaten a stack of buttermilk pancakes and still been hungry? These are much more satisfying on so many levels. For example, tahini and maple syrup go IN the batter and ON TOP for a double yum. I also throw on some toasted coconut flakes.
These pancakes are perfect for using up any leftover mashed sweet potatoes or roasted sweet potatoes you have- just remove the flesh from the jacket to get the smoothest batter. Full of nourishing vitamin A, vitamin C, and beta carotene, and a whole host of other micronutrients, sweet potatoes are nutritional powerhouses. I say we find more excuses to eat them. And did you know that the tahini and bit of coconut oil in here are not just for incredible flavor? They also help make beta-carotene more available to our bodies since a little fat is needed for the body absorb it.
A few notes about the recipe. Because these are a bit dense (in a good way!), these will take longer to cook than most traditional pancakes, about 3-4 minutes for the first side. But be patient! The wait is worth it! They will still be moist on the inside so do not worry about drying them out. Also, for most pancakes, you will notice bubbles on the surface to indicate when to flip the pancake, but that is not the case with these. Instead, watch for the outer rim to lose its shine and sets. Flip and continue cooking until golden brown, To keep warm, place them on a wire rack in a 200 degree Fahrenheit oven until ready to serve.
These are delicious made ahead and reheated in the microwave or just to snack on straight from the refrigerator… with a drizzle of tahini, of course.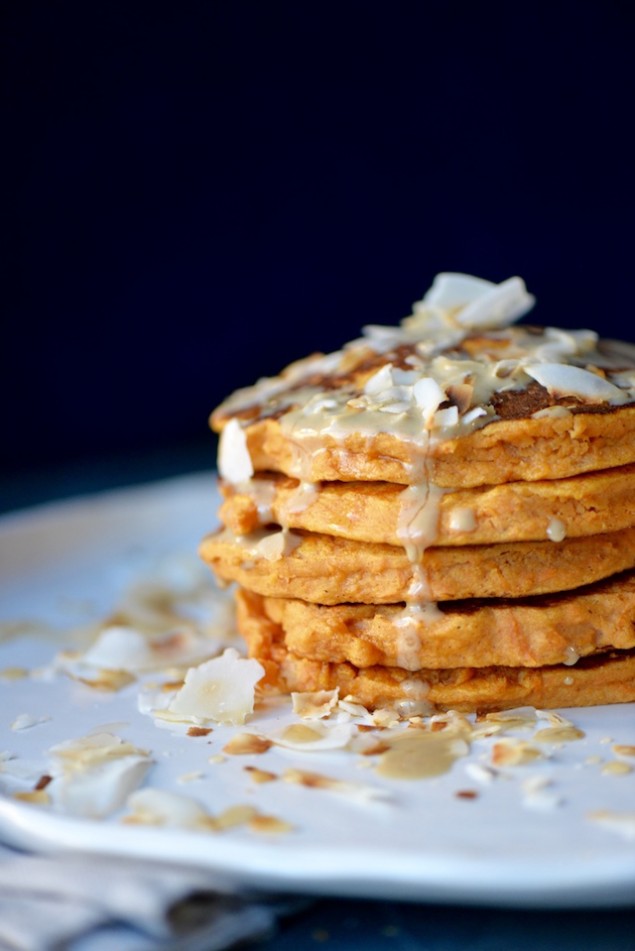 Tahini and Maple Sweet Potato Pancakes with Coconut
Make filling and festive brunch pancakes out of sweet potatoes with a hint of maple and tahini in the batter and coconut sprinkled on top.
Ingredients
2 medium sweet potatoes, peeled and but into 1" pieces (or 1½ cups mashed sweet potatoes)
2 tablespoons coconut oil, melted (or other neutral oil), plus extra for cooking
2 eggs
1 cup milk of choice (I used 2%, but other non-dairy options should work)
2 tablespoons tahini (sesame seed paste), plus more for serving (I am partial to Soom tahini since it is made here in Philly!)
1 tablespoon maple syrup, plus more for serving
⅔ cup whole wheat flour
1 teaspoon baking powder
¾ teaspoon pumpkin pie spice (or a mix of cinnamon and nutmeg)
½ teaspoon salt
Coconut flakes, toasted, for serving
Instructions
Cook sweet potatoes. To steam, place sweet potatoes in a steamer basket in pot with an inch of water in the bottom. Bring water to boil, cover pot with lid, and allow to cook until sweet potato is easily mashed with a fork, about 10 minutes. Keep checking until sweet potatoes are tender. Alternatively, if you do not have a steamer basket, you can cook sweet potatoes in a thin layer of water for a similar effect. Drain sweet potatoes well if using this method.
Mash cooked sweet potatoes with a fork until mostly smooth. It should equal about 1½ cups. Beat in melted coconut oil, eggs, milk, tahini, and maple syrup until smooth.
In another bowl, mix the dry ingredients until well combined. Add dry into wet and stir just until combined.
Preheat a cast iron skillet or griddle over medium heat. Grease with additional coconut oil until surface is shiny and stick-proof. When water drops sprinkled on the skillet sizzle but do not smoke, it is ready. Scoop about ¼ cup batter onto skillet for each pancake. Use a spoon to get an even pancake shape as this batter is a bit dense and does not flow as easily. Cook for 3-4 minutes on the first side or until edges are well set and flip to cook another 2-3 minutes on the other side. Move to a wire rack and keep warm in a 200 degree oven. Repeat with the rest of the batter, greasing pan as necessary. Serve with maple syrup, more tahini, and toasted coconut flakes. Enjoy! Makes about 8-9 pancakes to serve about 3 people.
Emily Watson
Emily Watson is the blogger and recipe developer behind the blog, Nourishing Matters. She is on a mission to make whole foods delicious. Emily is also a yoga instructor and enjoys helping students cultivate that balance between effort and ease. She majored in Romance Languages at Dartmouth College, and her travels abroad continue to inspire her in the kitchen. She lives in Philadelphia and loves exploring the ever-changing local food scene.