Combine favorite seasonal flavors in a fun new way with a spiced apple and cabbage sauerkraut. It is packed with probiotics and a great topping.
By Danielle Johnson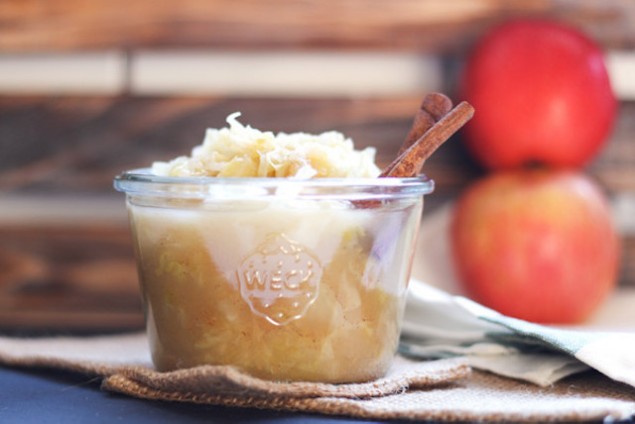 Sweet apples, cinnamon, cloves, ginger and cabbage are combined to create a Spiced Apple and Cabbage Sauerkraut. Get your favorite winter and fall flavors in a healing probiotic rich food.
I've been itching to create a new unique sauerkraut recipe. It's kind of my specialty, like my Pineapple Turmeric Sauerkraut or Jalapeño Cilantro Sauerkraut. I love to break out of the classic recipes seen everywhere to create something different.
This sauerkraut combines seasonal flavors in an unconventional way.
It's sour, sweet and rounded out with warm notes of cinnamon, clove and ginger. It's delicious piled on top of a baked sweet potato, served alongside roast turkey, chicken or pork, added to fall salads, sandwiches or blended with olive oil for a tangy fall dressing.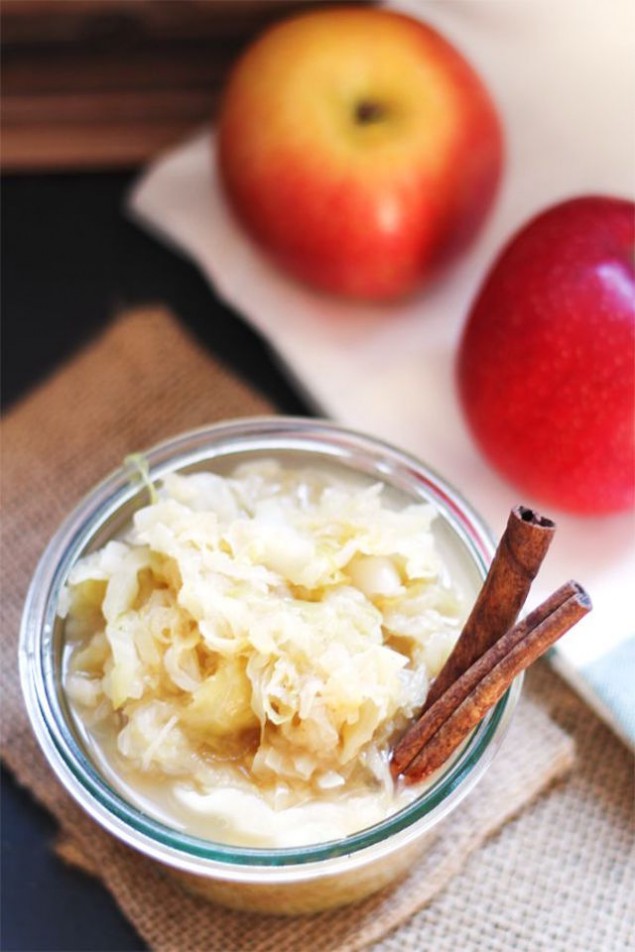 Print
Spiced Apple and Cabbage Sauerkraut
Combine favorite seasonal flavors in a fun new way with a spiced apple and cabbage sauerkraut. It is packed with probiotics and a great topping.
Author:

Danielle Johnson

Category:

Side
1

head of cabbage

2 tablespoons

of fine celtic sea salt or other high quality salt

3

medium apples shredded (about

3 cups

)

1 tablespoon

of fresh grated ginger

1 teaspoon

ground cinnamon

¼ teaspoon

ground cloves

1 quart

sized mason jar or

2

small glass jars
Instructions
Pull 3 outer leaves off the head of cabbage and set aside. Shred the remaining cabbage in a food processor, mandolin or chop with a knife. Add it to a big bowl.
Sprinkle the cabbage with sea salt. Mix and massage the sea salt into the cabbage for about 5 minutes.
Set the cabbage aside and let it sit for 15-20 minutes so the sea salt has time to draw out the liquid and make the cabbage soft.
Shred the apples using a food processor or cut them into thin strips.
Add the shredded apples, ginger, cinnamon and cloves to the cabbage mixture.
Mix and squeeze the cabbage mixture with your hands or a vegetable pounder until liquid comes out when squeezed.
Pack the cabbage in the mason jar tightly with either your hand or a vegetable pounder. Push it all the way down until it submerges in its own juices (this is the brine).
Repeat this until there is about 1½ inches of space from the top of the jar.
Roll up the leaves and place them in the jar to push the cabbage under the brine.
Screw on the jar loosely so gas can escape as fermentation takes place. Set on the counter for 5-7 days in a cool, shaded place. Place a plate under the mason jar in case it bubbles over and makes a mess.
During fermentation the sauerkraut will bubble a little and become cloudy. If scum appears, remove it with a spoon.
Remove the rolled up cabbage leaves and toss in the garbage before eating.
Store in the fridge.
Notes
Since cabbage heads vary in size, you may fill more than one jar or less. To get the salt just right, add a little and taste the cabbage mixture. Add enough until it tastes a little salty.
Danielle Johnson
Hi! I'm Danielle, I started Fermented Food Lab to educate and bring awareness of the health benefits of eating traditionally fermented foods. My goal is to get more people to try fermentation and love it. It's also a place where I can share what I invent in my kitchen, which I call, "the lab", because I always have something unique and new fermenting on my counters.