Swiss Chard Lentils with Indian Five Spices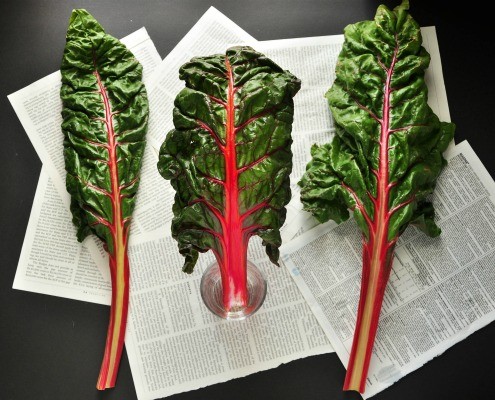 There are many more leafy greens to Indian cooking than the only ever popular Spinach made famous through Restaurant menus blistering with a single most common side dish – Palak Paneer.
By Radhika Penagonda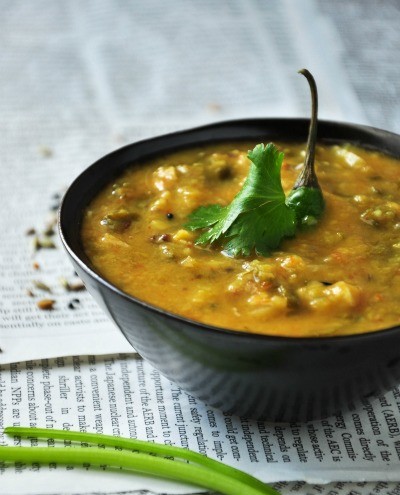 There are many more leafy greens to Indian cooking than the only ever popular Spinach made famous through Restaurant menus blistering with a single most common side dish – Palak Paneer.
However, sparing the Spinach, Fenugreek and Dill, an occasional Amaranth too is quite a luxury, even on the fresh produce days at an Indian or world foods market here in the US. Albeit, If you happen to peek  into a South Indian kitchen, at least one variety of leafy green is a must in a week, many of whom I hardly know the English names for.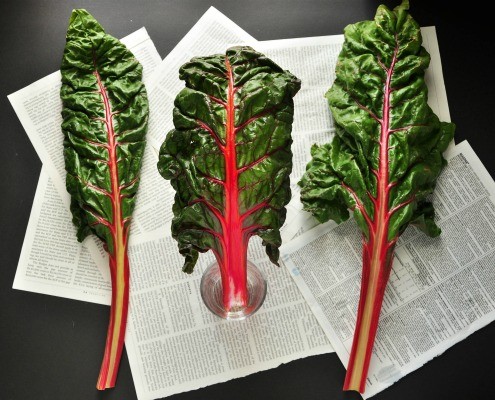 Notwithstanding the dearth of variety in Indian leafy greens, I was seeking some random solace in the locally abundant chlorophyll rich produce. Having not been familiar with most American leafy greens such as Kale, Collard greens or Swiss Chard, I had taken the easy route so far – simply avoiding them. Until recently neither did I really show enough interest in the equally beautiful and nutritional Swiss Chard to bring it home and explore, nor did I have a tiny clue that they are a cousin of the colorful beet root. Their vivacious bright red stalk and broad sheeny leaves must have made the calling for me, on the day I felt compelled to buy.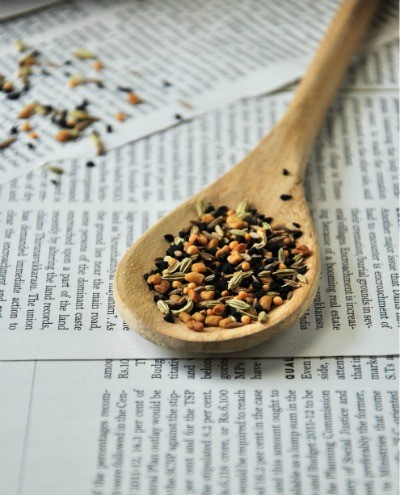 Paanch Phoron (pronounced as foran), which literally translates to Five Spices is a whole spice mix common in everyday eastern India cuisine, consisting of equal parts of Fenugreek seeds, Nigella seeds, Yellow Mustard, Fennel seeds and Cumin.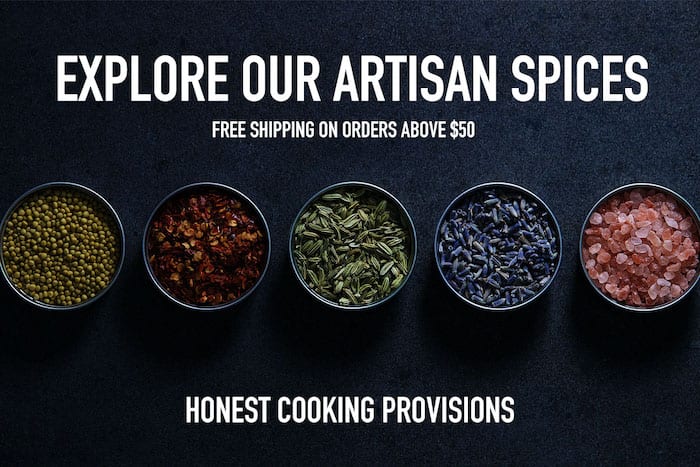 Paanch Phoron is my latest obsession and I catch myself adding it to anything and everything possible from sides to chutneys. The aroma of the spices as they pop and splutter in hot oil has such an amazing effect on the olfactory system, that craving for more is not an option, but a must!
Paanch Phoron Dal being a speciality in that region is the inspiration behind my version where I include Spinach as well for known comfort. Though Swiss chard is almost invisible in the final appearance, it is much like butter that it makes its presence felt in taste, blended with the aromatic spices.
Combine it with hot roti or steaming rice and a spoon of pure ghee for a comforting meal.

Swiss Chard Lentils with Five Spices
Swiss Chard and Spinach Lentils with Indian Five Spice seasoning
Author:
Radhika Penagonda
Ingredients
¼ cup pigeon peas (toor dal)
⅛ cup split yellow lentils (moong dal)
1 stalk swiss chard, chopped
small bunch of spinach / about 1 cup chopped
½ onion, finely chopped
1 tomato, halved
¼ tsp turmeric
¼ tsp red chilli powder ~ optional
cherry sized tamarind or juice of half lemon
salt
For the seasoning:
4 tsp peanut oil /ghee
1 tbsp paanch phoron or five spices
1-2 whole green chillies
¼ tsp turmeric
other kitchen equipment:
Instructions
Soak tamarind in warm water and keep aside for about 15-30 mins, if using. Once soaked, squish tamarind into pulp.
To properly wash the leafy greens in a food-safe way to get rid of pesticides, bacteria and germs along with mud and farm residue, add some baking soda to a big bowl of water; dunk the leafy greens and give a good scrub/rinse. Rinse again or several times in clean water until visibly clean. Pat dry on a clean kitchen towel. Chop swiss chard separating the stalk from the leaf. If you do not prefer to use the stalk, refrigerate for later use in another dish. Else, finely chop the stalk into thin slices and then the leaf. Roughly chop the spinach bunch.
Wash the lentils well until water runs clear. Pressure cook lentils with the tomato,turmeric and water enough and more to cover the lentils and tomato halves. When the cooker has cooled, whisk through the lentils and tomato to mash well for a uniform consistency. If not using a pressure cooker, cook the same in a pot, stove top. Let the water come to a rolling boil and simmer partially covered until the lentils are soft and cooked and can be mashed easily.
For the seasoning, heat oil or ghee in a heavy bottomed pot on high heat. When the oil is hot enough or shimmering, add paanch phoron, reduce the heat to medium and let the whole spices splutter and crackle. Add whole green chillies, chopped onion followed by turmeric and saute until onion turns translucent. Add chopped leafy greens and saute until they are soft and cooked. Add salt, red chilli powder and tamarind pulp if using. Add the mashed lentil mixture and simmer to a slow boil, about 10 mins. Do not bring to a rolling boil for the risk of losing the flavor of the spices. Once done, cover and set aside. If not using tamarind, squeeze lemon juice and stir well.
Garnish with cilantro and serve hot with steamed rice or fresh off the griddle Indian breads.
Notes
Paanch Phoron is available in most Indian grocery stores or world food markets
Radhika Penagonda
Radhika Penagonda is a vegetarian food blogger, ardent photographer and enthusiastic cook who loves to explore new ingredients and believes strongly in eating with our eyes first. Passionate about home-made food prepared from natural ingredients, minimally processed and close to nature, she shares through her blog how home style or not 100% vegetarian food can be lip smacking tasty and simply delicious.