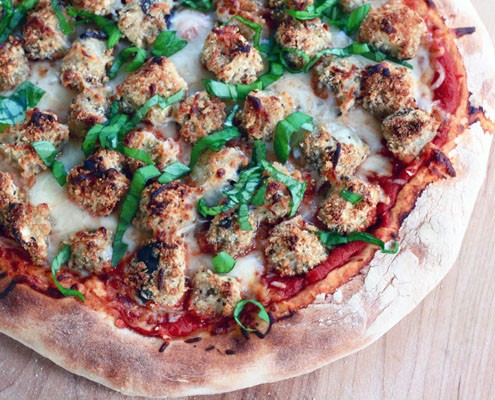 Kristina Wiley finds her new favorite pizza through some divine creative inspiration.
By Kristina Wiley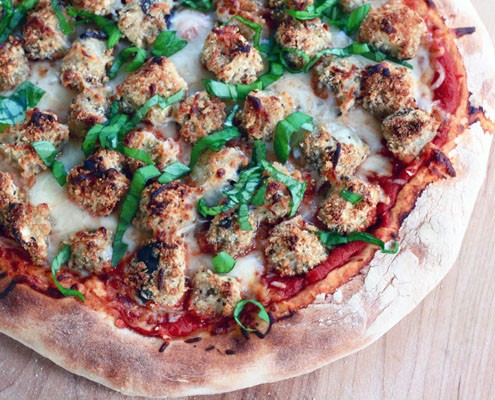 Hello new favorite pizza! The hubs and I make homemade pizza about once a week (usually on Sundays).  It makes great leftovers for the Monday's lunch, and we just love it!  One Sunday I wanted to get creative with our pizza and for whatever reason, Eggplant Parmesan was on my mind.  Eggplant Parmesan on pizza? Why the heck NOT?! I thought to cube up the eggplant (instead of the typical sliced) and roll with it.
The little bite sized pieced turned out so crispy and delicious. Crunchy/Crispy gets me every. time.  I've decided that I need to make an eggplant parm sub next time with those little bite sized puppies! SO SO good.
See Also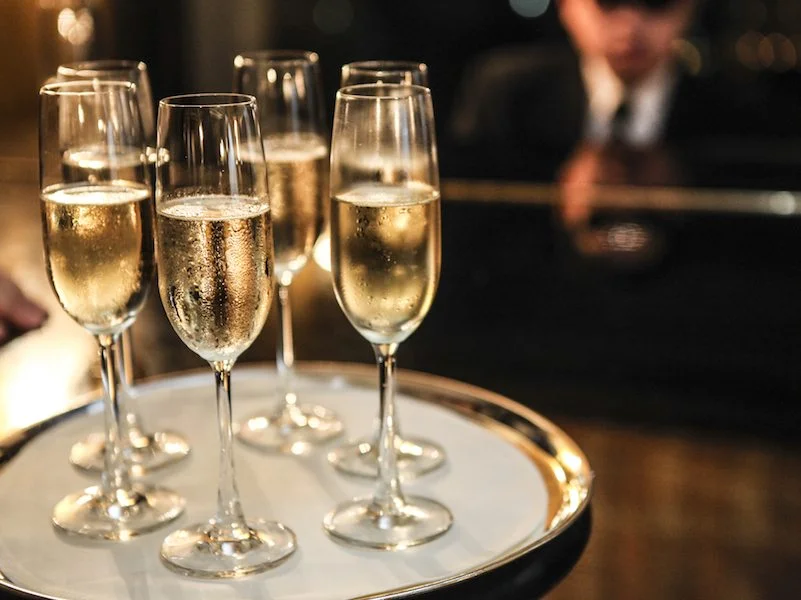 Anyhow, this is what happens when Eggplant Parmesan meets Pizza. PHENOMENAL! Be prepared to fall in love.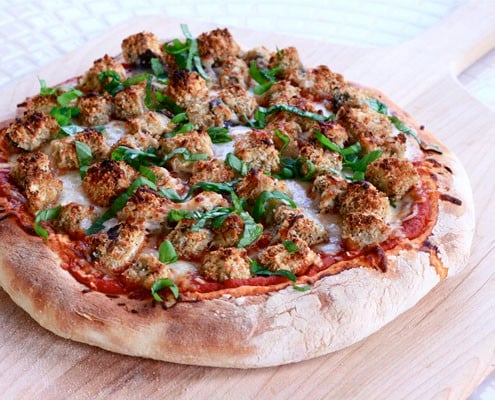 Eggplant Parmesan meets pizza = heavenly!
Ingredients
For the Eggplant:
3 TBS Canola Oil
1 medium eggplant - cubed into ¾ inch pieces (roughly 4 cups)
1 tsp salt
4 TBS flour
1 egg plus 2 egg whites
For the Eggplant Coating:
1 cup panko bread crumbs
½ cup regular bread crumbs
1 TBS garlic powder
½ tsp pepper
½ tsp dried basil
Other:
1 pizza dough
1 cup mozzarella cheese
¾ cup Italian 6 cheese blend
3-4 Basil leaves, chiffonaded
Corn Meal
For Basic Pizza Sauce (makes enough for 3 pizzas):
28oz Crushed Tomatoes
1 tsp salt
1 tsp sugar
½ tsp crushed red pepper flakes
Instructions
Preheat oven to 400º F. I place my pizza stone on the bottom rack and allow it to begin heating up. Coat the bottom of a sheet pan with the 3 TBS of Canola Oil
Placed cubed Eggplant into a collander and sprinkle with 1 tsp salt (toss to coat well). Allow to rest for 5 minutes. Sprinkle flour over eggplant one TBS at a time and toss until coated.
Beat one egg plus 2 egg whites in a medium bowl. Add the eggplant to the egg wash and gently toss until coated. Remove making sure to shake off any excess eggwash.
In a 3rd bowl, mix together eggplant coating ingredients (Panko, bread crumbs, garlic powder, pepper, and dried basil). Add the eggplant that has been coated in egg wash and gently toss until coated. Pour entire contents of bowl onto baking sheet and spread into one even layer (make sure none of the eggplant are overlapping).
Bake for 20-25 minutes (flipping halfway through). Eggplant should be nice and crisp, and beginning to brown. Remove from oven and set aside.
Move pizza stone to middle rack and turn heat up to 450º. Roll out or hand toss the pizza dough (we hand tossed it to make a nice thick crust). Sprinkle some corn meal onto pizza stone right before putting dough on it (this helps prevent sticking). Poke the center of the pizza dough with a fork to prevent it from bubbling up. Close oven and bake dough for 3-5 minutes. Remove dough from oven with a pizza peel (It should be firm and puffy, but not browning).
Add desired amount of pizza sauce (I used about ¾ cup of the above mentioned recipe). Next, add cheese and eggplant. Bake for another 5-7 minutes. Last, turn oven on broil and allow crust to brown (only about a minute or so). Keep a close eye on it while it is broiling! Remove from oven, sprinkle with fresh basil, slice with a pizza wheel, and serve.
The best pizza - EVER.
Kristina Wiley
Kristina Wiley is the South Florida blogger behind the blog My Life as a Mrs. She is passionate about food, entertaining, and life. She writes about cooking as a joy that can be used to bring friends and family back together around the dinner table; be it quick and easy weeknight meals or full on multi course dinner parties.