Sometimes simple tastes best, but it can be hard to achieve. Check out this perfect recipe for sweet and simple yellow cake that is oh so light and soft and topped with a rich chocolate frosting.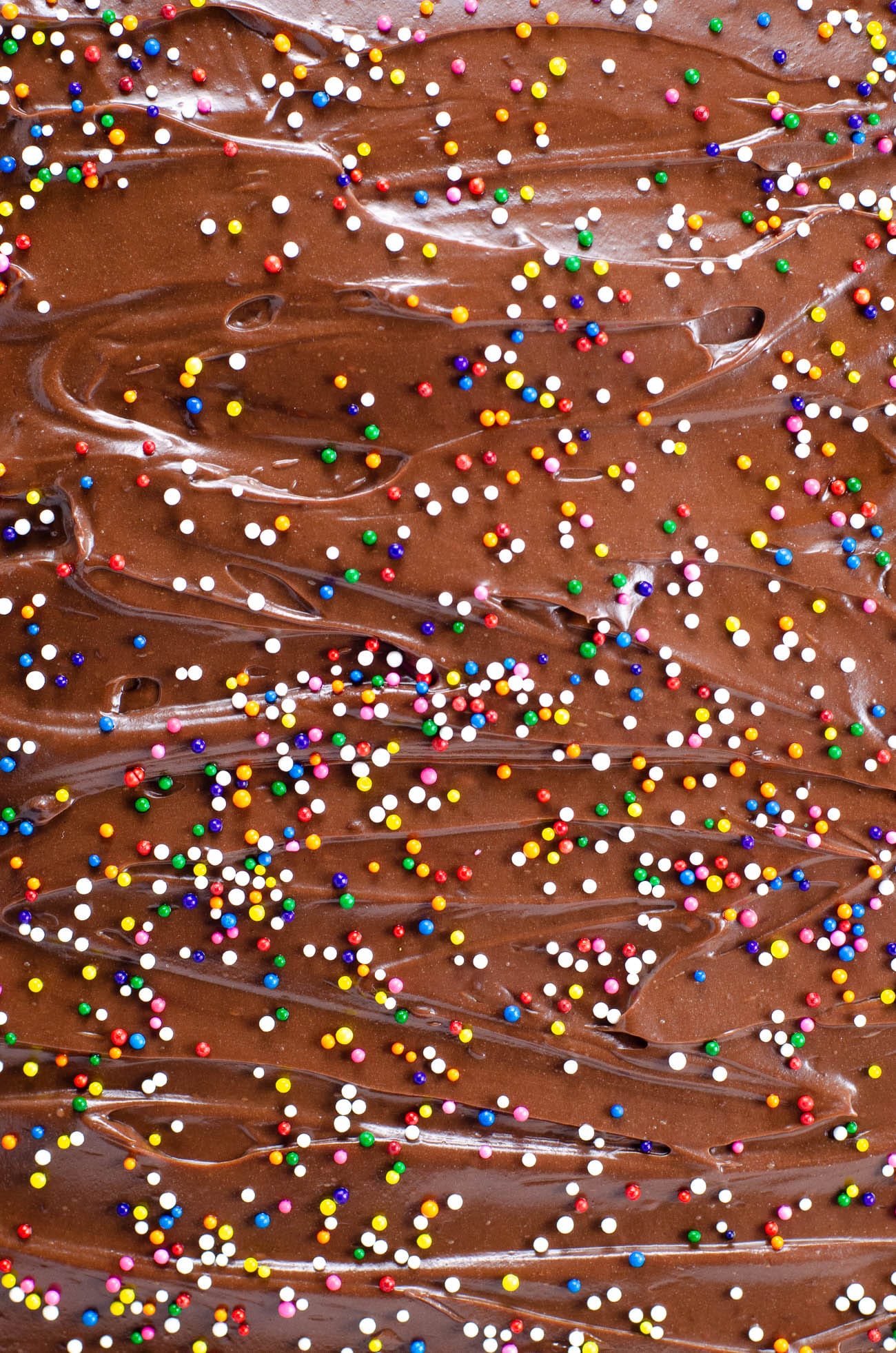 This is a perfect, back-to-basics, easy yellow cake recipe with chocolate frosting.
You guys, I can hardly believe it, but Umami Girl is now 10 YEARS OLD. We're two whole hands. Double digits. Borderline elderly by internet standards. It's madness.
We're celebrating this week, because as any kid will tell you, turning 10 is kind of a big deal. But we're low-key celebrating, because I'm saving my big party hat for Umami Girl's relaunch later this year. You can't wear the big party hat all the time.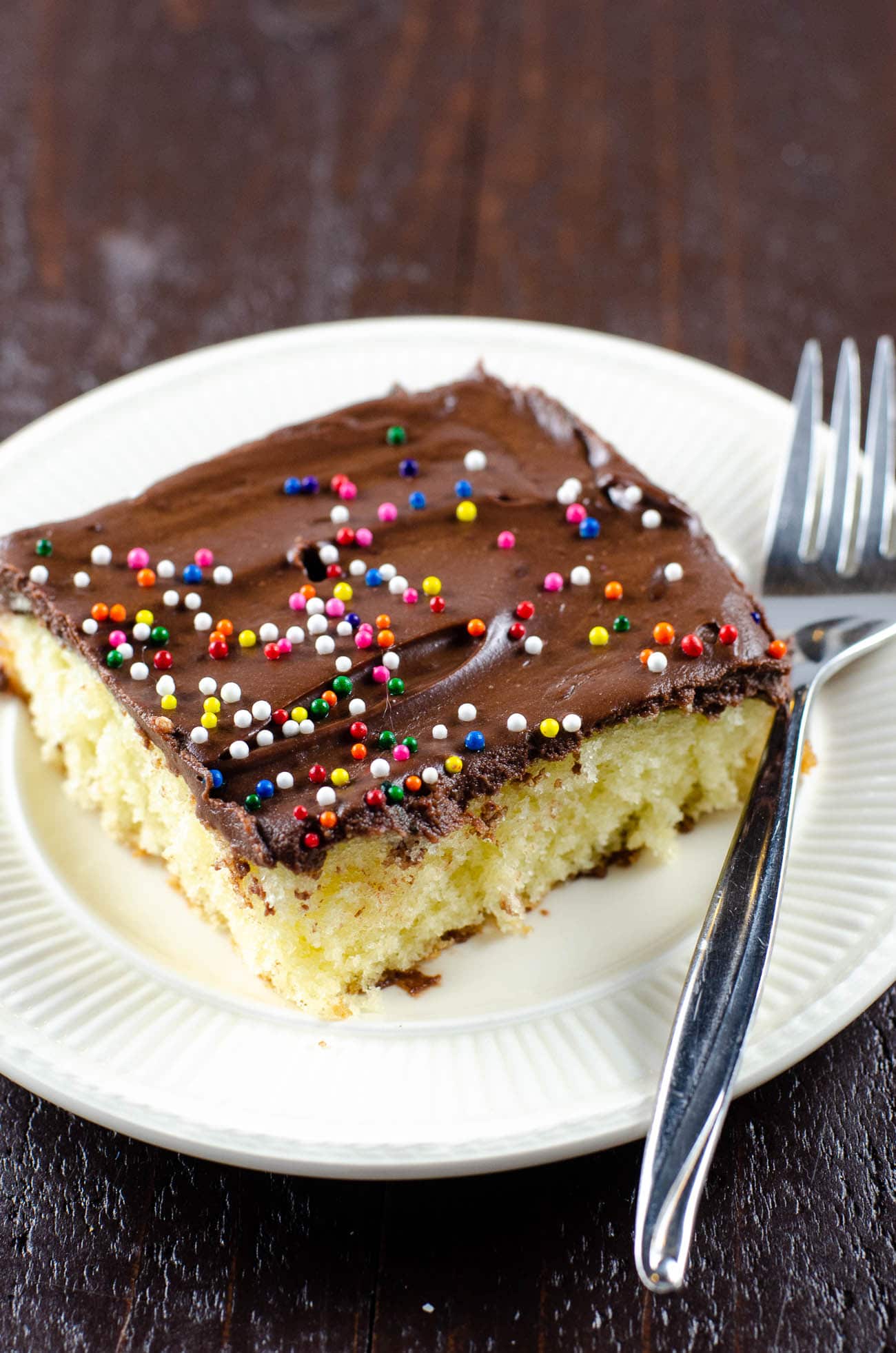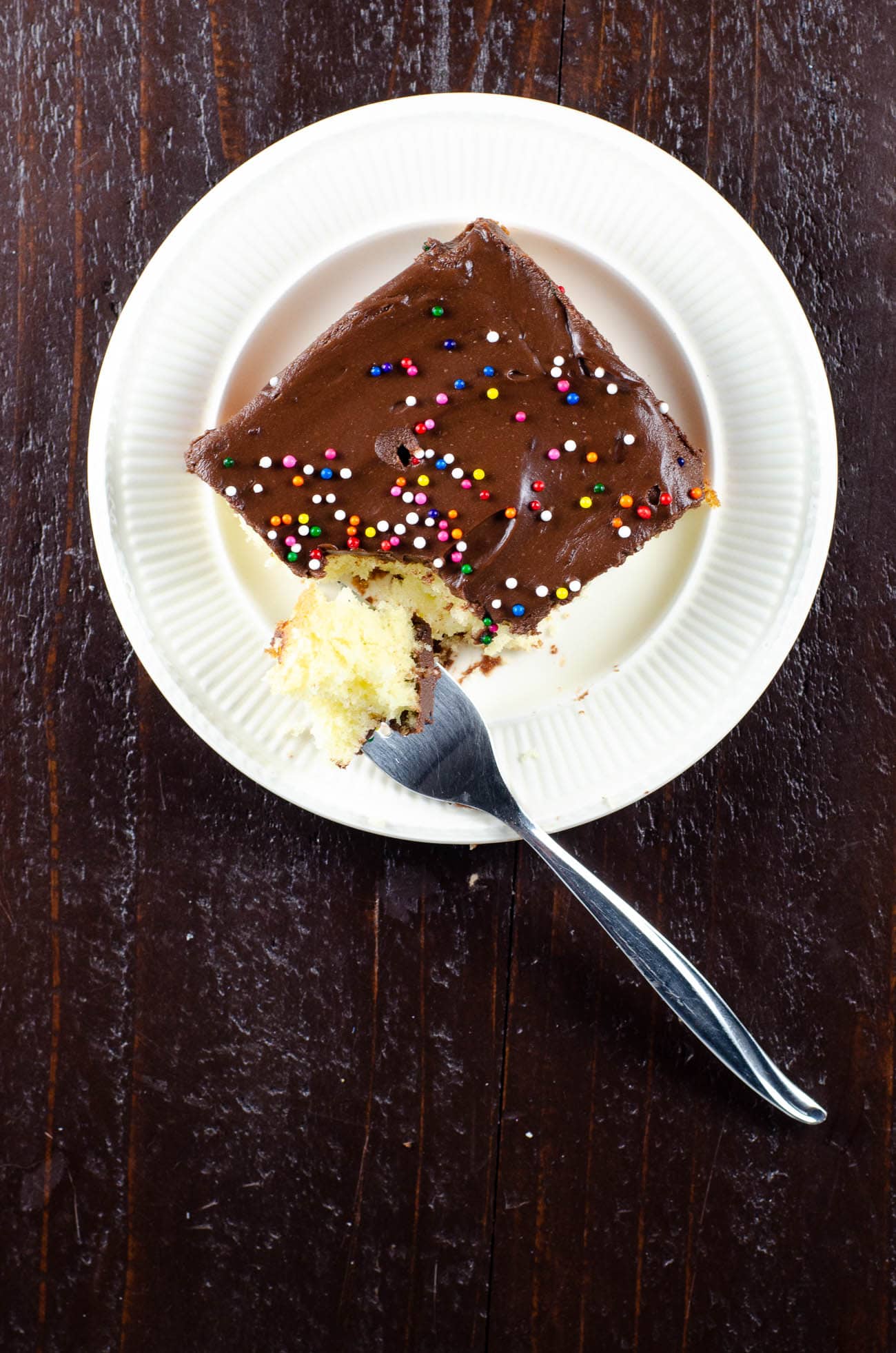 It's all good, though, because when you have a cake like this, you don't need anything else. This easy yellow cake recipe with chocolate frosting and sprinkles, which gets baked into the perfect size sheet cake in 20 minutes in a good old 9 x 13 inch pan, is the answer to a very particular question that I'd been dying to solve. The question was, how do you make a cake from scratch that has all the good parts of a cake from a box but none of the bad parts? Obviously no shitty ingredients, thank you very much. And no oversweetness that leaves you with a sugar hangover. But the almost impossibly light, fluffy moistness? The dense chocolate frosting? The simplicity? The sort of vague nostalgia for a version of Americana you never quite possessed? The SPRINKLES? Yes PLEASE.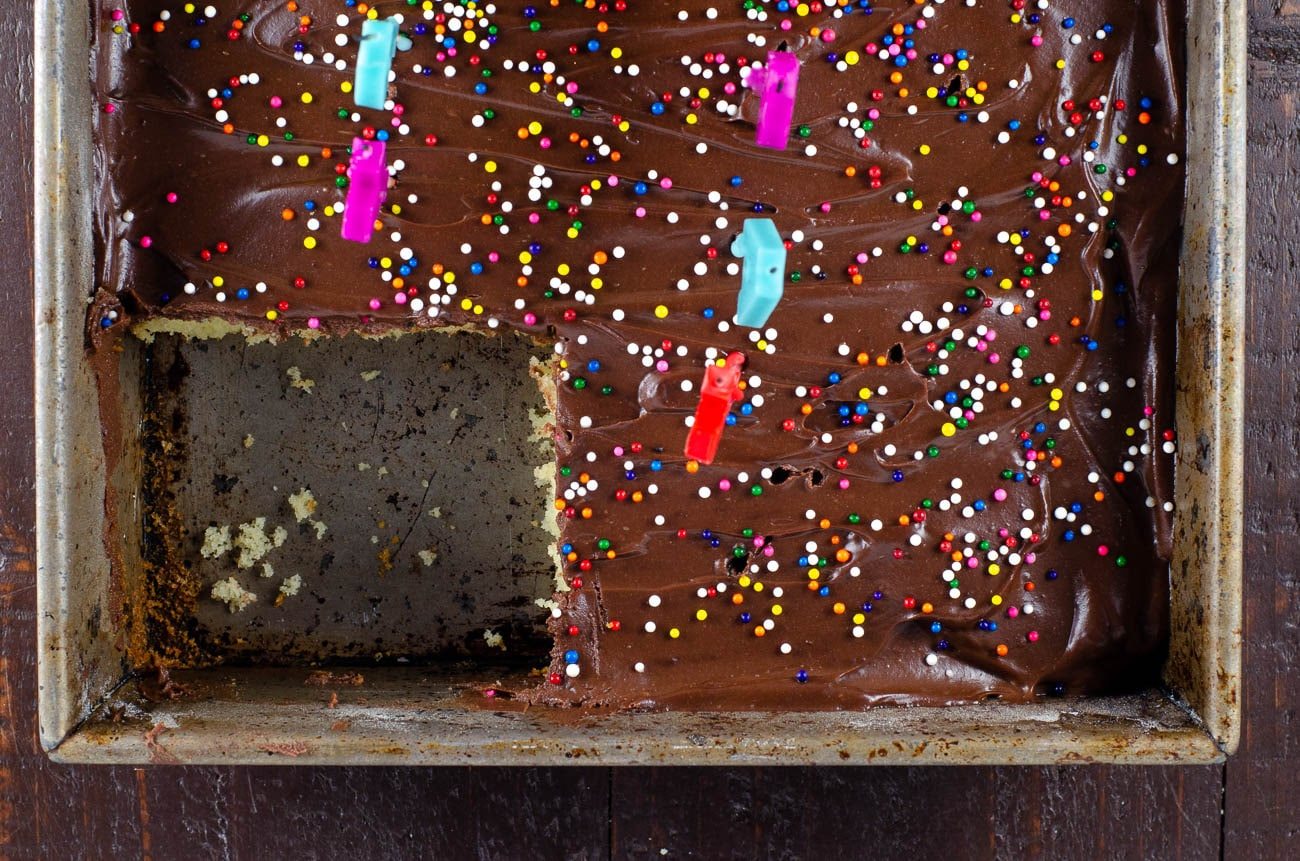 I did some pretty exhaustive research to find a starting point for this cake. I knew I couldn't be the first person to want a satisfying answer to that question, and I wasn't. In fact, Gourmet Magazine had once written an article apparently kinda shaming American home cooks for using boxed cake mixes. The accompanying recipe for an all-occasion yellow cake eventually made it into the giant, yellow tome The Gourmet Cookbook, which is where I found it. The frosting is lightly adapted from the sour cream ganache we've been using for eons.
Here are a few tips and quick answers to help you make the most of this cake recipe. It's not fussy (that's the point!), but a few protips will go a long way.
What is cake flour?
This recipe calls for cake flour, and it's critical for the cakes's lightness and tender crumb. Cake flour is finely milled from wheat with a lower protein content than all-purpose flour, so it packs a double punch in the tenderness department. It's pretty easily available, but you can also order it on Amazon through our affiliate link below.
How to measure flour for baking
We've provided the measurements in both volume and weight below, so if you have a digital kitchen scale, flick it to the grams setting and weigh everything for perfect, precise results. If not, it's critical to fluff your flour with a spoon to make sure it isn't too dense in the container. Then use the spoon and level method to measure: spoon the fluffed flour lightly into your measuring cup and run the flat side of a butter knife across the top to level it off.
See Also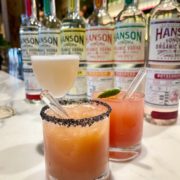 How to mix cake ingredients
So. Before you add the flour, ya wanna mix a lot. Follow the surprisingly long mixing times in the recipe to incorporate plenty of air into the batter, and beat the eggs in one at a time like it says. But. After you add the flour, the goal is to mix only until the batter becomes smooth and homogenous. Less mixing means less gluten development means a lighter, more tender cake.
How long should I bake this thing?
This cake has a nice, short baking time. I've found it only takes about 18 minutes for a tester to come out clean from the center, and you don't want to overbake it. Ovens are notoriously individual, but look for a still-pale top rather than expecting this cake to brown, and quit baking while you're ahead for the moistest result.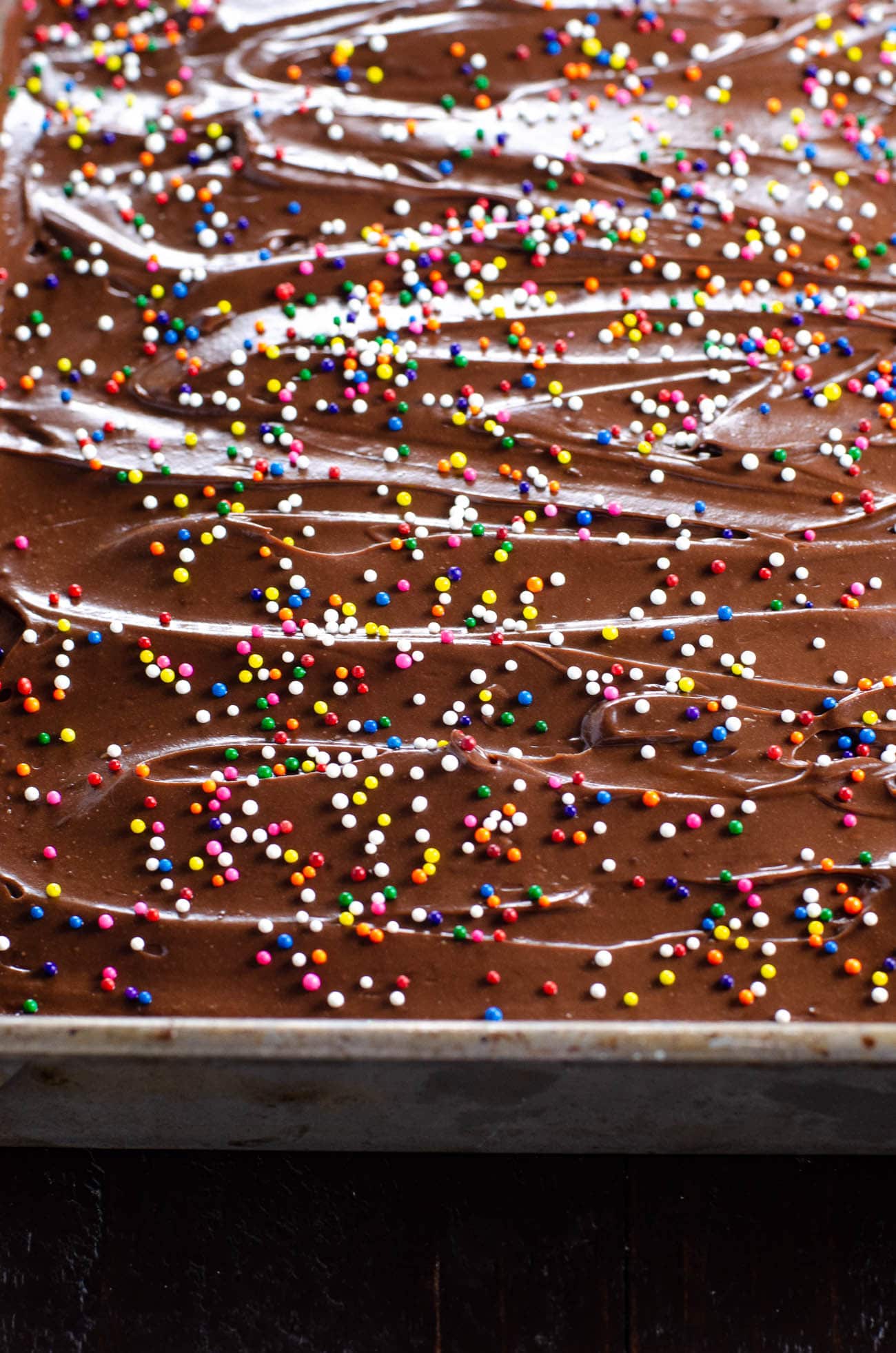 Click here for the chocolate frosting recipe.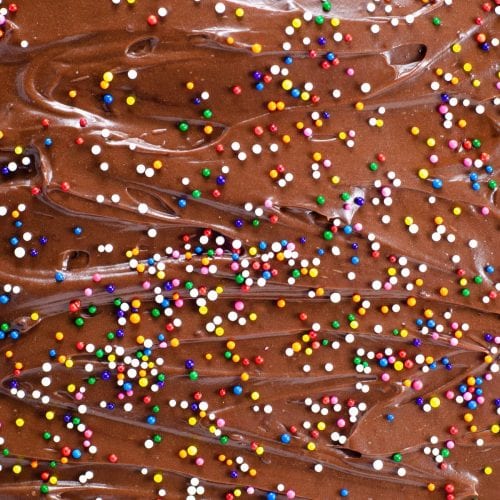 Sweet and Simple Yellow Cake with Chocolate Frosting
Carolyn Cope
Ingredients
For the yellow cake
2

cups

256 g cake flour (not self-rising)

2

teaspoons

baking powder

1/2

teaspoon

salt

8

tablespoons

112 g unsalted butter, softened

1

cup

200g sugar

3

large eggs

left at room temperature for 30 minutes

1 1/2

teaspoons

vanilla extract

3/4

cup

whole milk
For the chocolate frosting
Click the link above for the recipe.
Instructions
For the yellow cake:
Preheat oven to 350°F with a rack in the center. Butter and flour a 9 x 13 inch baking pan, tapping out any excess flour.

Into a medium mixing bowl, sift together the flour, baking powder, and salt.

In a large mixing bowl or the bowl of a stand mixer fitted with the whisk, beat butter and sugar together on medium-high until pale and fluffy, about 5 minutes. Beat in the eggs one at a time until incorporated. Add vanilla and beat for 5 minutes more.

Reduce mixer speed to low and alternate between adding the flour mixture (in 3 parts) and the milk (in two parts), starting and ending with flour. Mix just until batter is smooth — do not overmix.

Spread batter into pan and bake for about 20 minutes (check at 18), just until a cake tester comes out clean from the center. Cake will be pale, not brown. Cool completely before frosting.
For the chocolate frosting:
Carolyn Cope
Carolyn is the voice behind the popular blog Umami Girl and writes frequently for other food-related publications. Equal parts live-to-eat and eat-to-live, she holds certificates from both the French Culinary Institute and the eCornell Plant-Based Nutrition program. Carolyn has lived and worked in New York and London and currently resides with her husband and two daughters in a sweet little seaside town in New Jersey.