SPONSORED: We get excited about good food and great ingredients, so we've teamed up with Divine Flavor to bring you delicious recipes for each season made with their fresh produce.
Half and Half Linguini uses half "real" noodles and half zucchini noodles for a tasty treat with less calories. Plenty of fresh herbs – mint, dill, and parsley – brighten things up along with the briny capers which are fried until crispy.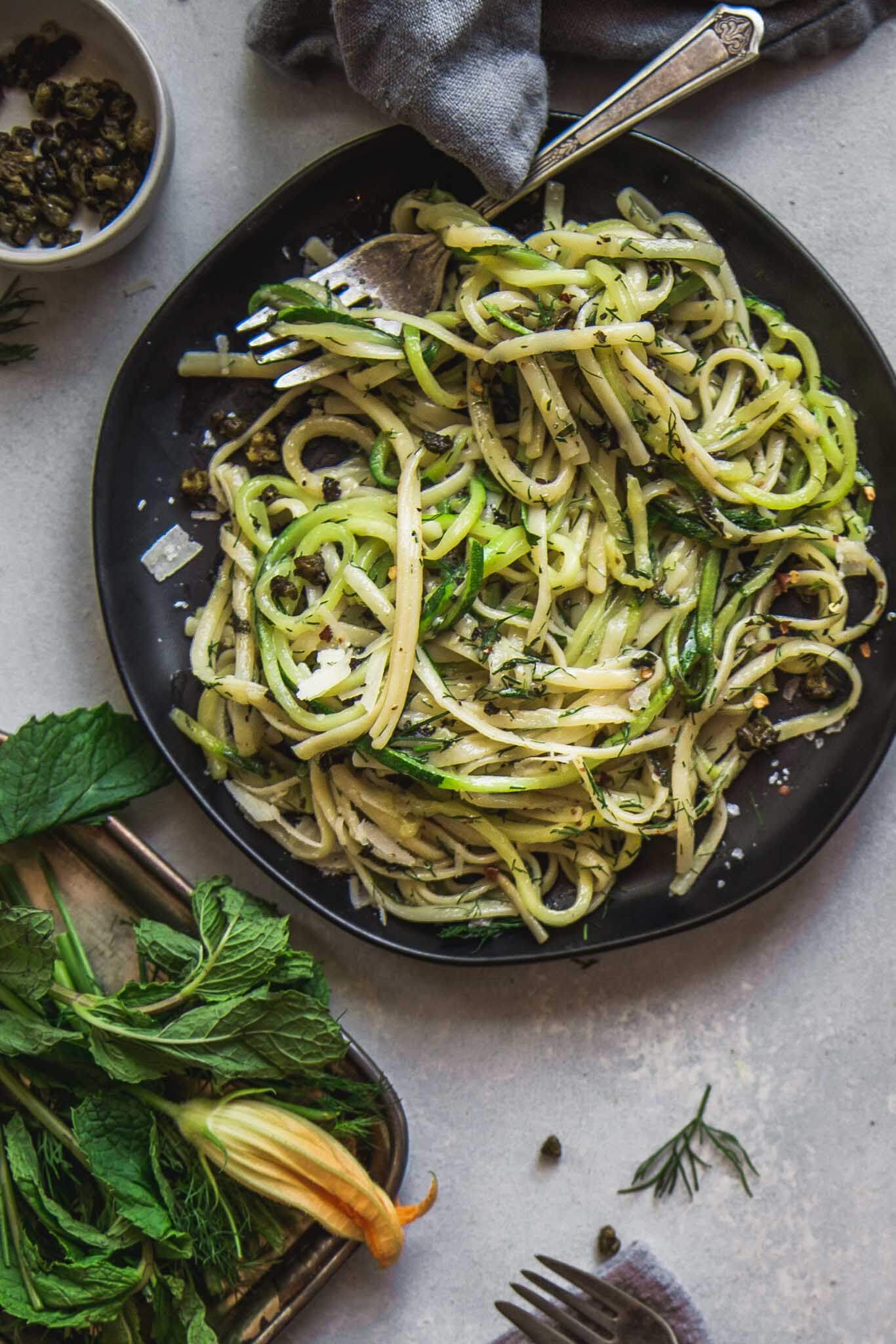 This recipe for Half & Half Linguini grew out of my love to eat a massive bowl of pasta and my need to make myself feel not so guilty for piling it all in there. I mean, my bowls of pasta are never petite… Massive is more the word for them.
And while the title for this recipe may be deceiving, there is not actually and half & half in this recipe. Instead, this recipe combines half "real" pasta and half zucchini (which has been cut to resemble pasta strands). Meaning that this recipe is only half loaded with carbs – the other half is straight up veggies. Genius, right? If I do my math correctly, that means I can have double the size pasta bowl I normally have…
This yummy pasta goodness is dressed simply.
I tossed the linguini and zucchini noodles with plenty of fresh herbs (dill, mint and parsley), some fresh grated parmesan and some quick, crispy fried capers. The herbs brighten everything up while the parmesan gives a nutty quality and those crispy capers finish it all off with a salty, briny quality.
Be sure to save some of the starchy cooking liquid from your pasta pot. It will help add body to the dish and will help to steam the zucchini noodles. Stir it all together with a bit of butter and let it get nice and creamy with the parmesan.
I think you'll be obsessed.
Bonus that this recipe takes less than 30-minutes from start to finish.
This is one of the first recipes that I wrote for this blog and I have friends that still tell me they make these half & half zucchini noodles over and over again…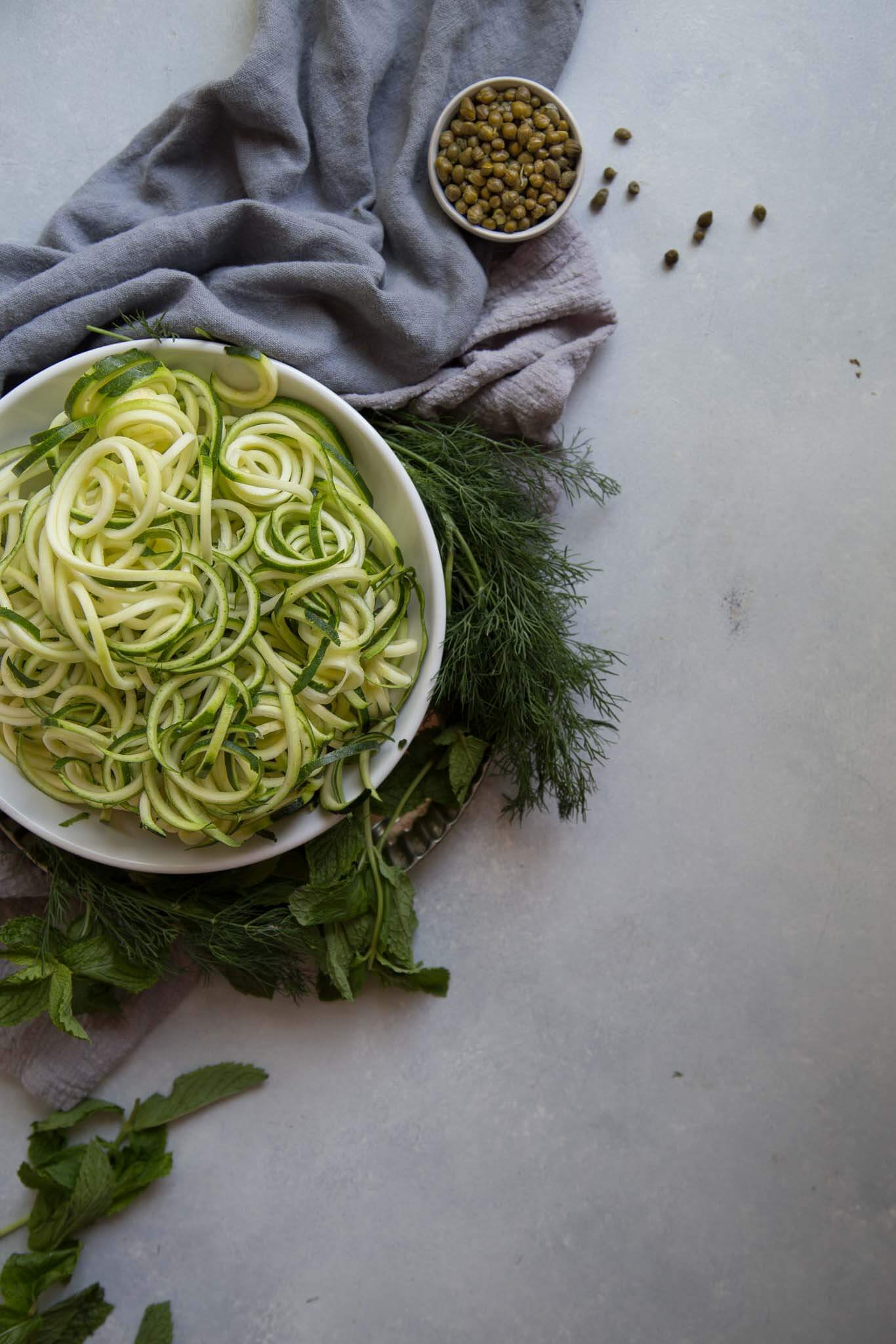 How do you Make Zucchini Noodles?
There are three options for making zucchini noodles:
Use a julienne tool. For quite a while this was my preferred method. The tool is about the size of a potato peeler and works in a similar fashion.
Use a knife. Just thin slice slices horizontally and then slice those slices into long thin strips.
Use a spiralizer. This is my new preferred method. I just got this spiralizer attachment for my KitchenAid as a wedding gift and I'm totally obsessed with it. I can spiralize three zucchini in less than 2 minutes. If you don't have a KitchenAid, there's also this spiralizer that gets great reviews.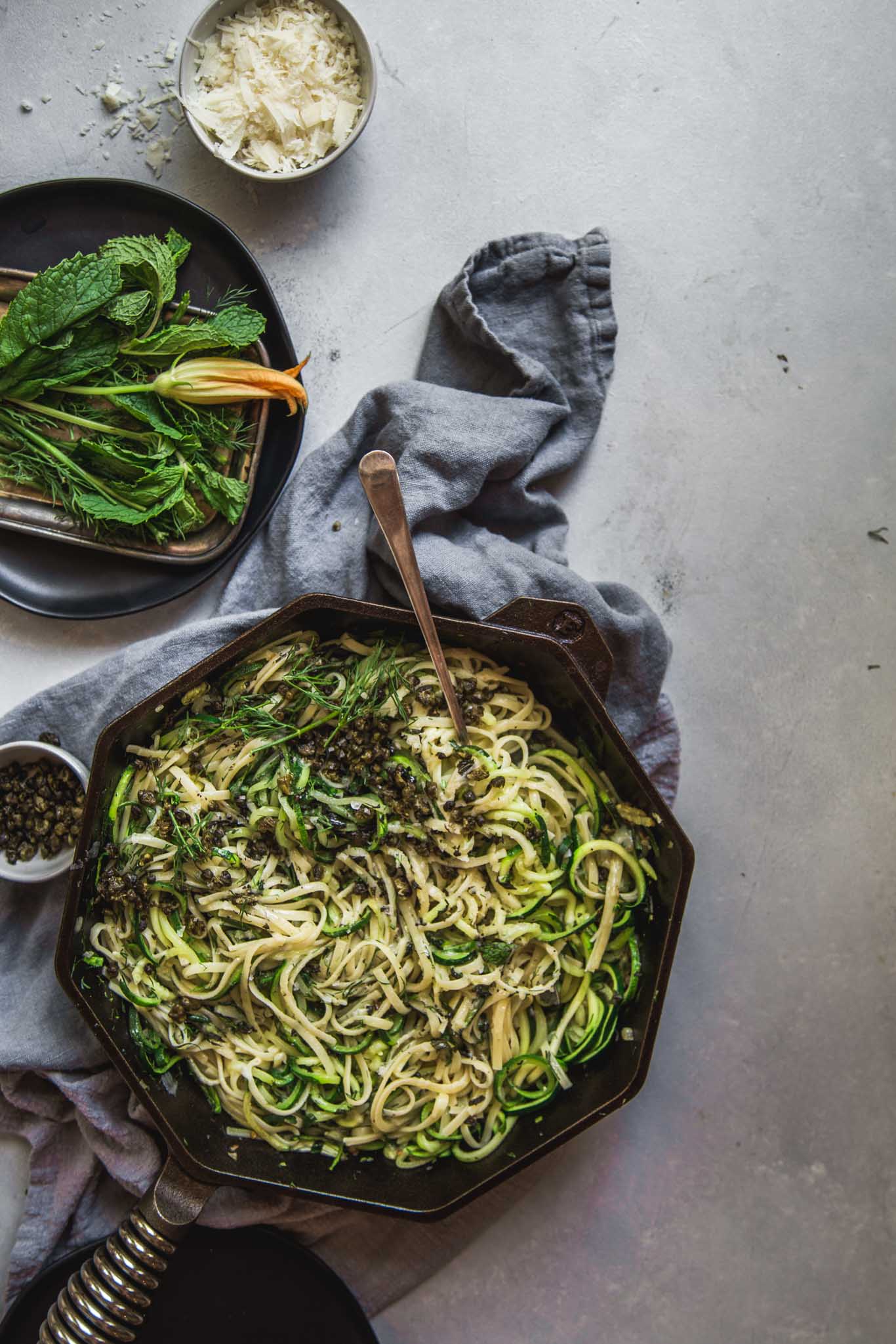 How do you Cook Zucchini Noodles?
I prefer to quick-saute zucchini noodles for just a few minutes. In this recipe, I saute them in a skillet with a bit of olive oil, garlic and red pepper flakes. Then I add in the "real" pasta and a splash of the cooking water which helps them steam a bit further. This can be a personal choice too. You may prefer your zucchini noodles al dente, which would only take about 1 minute, or you may like them on the creamier side, which would be about 3 minutes. I tend to like them on the rawer side, plus they reheat better this way too.
Can I use all Zucchini Noodles in this recipe?
Sure! If you prefer to leave the carbs out completely, you can use all zucchini noodles. I would add in four more zucchini to make up for the "real" pasta in this recipe. I would also add in about ¼ – ½ cup of water as the zucchini sautes to help it steam a bit.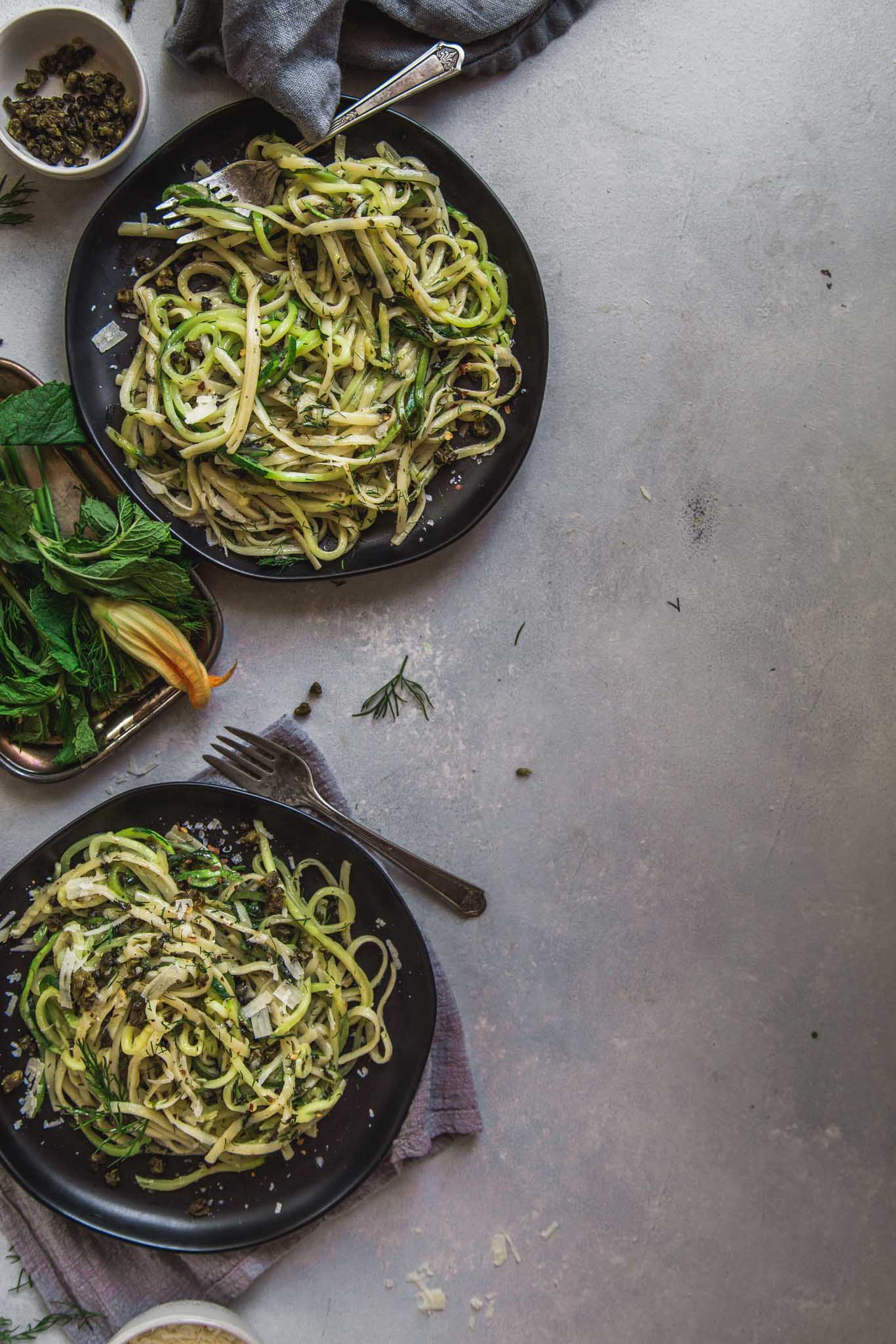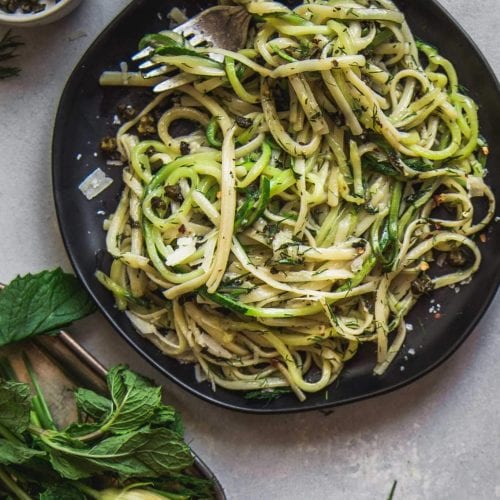 Half and Half: Linguini with Divine Flavor Zucchini Noodles, Herbs & Fried Capers
Erin Rebecca
Ingredients
3

medium Divine Flavor zucchini julienned or spiralized

8

ounces

linguine 1/2 package

3

Tablespoons

olive oil

1/4

cup

capers drained

rinsed and dried

2

cloves

garlic minced

1/2

cup

chopped mint

3/4

cup

chopped fresh dill

1/4

cup

chopped fresh flat-leaf parsley

A pinch red pepper flakes

Salt and pepper

3

Tablespoons

butter diced

1 1/4

cups

freshly grated Parmesan cheese
Instructions
Julienne your zucchini using your preferred method.

Cook the pasta in boiling, salted water according to the package instructions, then drain in a colander, reserving a little of the cooking water.

While the pasta is cooking, heat 2 tablespoons of the olive oil in a large frying pan over medium heat, add the capers, and cook until crisp. Remove with a slotted spoon and place on a paper towel to cool.

Heat the remaining tablespoon of oil in the pan, and cook the zucchini, garlic, and pepper flakes, until just tender, 1-3 minutes.

Toss the zucchini with the drained pasta, along with the herbs. Season with salt and pepper. Add the butter, 1/4 cup of the reserved cooking water, and half the cheese and mix well. Serve immediately, sprinkled with the remaining cheese and fried capers.
Erin Rebecca
I'm Erin - a self-taught weeknight cook. I occasionally like to delve into the more complicated recipes, like homemade pasta, Cioppino, and boeuf bourguignon. But for the most part, I work full-time, come home, pour a glass of vino and start cooking away.