Quick and easy to make, this sweet and salty snack of Sweet and Salty: Chocolate-Covered Hazelnuts s crunchy, buttery, sweet, and finished with a pinch of salt.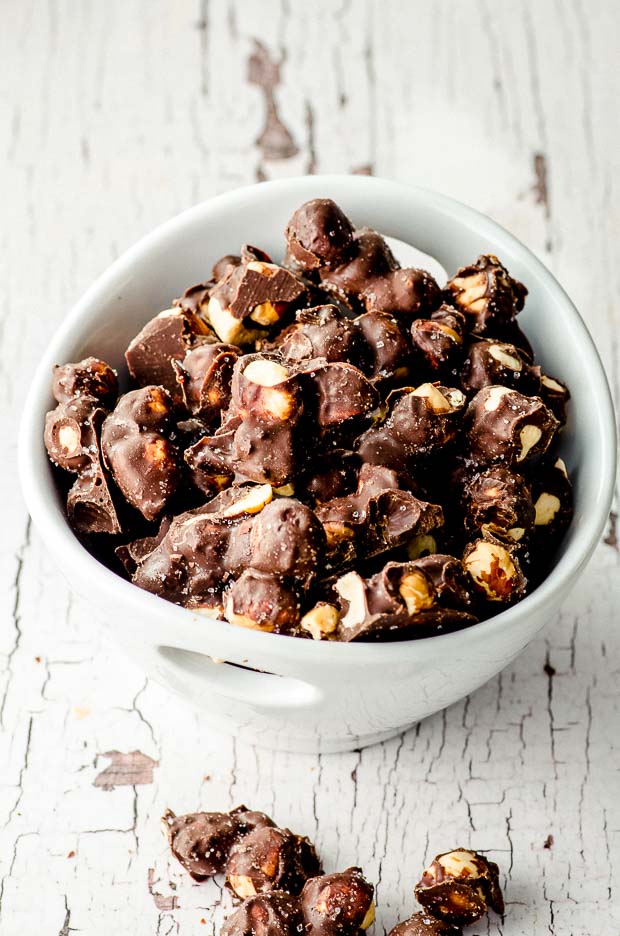 In our opinion, the world would be a better place if we just started eating dessert before dinner. Especially our Salted Chocolate-Covered Roasted Hazelnuts – these crunchy, buttery, sweet, and salty babies might just be the secret to world peace. What isn't there to love about roasted hazelnuts? Also known by the dorkier name of "filberts," these little, exotic, nutty/chocolatey treats add crunch and sweetness to baked goods, extra flavor to salads, sauces and coffee, or make a heart-healthy, brain-powering snack on their own. Even better, roasting them is super easy, and they freeze for up to a year afterward! ( click here to learn how to!)
While we love to present ourselves as culinary geniuses, the truth is, we came up with the recipe for these chocolate covered roasted hazelnuts by accident. In the middle of making several servings of our chocolate-dipped stuffed dates from our cookbook, Tahini and Turmeric, for one of our cooking events, we happened to have a bunch of melted chocolate left over. So we added it to some roasted hazelnuts, threw in some salt, put them in the freezer, et voilà! Instant dessert. It just goes to show you that some of the most marvelous ideas come about by mistake. (For more chocolate-stuffed date inspiration – or to just drool – click here.)
The great thing about these salted chocolate covered roasted hazelnuts is not just how quick and simple they are, but also what a delicious option they make for vegans, vegetarians, and those observing Passover (of course, you can eat them the rest of the year,
too!). There's also plenty of room to experiment. Try mixing your roasted hazelnuts with:

cinnamon
cardamom
cloves
pumpkin spice mix
or even a touch of Garam Masala.
Be sure to make a lot: these guys will run out quickly!

Sweet and Salty: Chocolate-Covered Hazelnuts
Author:
Vicky Cohen and Ruth Fox
Recipe Type:
Snack, Dessert
Ingredients
1½ cups roasted hazelnuts (about 6 ounces)
¾ cup chocolate chips
1 tsp coconut oil
Sea salt to taste
Instructions
Line a large baking sheet with parchment or wax paper. Set aside
Place the hazelnuts in the freezer while you prepare the chocolate
Combine the chocolate chips and coconut oil in a medium bowl, and melt in the microwave at 20-second increments, stirring well each time. Once the chocolate has melted, add the hazelnuts and stir well, so they're well covered in chocolate. Transfer them to the lined baking sheet, sprinkle with salt and place the freezer for 1 to 2 hours, until the chocolate hardens. Break it into pieces
Store in the freezer, in a glass jar or container