Sweet Potato Scones with Orange Glaze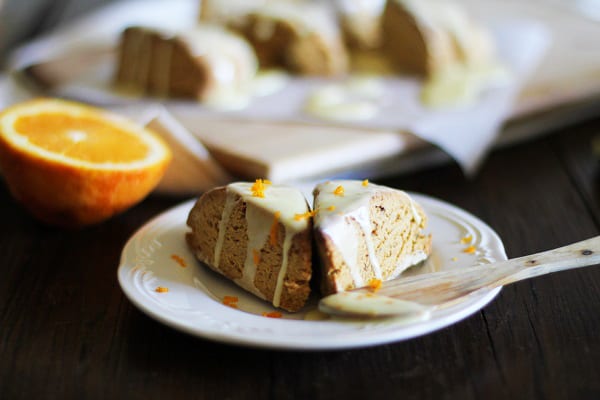 Sweet and spicy gluten-free scones are topped with a zesty citrus glaze for a breakfast or coffee break snack that will brighten your day.
By Julia Mueller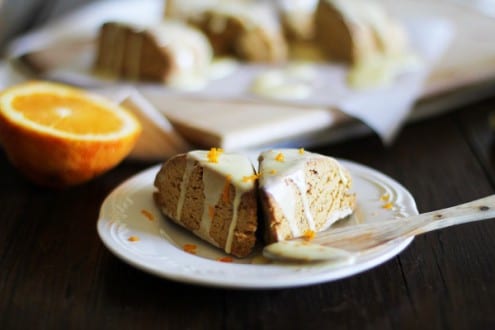 Sweet Potato Scones with Orange Glaze
Sweet and spicy gluten-free scones are topped with a zesty citrus glaze for a breakfast or coffee break snack that will brighten your day.
Ingredients
For the Sweet Potato Scones
16 ounces (3 cups) Gluten-Free all-purpose flour
½ teaspoon baking powder
1 teaspoon ground cinnamon
1 teaspoon ground ginger
½ teaspoon kosher salt
½ cup tightly packed brown sugar
1 stick (8 tablespoons) unsalted cold butter
1 cup tightly packed mashed sweet potato (1/2 large sweet potato)
¼ cup heavy cream
1 teaspoon vanilla extract
For the Glaze
1.5 cups powdered sugar
½ teaspoon orange zest
3 tablespoons fresh orange juice
Instructions
Preheat the oven to 400 degrees F.
Poke several holes in a sweet potato using a fork and wrap it in foil
Place the wraped potato in the oven for 60 minutes or until very soft. Remove from the oven and allow it to cool slightly before placing it in the refrigerator to cool completely. When cooled, peel the skin away from the flesh, mash the flesh with a fork, and measure out one tightly packed cup of mashed sweet potato.
Preheat the oven to 425 degrees F.
In a mixer, combine the flour, baking powder, cinnamon, ginger, salt, and sugar.
Cut in the cold butter, one tablespoon at a time (if you don't have a mixer, use a pastry cutter or your hands).
Add in the mashed sweet potato and mix together on medium speed until small beads form.
Slowly pour in the cream and continue mixing until a moist (but firm) dough has formed.
Take the dough in your hands and form a ball. Cut the ball in half and form each piece into a round, flat disk.
Place each disk on a well-floured baking sheet.
Cut each disc into 8 triangles and arrange the triangles so that they are at least one inch apart from each other.
Bake the scones at 425 degrees F for 15 to 20 minutes
Julia Mueller
As a fitness and nutrition enthusiast, Julia writes a food blog called The Roasted Root, where she share recipes that are mostly vegetable and meat based along with stories of her travels and day-to-day activities. Julia loves enjoying fresh home cooked meals with her friends and family, and the process of developing recipes, photographing, and sharing them.