Sweet Potato Arugula Salad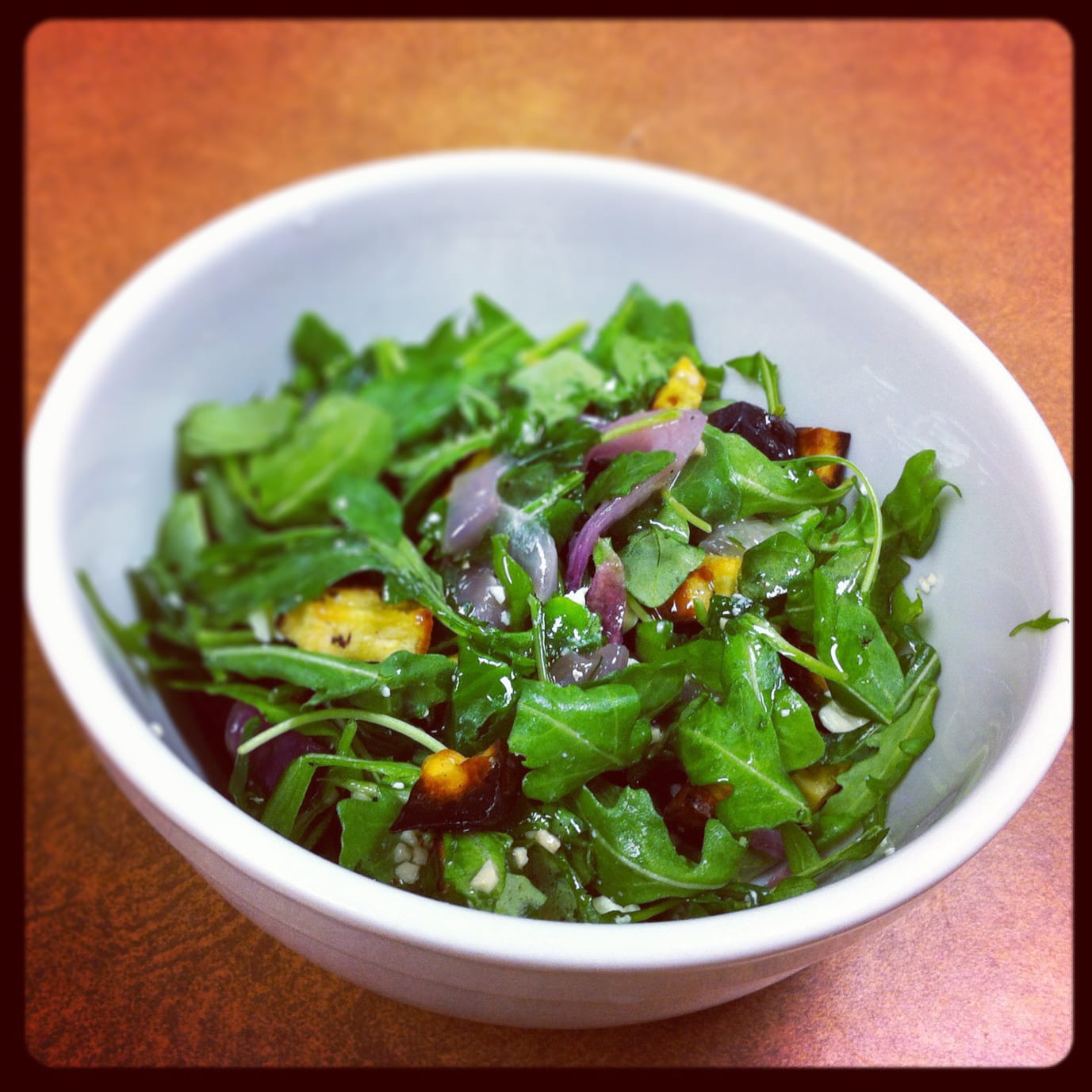 Hearty sweet potatoes married with fresh green arugula is a wonderful and simple dish that one simply can't resist.
By Sara Clevering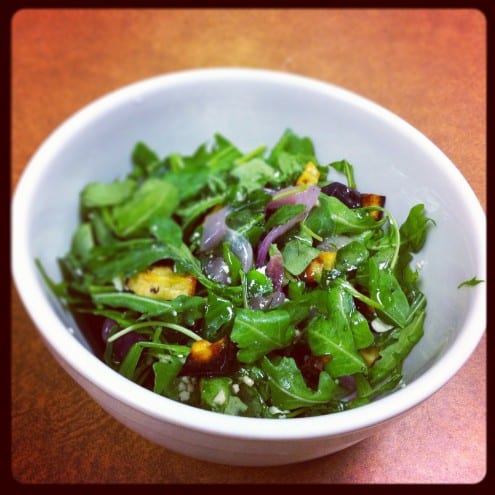 Sweet Potato Arugula Salad
Hearty sweet potatoes married with fresh green arugula is a wonderful and simple dish that one simply can't resist.
Ingredients
Dressing:
¾ cup of oil
½ cup of apple cider vinegar
2-3 TB of honey
2-3 TB of minced garlic
sea salt and pepper to taste.
Salad:
large red onion, cut into thin rings
large sweet potato, peeled and cut to bite size pieces
5oz or so of arugula
? cup of feta or parmesan cheese
olive oil
salt
½ to 1 tsp of sage or other savory spice
Instructions
For the dressing:
Whisk all the ingredients together and set aside.
For the salad:
Caramelize the red onion but heating at a low heat in a skillet with 2-3 tsp of olive oil for 30-40 minutes, stirring occasionally.
Heat oven to 425 and toss the sweet potatoes in spices and spread on baking sheet. Bake for 20 to 30 minutes, stirring every 10 minutes. The potatoes should be sweet and just slightly crispy. I also like to spread the baking sheet with foil because it makes clean up a lot easier.
Toss the onions, sweet potatoes, arugula and cheese together.
Dress it up as you desire!
Sara Clevering
Sara sees cooking and baking as a delicious way to connect with the past and travel the world from her kitchen. She is commited to preparing homemade, unprocessed meals for her family and is always looking for tricks to fit this into a busy schedule. Sara is currently in the Boston area after several years living in London, Spain, and the Czech Republic, and travelling extensively in Eastern and Western Europe, always making sure to experience local culture through food. She also blogs with her sisters at www.threecleversisters.com