Sweet Potato and Fennel Frittata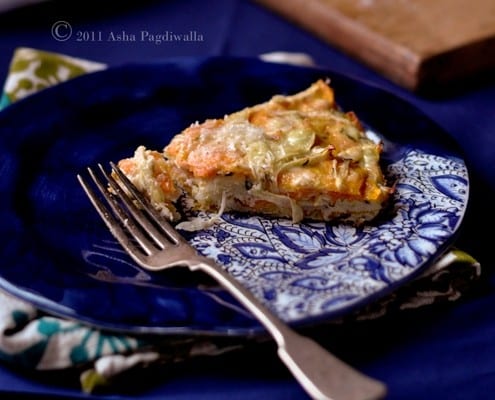 This Sweet Potato and Fennel Frittata is an easy breakfast or brunch dish that works great when it's just your family or when hosting a casual get-together.
By Asha Pagdiwalla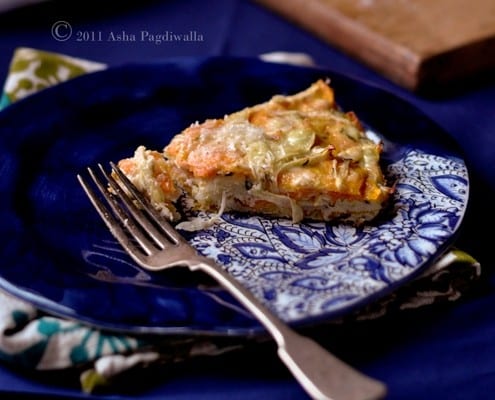 As the weather cools, sometimes rapidly, sometimes at leisure, it is nevertheless comforting to turn on the oven. I have found baking not only a great way of preparing a meal but it also very quality-time-friendly. On a weekday or weekend, it's so much simpler to arrange something ready for the oven, let the machine do it's trick while you cuddle with your loved one and squeeze in a bit more of warmth in the relationship!
This Sweet Potato and Fennel Frittata is an easy breakfast or brunch dish that works great when it's just your family or when hosting a casual get-together.
Sweet Potato and Fennel Frittata
(one 8 inch omelette)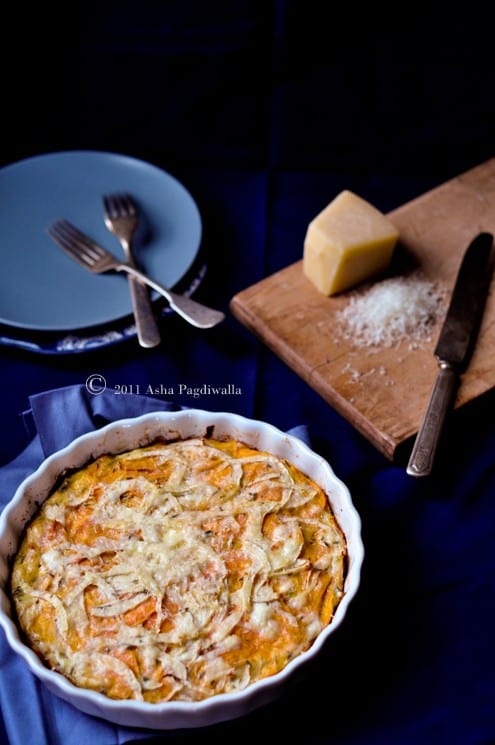 4 eggs
1/4 cup mascarpone
1/4 cup whole milk
1 large sweet potato (peeled and sliced really thin with a mandolin
1 large fennel bulb (cored, and sliced thin)
1/4 cup fresh grated Pecorino cheese
1 tablespoons fresh thyme leaves (or oregano)
salt and pepper as needed
2 tablespoons butter, melted
Whisk together the eggs, mascarpone and milk together. Season with salt and set aside. Brush the bottom of your tart pan with butter. Arrange one-third of the sweet potato slices in a single layer on the base slightly overlapping the slices. Sprinkle a third of the fennel slices evenly. Season with salt, pepper and a third of the thyme. Pour a third of the egg mixture over the veggies. Sprinkle some of the Pecorino cheese. Repeat with 2 more layers ending by sprinkling all the remaining Pecorino on top.
Bake at 350F for 30 minutes until the center is set. Remove to rack and serve immediately.

Asha Yoganandan
Asha is the Founder and the Creative Strategist of INK, a digital marketing consultancy focused on food and leisure clients.A key social influencer, she has a reach of over 400K across digital platforms. She edits and publishes NOURISHED magazine, a seasonal and quarterly food magazine with international distribution. She writes an acclaimed blog, Fork Spoon Knife, on food and culinary travel related topics. She pens for and has been featured in The Daily Meal, Redbook Magazine, Spenser Magazine, Huffington Post, Good Food Jobs, Food 52, Mashable among others.