Sweet Pea Gnocchi is light in texture, but full of flavor. The Tarragon Pea Cream sauce enhances the fresh flavor of the peas. It's one last taste of spring.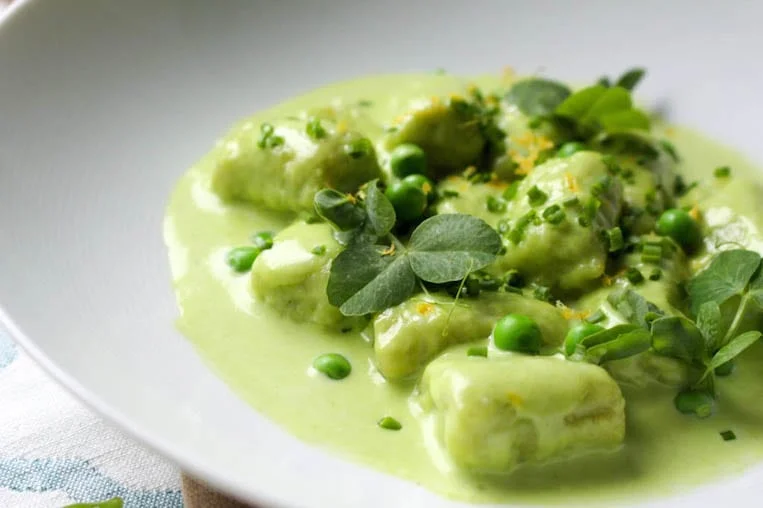 Over the past 7 years, gardening has become my number one most favorite hobby. I inherited my green thumb from my Momma, who also loved getting her hands dirty and watching things grow. My thumb started out brown, and while it's still far from a pure Kelly green, the shade gets a little brighter with each passing season.
This time of year, my heart flutters at the sight of little green sprouts finding their way out of the dirt. There's something so special (not to mention convenient) about waltzing barefoot into the backyard to pick a few fresh herbs to finish a dish, a head of lettuce for a salad, or a handful of strawberries to snack on.
I wasn't very keen on peas growing up, but they've become one of my favorite parts about spring. They're a breeze to grow from seed and they find a spot in my garden year after year. Picked at just the right time, peas taste fresh, mild and oh-so-sweet. But left on the vine a little too long, and all of that natural sugar turns to starch, making them a bit less palatable.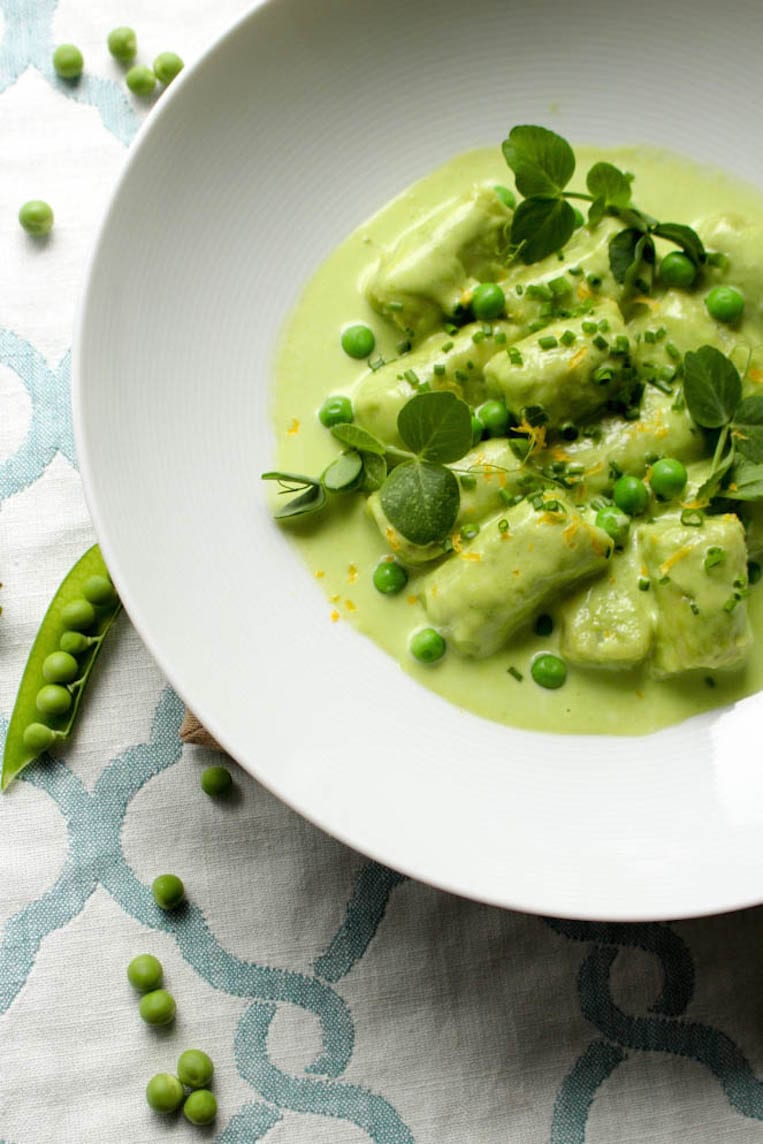 So the neat thing about this recipe is that you don't need to worry about picking your peas at just the right moment, because the nice folks over at the frozen pea plant have already done that for you. That's right – we're using frozen peas, and I prefer them for just that very reason. They're picked right at the perfect point of ripeness and flash frozen on the spot. So unlike fresh peas, the frozen variety is always sweet, always readily available, always inexpensive, and always consistently so.
See Also
That being said, I like to use a few fresh peas and their tendrils for garnishing. They add beautiful depth and and a nice bit of texture to the dish, not to mention a gorgeous presentation. This is a fairly humble meal, but presents itself as being much, much fancier. What a looker!
Print
Author:

Nicole Gaffney

Yield:

8

servings

1

x
Category:

Primi
Pea Puree
1

lb frozen peas

4

scallions

1 tsp

salt
zest from

1

lemon (about

1 tbsp

)
Gnocchi
2

lbs russet potatoes (can be slightly over

2

lbs, but no less)

2 cups

pea puree

2

large eggs

2 tsp

salt
white pepper to taste
Sauce
2 cups

all purpose flour

3 cups

heavy cream

2

cloves of garlic (light crushed with the back of a knife)
large sprig of tarragon plus 1 tbsp chopped tarragon (divided)

3/4 teaspoon

salt
white pepper to taste
Remaining pea puree – about 1 cup
Juice of

1

lemon
Garnish
Blanched fresh peas
Fresh pea

ten

drils
Lemon zest
minced chives and tarragon
Instructions
FOR THE PEA PUREE
Place a large pot of water over high heat and bring it up to a boil and add a liberal amount of salt (it should taste like the ocean). While the water is heating up, get a bowl of ice water ready. When the water comes to a rolling boil, drop in the peas and the scallions and cook for 30 seconds. Immediately remove them to the ice bath. Reserve 1/4 cup of cooking water.
When the peas and scallions have cooled completely, drain and add them to a blender along with the salt, lemon zest and half of the reserved cooking water. Blend on high until it's completely smooth, adding a tiny bit more water if needed to help it blend. Run the puree through a fine mesh strainer to remove any remaining bits of skin. Set aside.
TO MAKE THE GNOCCHI
Preheat the oven to 375 degrees, lightly oil the outside of the potatoes, and poke a few holes in the skins. Bake for about an hour, or until the potatoes are fork tender. While the potatoes are still hot, remove the flesh and process through a food mill or potato ricer. Place the riced potatoes into a bowl and form a well in the center. Add the pea puree and crack both eggs in the well along with the salt and pepper. Use a fork to gently whisk it all together and start bringing in the potato. Sprinkle the flour all around, and very delicately begin mixing. When the dough starts to come together, dump it out on to a board and use a gentle folding technique to knead it a few times. Be very careful not to overmix. If the dough is very wet, you can add more flour in 1 tablespoon increments to get it to come together. The finished dough should be fairly tacky. Once the dough is just formed, set it aside.
Prepare two sheet pans with a piece of parchment paper, then dust with flour. Dust a large board or counter top with flour, and cut off a small piece of dough. Roll into a thin log, then use a knife or bench scraper to cut out the gnocchi. You can make them any size you want, but I prefer a larger gnocchi for this dish.
Place the gnocchi on the prepared sheet pans, being careful not to let them touch. Let the gnocchi rest for about 20-40 minutes before cooking.
FOR THE SAUCE
Heat the heavy cream, garlic, and tarragon sprig in a large saucepan and bring to a boil. Cook until the cream reduces by half, about 10 minutes. It should nicely coat the back of a spoon. Remove the garlic and the tarragon. Season with salt and pepper.
ASSEMBLY
Bring a large pot of water to a rolling boil and liberally season with salt (again – we want ocean water!). Working in batches of two or more, drop in the gnocchi and cook wait for them to float. Once they float, allow them to cook for 1-2 minutes longer.
While the gnocchi are cooking, add the remaining pea puree, lemon juice and chopped tarragon to the sauce, stir and keep it over low heat. If it cooks too long or high, the sauce will turn from green to brown (but will still taste fine).
Drain the gnocchi well, then add to the sauce and toss to coat. Adjust seasoning if necessary. Spoon the gnocchi on to a plate and garnish with a few blanched peas, randomly placed pea tendrils, and a shower of lemon zest, chives and chopped tarragon. Serve immediately.
Notes
The dough can be prepared in advance, shaped into gnocchi, frozen on sheet pans, and stored in plastic bags in the freezer. They can be cooked from frozen, but will take an additional 3 or so minutes to cook. Pea cream can also be frozen – just defrost before using it in the recipe.
This recipe can easily be cut in half.
Tarragon is my preferred herb in this recipe, but basil, mint, lemon thyme, or your favorite herb would work nicely as well.