Full-fat ricotta is browned with breadcrumbs and baked with peas, lemon, sage, garlic, and onions. Take a whiff and then dig in!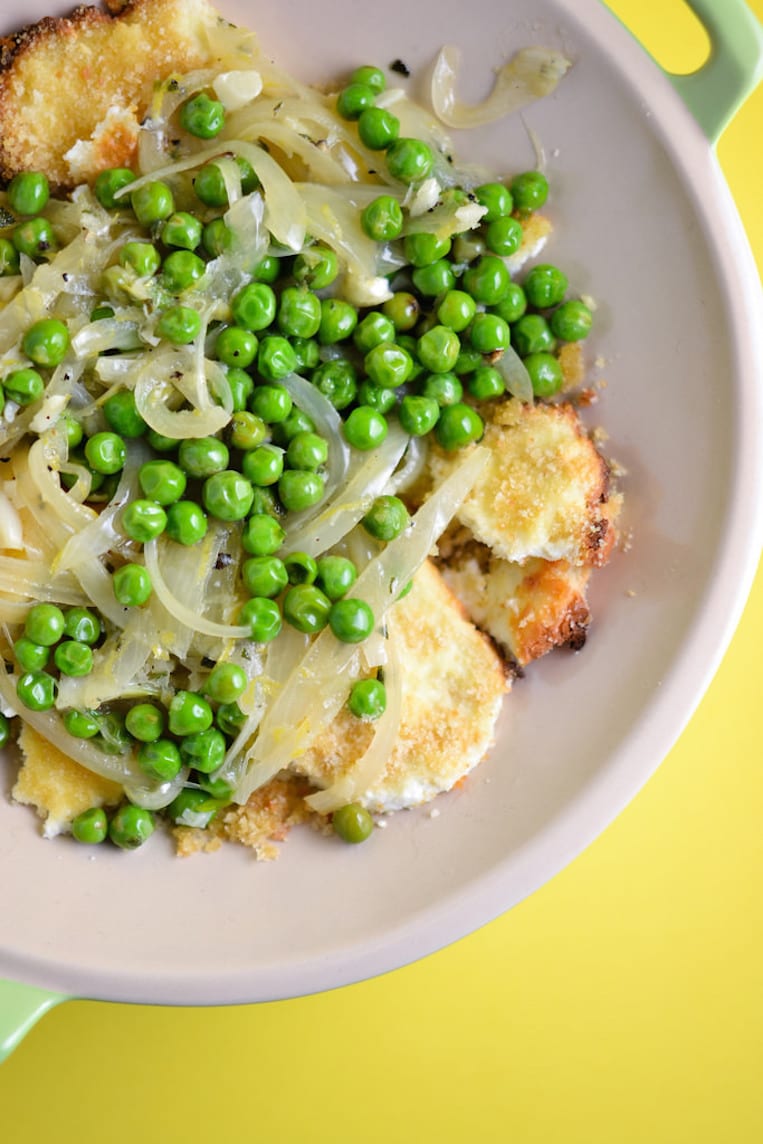 What does one make for dinner when you've had a bad day and it feels like the world is coming to an end? Baked ricotta and peas, apparently. When I'm feeling a lack of creativity, I go to one of my favorite cookbooks, Deborah Madison's Vegetable Literacy.
Full-fat ricotta is browned with breadcrumbs and baked with peas, lemon, sage, garlic, and onions. Dig in!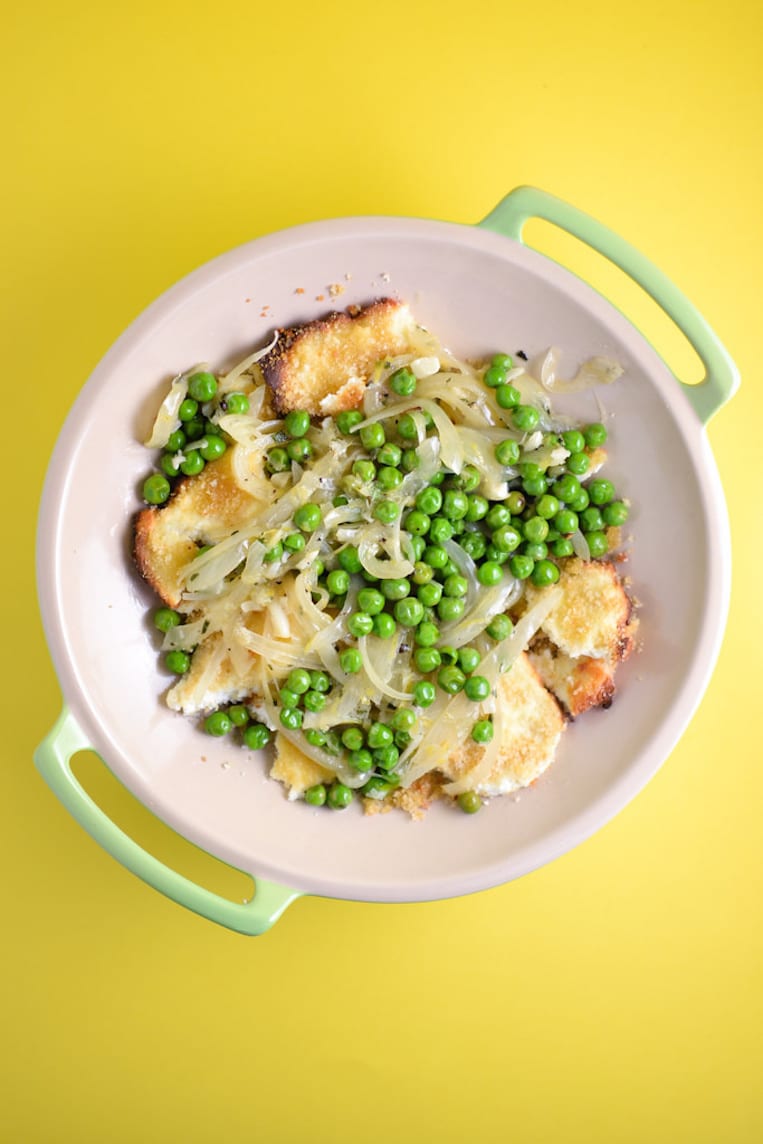 See Also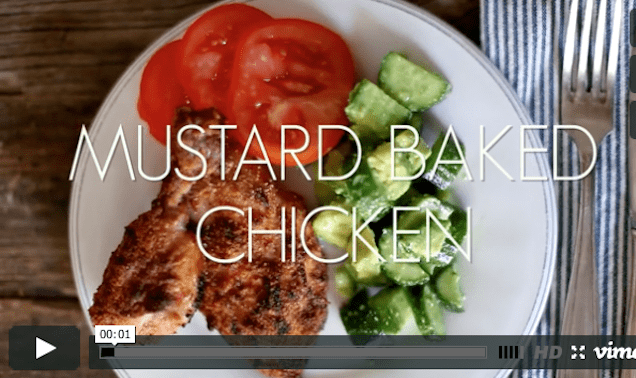 Want more simply delicious spring recipes? Make this.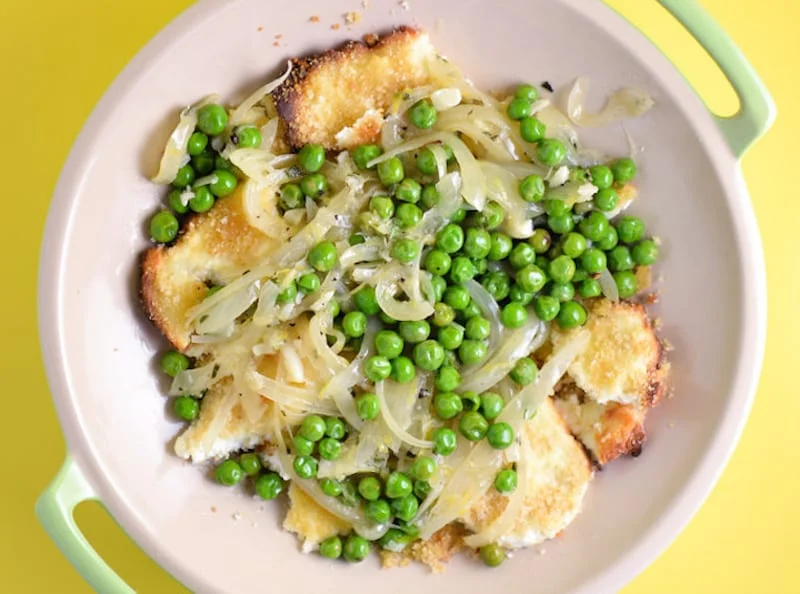 Vicky Cassidy
Ingredients
Olive oil

1

cup

full-fat ricotta cheese

2

tablespoons

bread crumbs

2

teaspoons

butter

1

small yellow onion

sliced thin

2

garlic cloves

minced

5

sage leaves

minced

1

cup

fresh peas

Zest of 1 lemon

Kosher salt

Freshly ground black pepper

Parmesan cheese

as garnish
Instructions
Preheat oven to 375F.

Lightly oil the bottom of a small baking dish (I used a 6 inch by 6 inch, a little smaller is fine too).

If ricotta is wet and milky, use a cheesecloth to drain out excess liquid. Spread ricotta thinly onto the bottom of your baking dish, top with a little olive oil, and bake until cheese has begun to set and is brown on top. This may range anywhere from 20-40 minutes, depending on how wet your cheese is to start with.

When ricotta starts to brown, top with breadcrumbs and bake for an additional 10 minutes, until breadcrumbs are nice and toasty.

Meanwhile, melt butter in a small saucepan over medium heat. Stir in onion, garlic, and sage and cook until softened, about 3 minutes.

Stir in peas, ½ cup of water, and lemon zest. Simmer until peas are a bright green color and liquid has reduced some, about 5 minutes. Season with salt and pepper to taste.

When ricotta is done baking, top with peas and sauce. Sprinkle Parmesan on top as garnish.
Vicky Cassidy
Vicky Cassidy can usually be found in her Madison, WI kitchen with cumin or paprika in her hair and olive oil smudges on her camera. She is a self-taught cook and the occasional baker, and she loves oversharing stories about her kitchen and life on Things I Made Today.