Loaded with greens, tomatoes, toasted hazelnuts, and cheese, this crunchy salad is a perfect spring and summer side dish.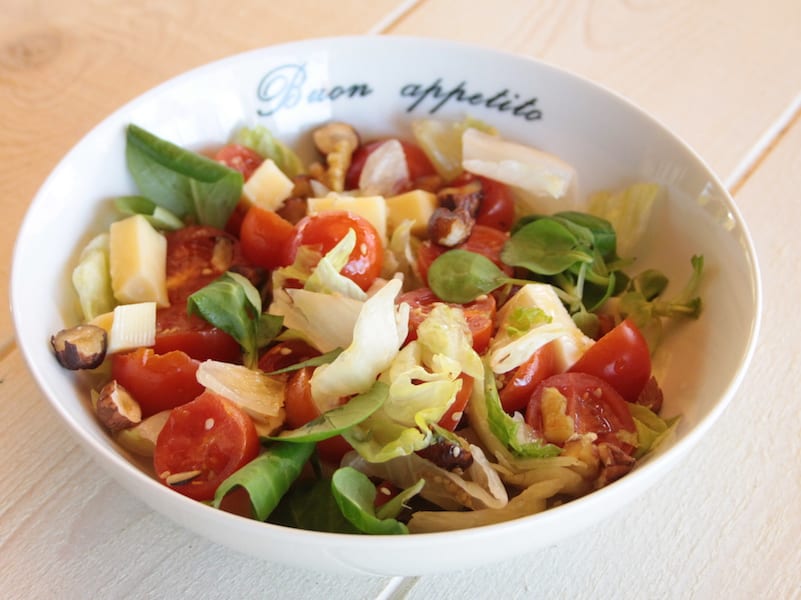 Photo by G. Giustolisi
The summer season is about to be upon us and fresh salads become undisputed protagonists of the table. They can also become a substantial main dish, rich in vitamins, minerals, proteins. The key is to select seasonal vegetables, preferably organic.
In this recipe I used, romaine lettuce and valerian, both rich in vitamin C, antioxidants, iron, calcium, magnesium and potassium. I added a generous handful of Sicilian toasted hazelnuts (they are available in the best Italian/Sicilian food shop).
Hazelnuts have important nutritional properties, they contain monounsaturated fats (the "good fats"), vitamins E and K, minerals such as potassium, calcium and phosphorus. Juicy cherry tomatoes are a concentration of sweetness and flavor. Cheese, not too seasoned (you can substitute with vegan cheese, if intolerant) gives the right amount of protein. Finally, the dressing: balsamic vinegar of Modena and excellent olive oil make valuable a "simple" salad.

Crunchy Spring Salad
Ingredients
6 romaine lettuce leaves
A generous handful valerian leaves
10/15 cherry tomatoes
2 tbsp chopped toasted hazelnuts
100 g (3½ oz) semi hard cheese, cut into cubes (or Feta, or cherry mozzarella to your liking)
2 tbsp Modena balsamic vinegar
⅘ tbsp Extra virgin olive oil
Pinch of sea salt
Pepper to taste
Instructions
Wash and cut the vegetables coarsely. Wash and cut the cherry tomatoes in half. Place all the vegetables in a large bowl. Add the chopped hazelnuts.
In another bowl, add the balsamic vinegar, extra virgin olive oil, pinch of sea salt and pepper to taste. Emulsify with a fork and let stand for 5 minutes.
Add the dressing to the salad. Mix well and let stand in refrigerator for 30 minutes before serving.
Serve with slices of rustic bread.