Stuffed Peanut Butter and Banana French Toast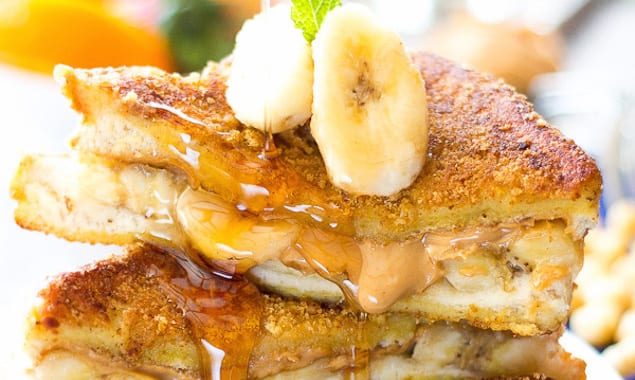 Thick slices of bread are crusted in a peanut butter and cereal crumble and stuffed with peanut butter and banana slices for a sweet start to the day.
By Mariah Mercurio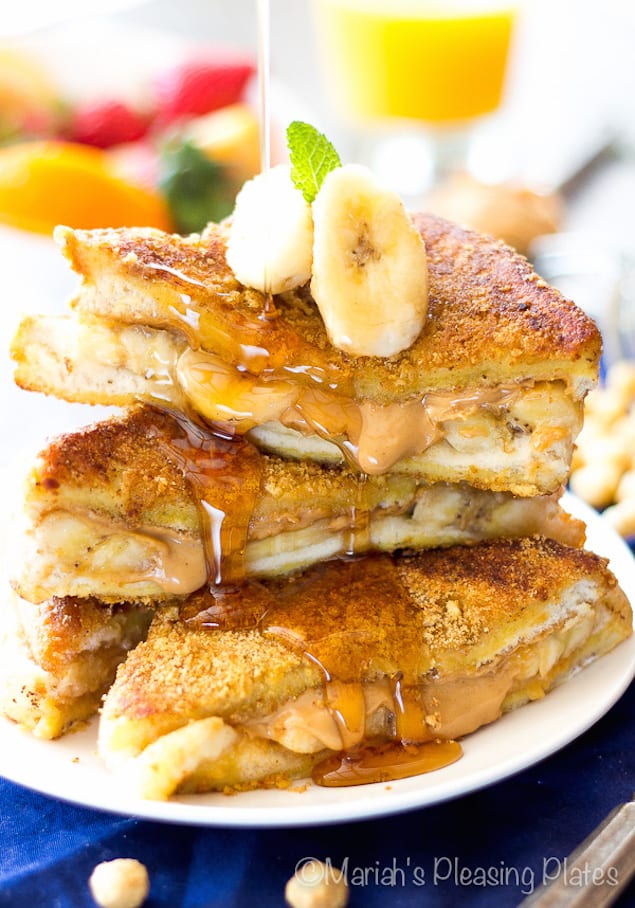 This little Hawaiian place that we frequent serves the BEST french toast in the world. I am absolutely convinced of that fact. I have been wanting to recreate it for so long and am happy to say that I have finally done it. You guys, it is truly the best! It is a peanut butter banana french toast served on Hawaiian bread with a peanut butter cereal topping. It is crunchy, creamy, sweet, and decadent all at once. I power mine down with a nice ice cold glass of guava juice. If you truly want to go the authentic Hawaiian route then you MUST serve this french toast with coconut syrup (but maple syrup works too).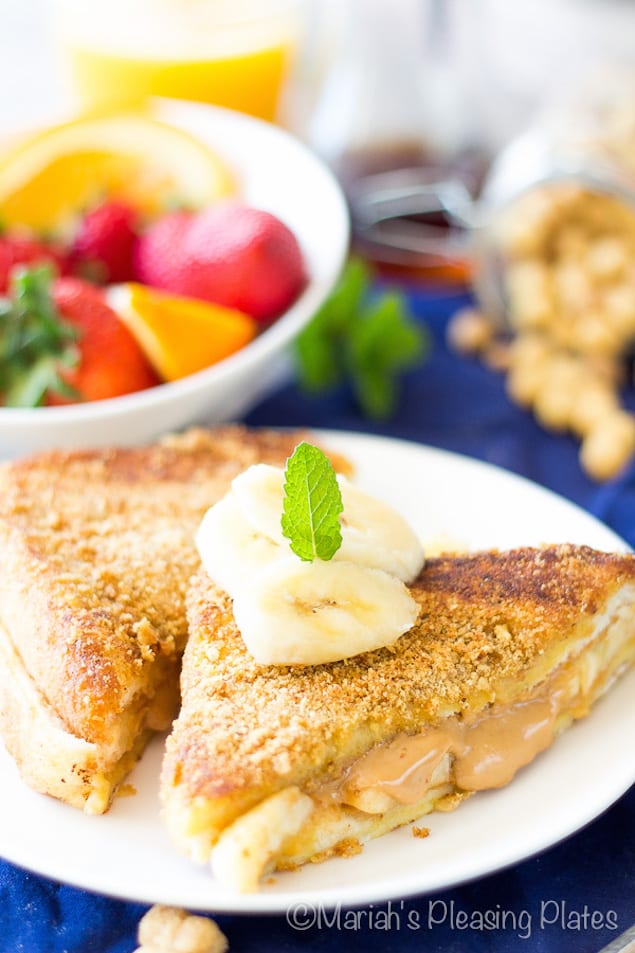 The best part about this recipe is how truly simple it is and chances are you have all the ingredients already on hand. If you can't find sliced Hawaiian bread, you can substitute thick pieces of Texas Toast. You can use any kind of peanut butter, creamy or crunchy. My favorite part is the cereal crust around the french toast. Have you ever had cornflake french toast? It's kinda like that…except a million times better.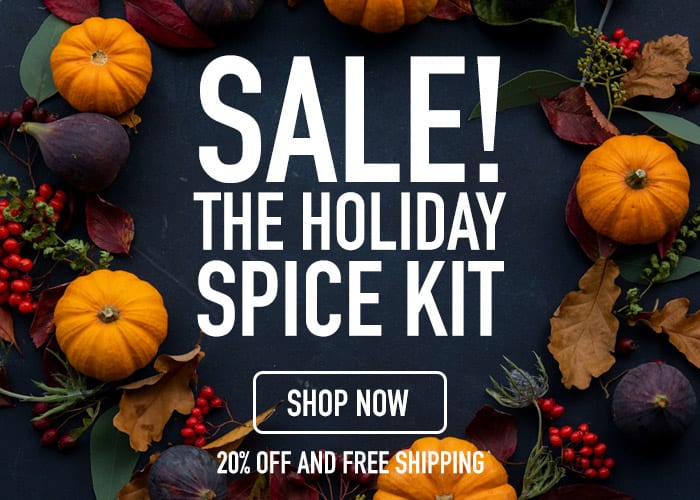 If you love sweet brunch recipes, then next you have to try these White Chocolate Raspberry Pancakes.
Stuffed Peanut Butter and Banana French Toast
Thick slices of bread are crusted in a peanut butter and cereal crumble and stuffed with peanut butter and banana slices for a sweet start to the day.
Recipe Type:
Breakfast, Brunch
Ingredients
8 Slices King's Hawaiian Bread or Texas Toast
½ Cup Creamy Peanut Butter
2 Medium Bananas, sliced in ½ inch pieces
5 Eggs
2 Cups Milk
2 Teaspoons Vanilla Extract
½ Teaspoon Cinnamon
2 Cups Peanut Butter Cereal, crushed (I used Peanut Butter Captain Crunch)
2 Tablespoons Unsalted Butter
Coconut or Maple Syrup for serving
Instructions
Preheat a skillet on medium-high heat on the stovetop.
Spread 1-2 Tablespoons of peanut putter on each of the 4 pieces of sliced bread. Top evenly with the banana slices. Cover with remaining 4 slices of bread to create sandwiches.
In a bowl, whisk together the eggs, milk, vanilla and cinnamon. Place each sandwich in the bowl to soak up the custard mixture for 10 seconds on each side. Next, dip the custard soaked french toast into the bowl of crushed peanut butter cereal. Coat each side well.
Add butter to the preheated skillet.
Cook each sandwich for 2-4 minutes on each side.
Serve with warmed syrup and extra peanut butter for spreading.
Mariah Mercurio
Hi! I am Mariah. Wife, mommy, and food addict. In my kitchen you will find that everything is made with love and creativity. I am a lover of all carbs and anything white chocolate or raspberry. I am still trying to find my balance of healthy dishes and sweet eats!