Just in time for campfire season, a cool, creamy version of the decadent S'more complete with toasted marshmallow ice cream.
By Jillian Hatsumi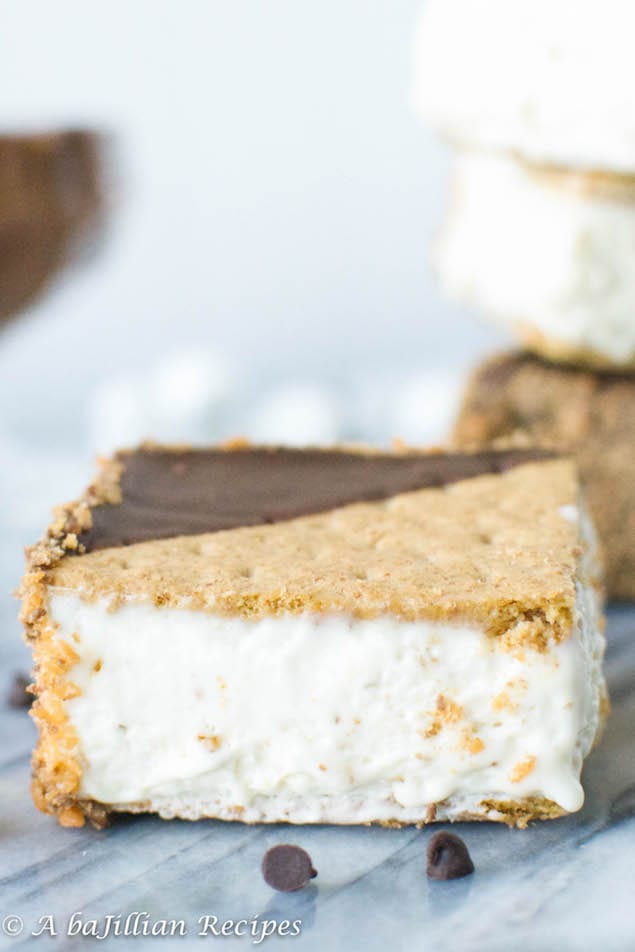 Irresistible S'more Ice Cream Sandwiches.
Nothing screams summer quite like a perfectly toasted (or burnt to a crisp) marshmallow sandwiched between two crisp honey graham crackers and that unforgettable ooze of Hershey's milk chocolate. Whether it was during those annual camping trips or unforgettable backyard bonfires, we all share those memories of biting into those addictively warm ooey-gooey-crunchy-toasty masterpieces of childhood confection. It doesn't take a rocket surgeon to understand why they're called S'mores.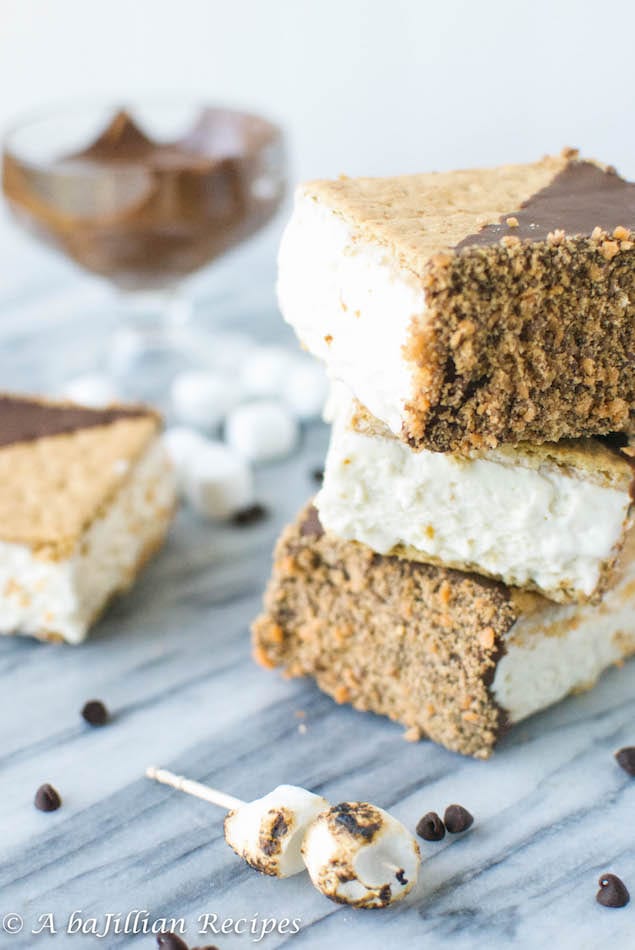 These treats are basically the "cooler" version of the S'more. And when I say "cooler," I do mean hip!
These ice cream sandwiches are made with TOASTED MARSHMALLOW ICE CREAM! I repeat, TOASTED MARSHMALLOW ICE CREAM! Yes, it IS possible to get that classically warm, comforting flavor in ice cream form. And would you believe, it doesn't require an ice cream maker?? Mind blown.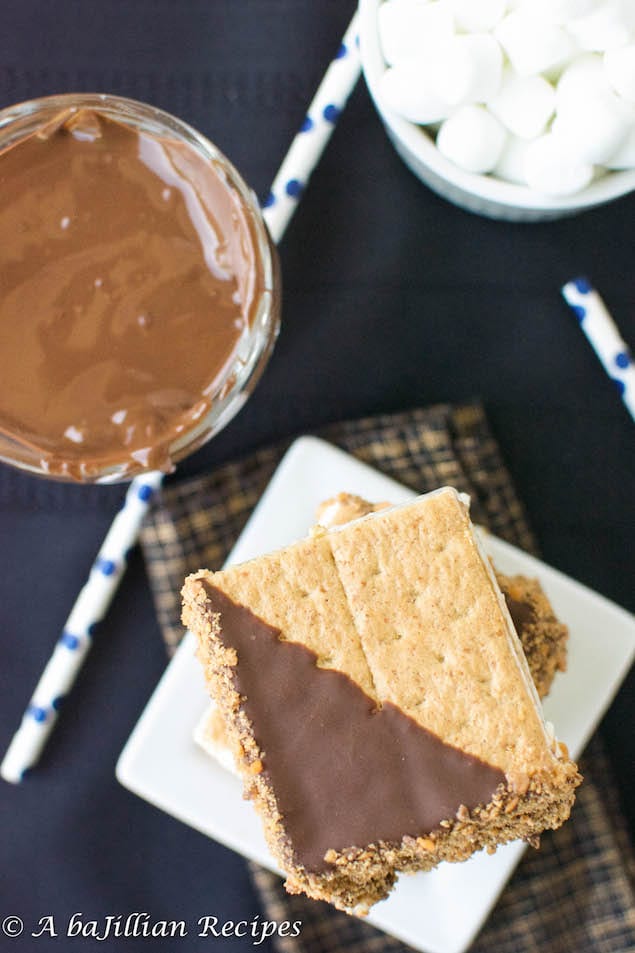 Just like the classic S'more, the ice cream is sandwiched between two honey graham crackers. Similar to the rectangular store-bought ice cream sandwiches, the grahams soften as the sandwiches chill in the freezer, allowing for a much more mess-free eating experience. No more ice cream squeezing out of the sides as you bite into it!
And because you can't call a S'more a S'more without the chocolate (that's just crazy talk!), these ice cream babes are dipped in Hershey's milk chocolate.
Now, I know Butterfinger crumbles aren't part of the "classic" S'more, but I just couldn't resist.
Print
Irresistible S'more Ice Cream Sandwiches
Just in time for campfire season, a cool, creamy version of the decadent S'more in ice cream sandwich form complete with toasted marshmallow ice cream.
Author:

Jillian Hatsumi

Yield:

15

Sandwiches

1

x
Category:

Dessert, Ice Cream
8 1/2 ounces

(

5 cups

) marshmallows

One pint

heavy cream

1

(14 oz) can sweetened condensed milk

18

whole graham crackers

12 ounces

Hershey's milk chocolate bars*

2

(2.1 oz) Butterfingers candy bars, crushed
Instructions
Preheat your broiler and arrange marshmallows in a single even layer on a parchment-lined baking sheet. Toast marshmallows until they've browned to your preference. Watch them closely as they can go from nicely browned to black and burnt really quickly. Remove marshmallows from the oven and allow to cool for 5 minutes.
Once cooled, use a spatula to scrape the marshmallows into a food processor. Add the sweetened condensed milk and pulse until mixture is smooth and most of the marshmallow has broken up. This can also be done in a blender.
In the bowl* of a stand mixer fitted with the whisk attachment, whip the cream until soft peaks form. Add the marshmallow mixture and finish mixing by hand until fully incorporated. Place in the freezer while you prepare the pan for the ice cream sandwiches.
Line a 9×13 inch rectangular dish with plastic wrap, leaving a good amount of overhang on the sides. Break the graham crackers in half and arrange them on the bottom of the pan. To solve the issue of extra space on the side, use a ruler as a "receding wall" underneath the plastic wrap along with a freezer-safe item that'll fit behind it. I used two regular-sized Butterfinger chocolate bars. See picture above.
Pour ice cream mixture evenly over graham crackers and arrange the remaining graham crackers on top. Wrap the plastic wrap over the ice cream sandwiches and freeze for at least 4 hours, preferably overnight.
Once ice cream sandwiches have frozen, remove from the pan and unwrap the plastic wrap. Using a sharp, warm knife, cut the sandwiches along the graham cracker edges, making 15 squares and 5 small rectangles. Place sandwiches on a wax paper-lined baking sheet and return to the freezer to firm up for 20 minutes.
Prepare a second baking sheet by lining it with wax paper. Heat the chocolate in a bowl in the microwave until melted and smooth, about 1 to 2 minutes. Place the crushed Butterfinger in a separate bowl. Working quickly in batches of 3-4, dip sandwiches halfway into chocolate, then into the crushed Butterfinger, and onto the second baking sheet in the freezer. Once the chocolate has set, ice cream sandwiches can be individually-wrapped in plastic wrap and stored in the freezer for up to 2 months.
Notes
*Any chocolate will do, but I found that the Hershey's milk chocolate bars melted a little thinner than chocolate chips, which makes the dipping much easier!
*I put the stand mixer bowl and the whisk in the freezer for about 10 minutes before whipping the cream. The cold bowl allows the cream to whip up faster.
Jillian Hatsumi
I'm Jillian, the writer, baker, chef, recipe creator, and amateur (very amateur) photographer of A baJillian Recipes. Though I'm not a classically trained chef, I like to think I know my way around a kitchen pretty well. Aside from baking, cooking, and EATING, I also enjoy acting, couponing (I LOVE saving money!!), running, working out, photography, and playing with my little fluffernutter, Olivia. She's a dog, if you're wondering...