These cake donuts are rolled in cinnamon sugar, cut in half, and filled with fresh strawberries and whipped cream to be a delicious take on strawberry shortcake.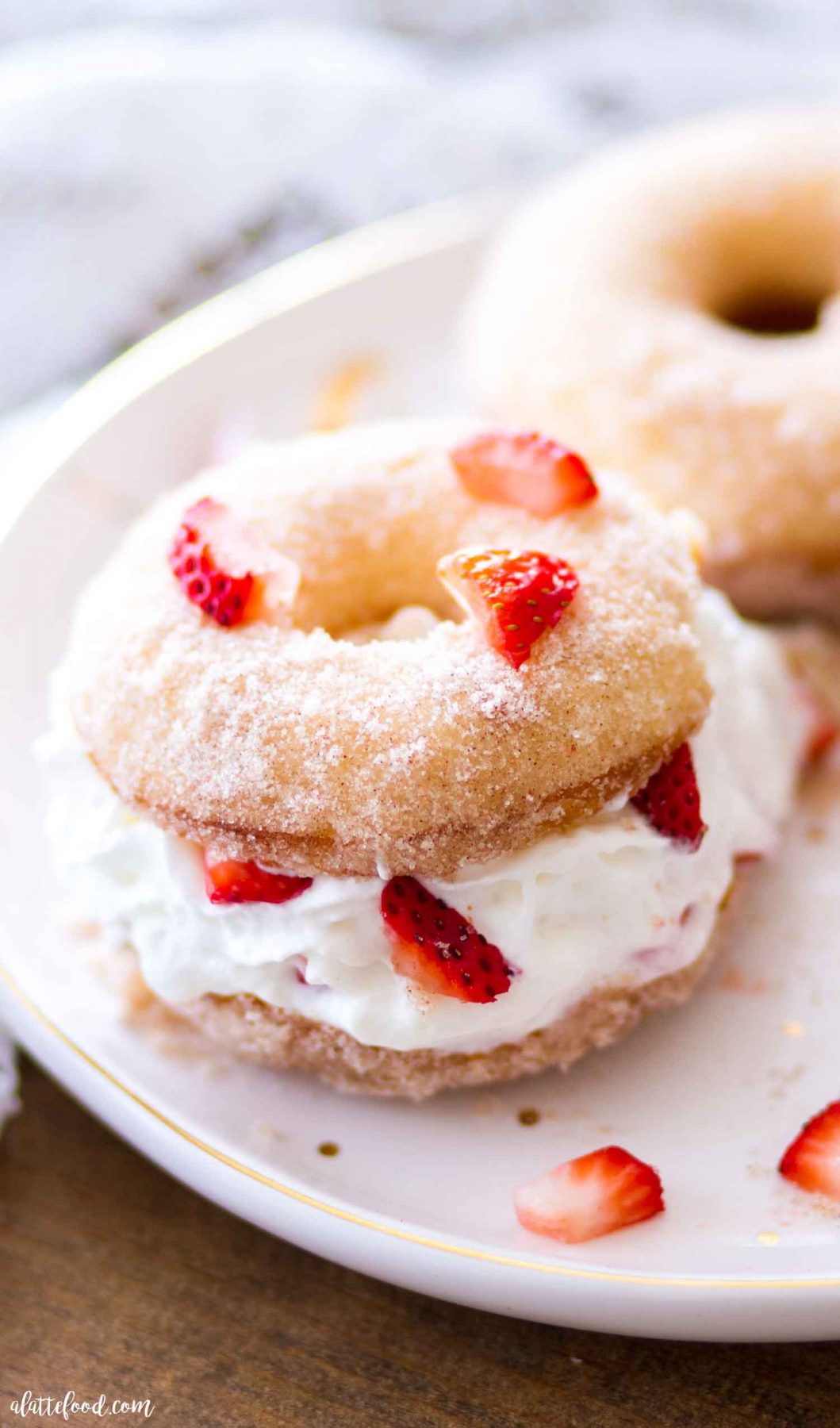 The baked donuts are rich and cake-like—a total cross between a cake donut and a biscuit shortcake. Then, when you add the cinnamon sugar and the berries and cream, it's a dessert of dreams.
I'd also like to add that should you choose to eat this for breakfast, I 100% support your decision. I mean, what's more breakfast-y than whipped cream, strawberries, and donuts??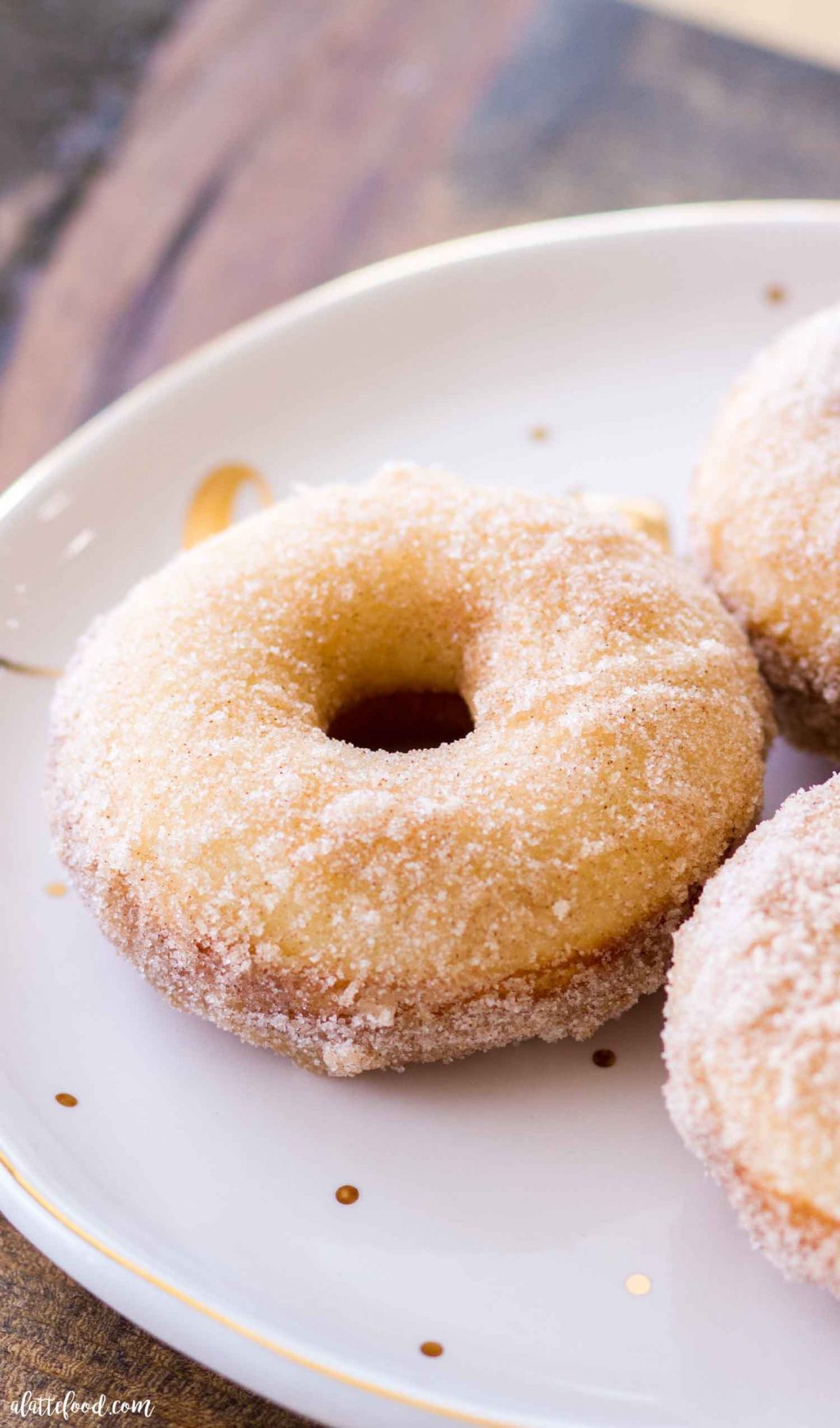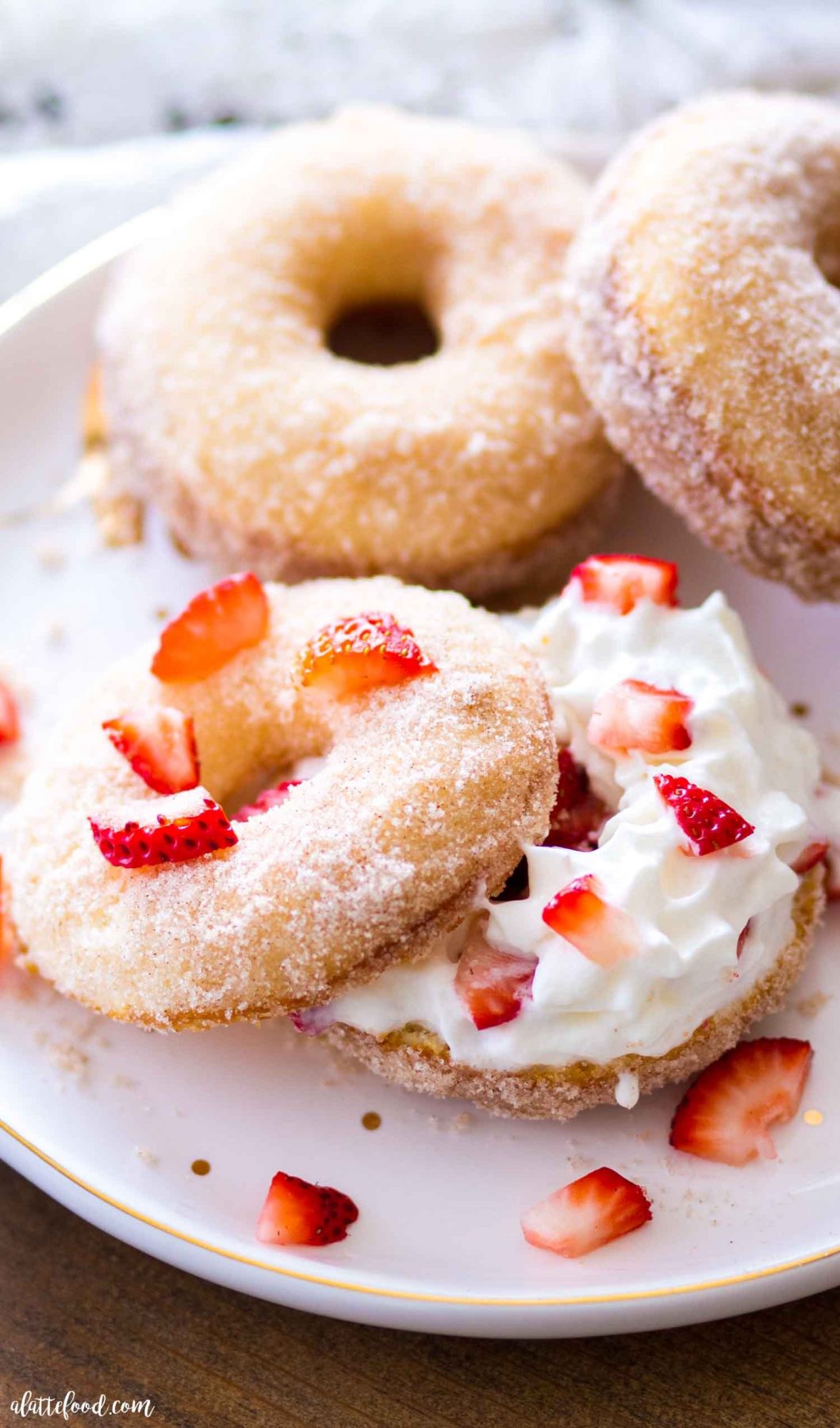 Baked Strawberry Shortcake Donuts Tips and Tricks:
– Baked donuts cook quickly! They are usually done within a few minutes, so you definitely want to keep an eye on them. As soon as the tops have risen and they 'spring back' when tapped, they're ready to go!
– To get the cinnamon sugar to stick to the donuts, they need to be dipped in melted butter, then immediately rolled in the cinnamon sugar mixture.
– You can use canned whipped cream or homemade whipped cream. Of course, while I am partial to homemade whipped cream, I certainly wouldn't turn down the canned stuff. Feel free to use whichever!
– When making the donuts into the "shortcakes," assemble them right before serving. Cut the Strawberry Shortcake Donuts in half, top with whipped cream and strawberries, and enjoy!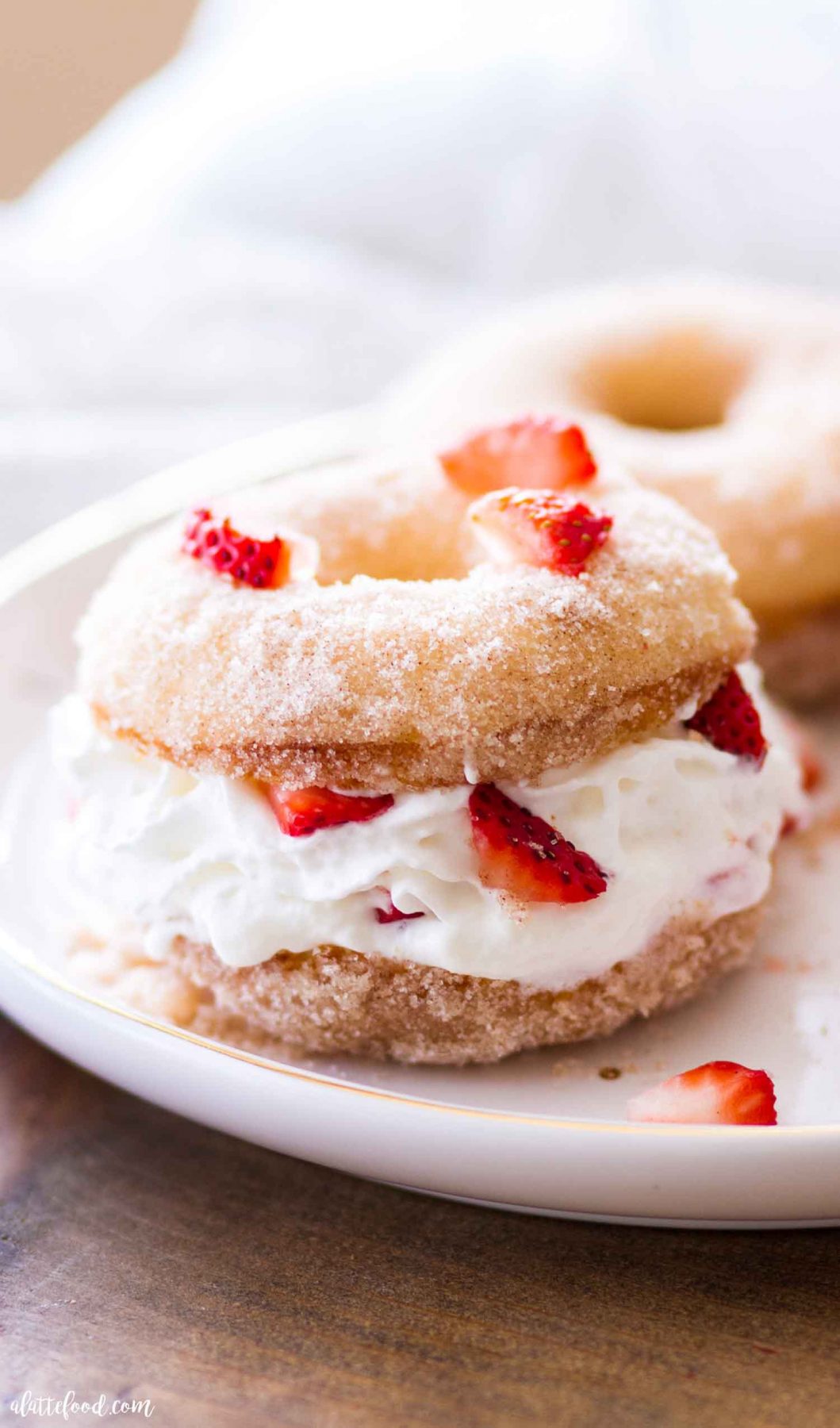 Strawberry Shortcake Filled Doughnuts
Ingredients
Baked Donuts
1¼ cups all purpose flour
¾ cups sugar
1 tsp baking powder
¼ tsp nutmeg
¼ tsp salt
1 egg
1 tsp vanilla extract
½ cup buttermilk (you can substitute regular milk, but buttermilk yields a richer texture)
1 Tbsp butter, melted
Coating
4 Tbsp butter, melted
½ cup sugar
1½ tsp cinnamon
Homemade Whipped Cream (you can use canned as well)
½ cup heavy cream
¼ tsp vanilla extract
1-2 Tbsp powdered sugar
4-5 Strawberries, sliced
Instructions
Preheat oven to 400 degrees and grease a donut pan well with baking spray.
Mix flour, sugar, baking powder, nutmeg, and salt together.
Add in the egg, buttermilk, vanilla extract, and butter. Mix until just combined.
Spoon or pipe the batter into each donut cavity, filling about ¾ of the way full (you will have enough batter for about 8 donuts).
Bake for Bake for 10-12 minutes, or until the donuts are lightly golden and 'spring' back when touched.
Allow to cool for a few minutes, then remove the donuts from the pan and allow them to continue cooling on a wire rack (about 10 minutes).
While cooling, melt the butter in a shallow dish (one large enough the whole donut can fit in it).
Mix the sugar and cinnamon together in a separate bowl.
Dunk both sides of the donut in the melted butter. Immediately roll the donuts in the cinnamon sugar mix, making sure it is well-coated.
Allow to finish cooling on a wire rack.
With a mixer on medium speed, beat the heavy cream until it begins to thicken. Add in powdered sugar and vanilla, and continue to beat until it reaches a whipped-cream consistency.
Assemble the Strawberry Shortcake Donuts right before serving. Cut the donuts in half and spoon on whipped cream and strawberries.
Enjoy!