Steak Topped Carrot and Mango Salad with Chili Lime Dressing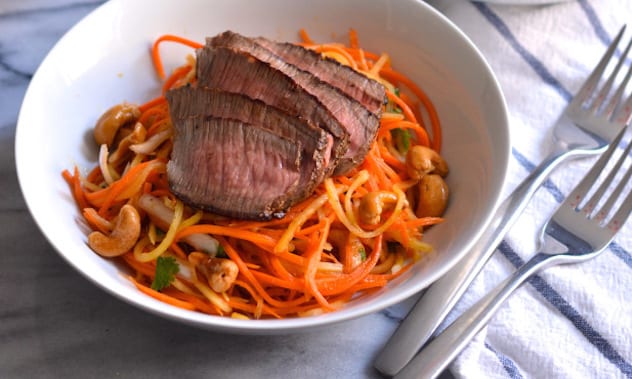 We have all been surrounded by sweets and cookies and cakes and rich hearty indulgences, so I thought it was time for a change of pace.
By Tux Loerzel
As I love to indulge, after a while your body just craves something fresh and bright and healthy. Of course, it's also important to maintain a balance in your diet, to keep your ticker ticking and all that. The thing about writing a food blog though, is that you tend to want to write about beautiful foods that make your mouth water just looking at them. While a lot of healthy foods certainly can taste great, "health food" ain't sexy.
We tend to eat a lot of salads at home, though from what I post here you might not know it. Most of our dinner salads are a kitchen sink of whatever produce we can find in the fridge, and while they're usually delicious, they're not all that photogenic or imaginative. For that reason, they don't often make it to the pages of Brooklyn Homemaker.
This salad though, is different. This salad isn't just sexy, it's seductive.
To get those super long, super thin, super sexy julienned strips of carrot and mango, I used a julienne peeler. In a pinch you could also use a standard box grater, but the results won't be nearly as long or thin, and if your mango isn't super firm I fear that it might just turn to mush. I think that getting those perfect thin strands of vegetables makes salads look so much more delicious and interesting and makes you want to just dive right in. These peelers are also really really easy to use, so if you're looking for a fun and affordable new tool for your kitchen, I'd highly recommend picking one up!
To finish the salad and make it feel even more substantial and filling, I added some seared London broil, sliced ultra thin. If you're not a steak fan though you can use whatever protein you like. I think the steak works really well with the dressing, but sliced chicken breast would be great here too. You could even go for some fresh juicy shrimp, seared salmon fillets, or even some decadent confit duck leg. Or, for that matter, skip the protein altogether. There is such a wide variety of flavors and textures going on that this salad is pretty amazing all on it's own.
While it certainly is good for you, the last word that comes to mind when you eat this salad is healthy. It's bursting with so much flavor and offers such a variety of textures that you won't be thinking about anything else. The carrots and mango are crunchy and fresh, and every bite is permeated with the sweet, bright, and spicy dressing. The crunchy cashews taste almost buttery against the sweet acidity of the rest of the salad, the cilantro is fresh and green and summery, and the sliced steak stands in soft and tender contrast to all that crispness and crunch.
Steak Topped Carrot and Mango Salad with Chili Lime Dressing
This salad is seductive. The carrots and mango are fresh and every bite is permeated by  dressing with cashews and steak for a contrast to the crispness.
Ingredients
Dressing:
zest and juice of 2 limes
3 tablespoons olive oil
1 tablespoon honey
½ teaspoon coarse Kosher salt
¼ teaspoon ground black pepper
¼ teaspoon chili powder
⅛ teaspoon ground cayenne pepper
Salad:
6 medium carrots, julienned or grated (about 4 cups)
1 firm ripe (or slightly under-ripe) mango, peeled and julienned or grated (about 2½ to 3 cups)
1 small shallot, thinly sliced
½ cup torn cilantro leaves
1 cup unsalted roasted cashews
12 to 16 oz London Broil (or other lean boneless steak), optional
salt and pepper
1 tablespoon olive oil or butter
Instructions
Dressing:
Combine all ingredients in a dressing bottle or measuring cup and whisk or shake vigorously.
Salad:
Julienne carrots using a julienne peeler, or grate them with a box grater. Peel the mango and julienne it, stopping where you feel the pit beneath the flesh. You can also slice the mango off the pit and grate it with a box grater. Combine the carrots, mango, sliced shallot, and chili lime dressing in a large bowl and toss well to combine.
At this point you could finish the salad and eat it as is, but I think it really benefits from at least an hour's rest covered in the refrigerator.
So, if you have time, cover and refrigerate from 1 to 24 hours to let the flavors mingle. Just before serving, add the cashews and cilantro and toss until well combined.
Generously season the steak on both sides with salt and pepper. Preheat a large heavy bottom skillet (not non-stick) over high heat. Once the pan is good and super hot, add butter or oil, and sear the steak for 3-6 minutes on either side, flipping only once. This will depend on the thickness of the steak, but 3 minutes per side should get you to about medium rare, and 6 should get you closer to medium well. Remove steak to a cutting board and let it rest for at least 5 minutes before slicing against the grain of the meat, into super thin slices with a very sharp knife.
While steak is resting, toss the salad again to redistribute the dressing. Plate the salad and top with slices of steak.
Tux Loerzel
Tux is a food blogger, photographer, dog lover, husband, and avid baker living in Bushwick, Brooklyn. Originally from upstate New York, he inherited his love of cooking and baking from his mother and grandmother. With the encouragement of good friends and several glasses of wine, he began his food writing and blogging adventure in the fall of 2013. Learn more about Tux at his blog Brooklyn Homemaker