PARTNER POST: Get ready for the months ahead with new potato recipes that will inspire your spring and summer cooking.
For breakfast or as an appetizer, let these fun spring potato bites brighten your day with a potato basket loaded with vegetables and topped with a beet yogurt sauce.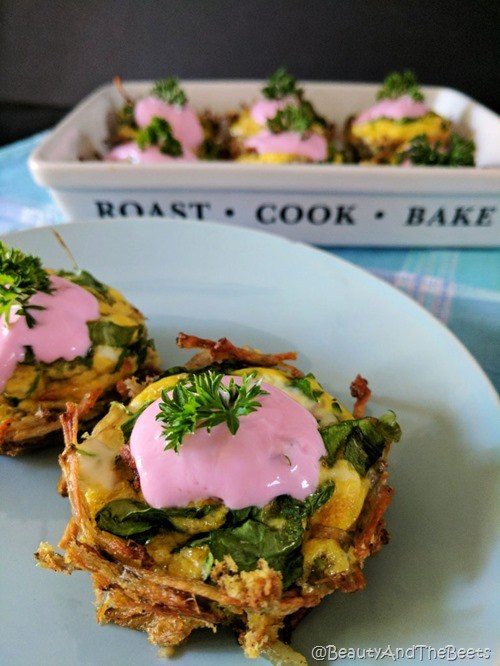 Have you ever gone to a diner for breakfast and found yourself bored by the traditional menu? Bacon and eggs, toast and coffee with a side of hashbrowns. The same stuff we can make for ourselves at home. Don't get me wrong, I love going out to breakfast – the smell of freshly brewed coffee, maple syrup and greasy bacon waifs into my senses like white on rice. And it's nice to be out and let other people do the cooking and the clean up for me. What I really love though is going out to brunch– the word 'brunch' usually signifies to me that there will be not only a larger offering of food, but also a more unique selection. I love when restaurants get innovative with ordinary ingredients.
Click the banner below for more delicious potato recipes.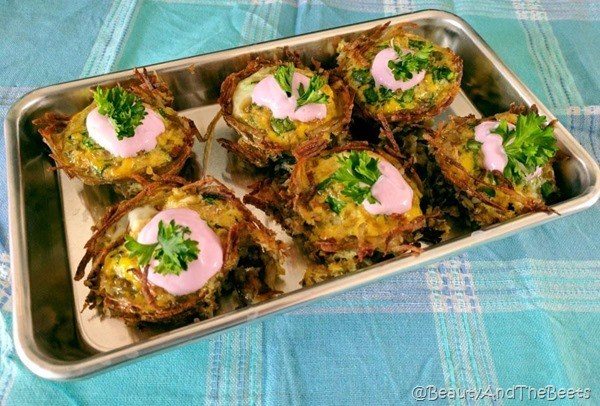 I was proposed with a task to imagine a creative recipe with potatoes from Potatoes USA (formerly known as the United States Potato Board). And while there are endless options for ways to cook, garnish and serve potatoes, I really wanted to concentrate on a brunch recipe, something you may find in a fancy brunch spot, something of a twist off the traditional eggs and toast. After all, potatoes are a perfect way to start the day. Did you know that one potato contains almost half of the recommended daily dose of vitamin C? Potatoes are also high in potassium and fiber while being low in calories.
However, making fancy dishes also implies a lot of time spent in the kitchen. A lot of time many of us don't have, especially when we are hungry and impatient (sound familiar anyone?). I know in the morning when I wake up hungry I don't have the patience to spend a lot of time in the kitchen preparing some fancy breakfast, I just want to eat. However, with a little pre-planning, I have a recipe for you that is not only quick and easy, but also fancy. Egg and Spring Vegetable Potato Baskets.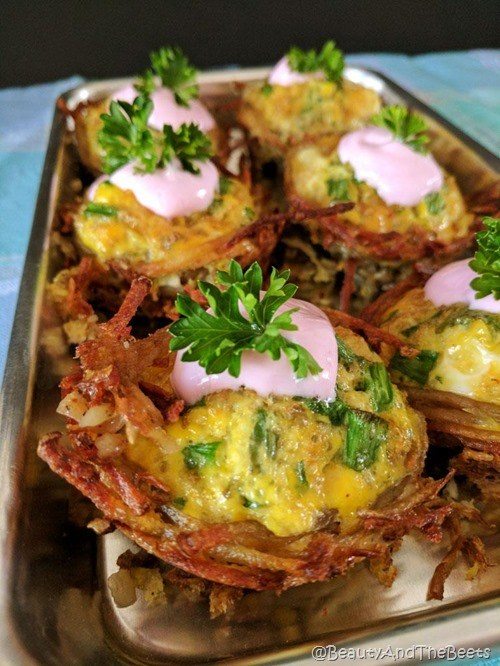 In my recipe, I used asparagus and fresh parsley in my eggs, though you could really use any vegetables you may have in the kitchen. I used asparagus as it is in season now and I had some leftover from my dinner the night before, but other spring vegetables like peas, scallions and onions would be delicious as well.
I also made a pretty pink beet yogurt sour cream to dollop on each basket. I love to incorporate beautiful pastel hues into my food in the springtime.
See Also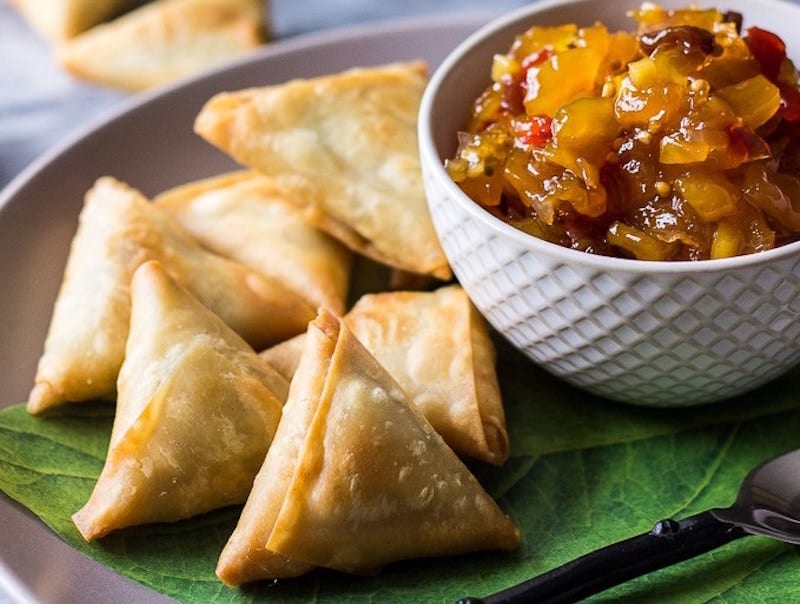 The key to this recipe is to generously grease the muffin tin. The potato baskets are quite fragile once cooked and have the tendency to break apart while being taken out of the pan. However, the trick is to use a spoon to life the baskets out. There will be some breaking apart of the baskets but for the most part, they will stay in tact and be crispy. My baskets were not perfectly intact, but they were fun, unique and really tasty.
For another unique way to use potatoes, check out these truffles and find the recipe here.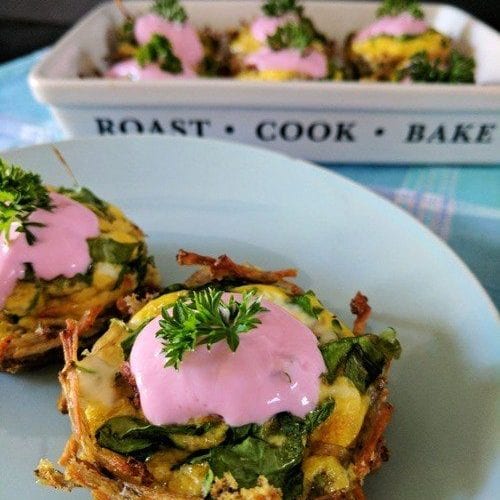 Spring Potato Bites
Anna-Marie Walsh
For breakfast or as an appetizer, let these fun spring potato bites brighten your day with a potato basket loaded with vegetables and topped with a beet yogurt sauce.
Course
Appetizer, Breakfast
Ingredients
2

large baking potatoes

scrubbed and shredded

4

tbsp.

olive oil

1

tbsp.

paprika

1

tsp.

salt

2

tsp.

black pepper

8

eggs

2

tbsp.

milk

2

tbsp.

fresh parsley

minced

4

medium-size stalks of asparagus

chopped

3

tbsp.

green onion

chopped

2

tbsp.

beet juice

from a can of beets

¾

cup

plain Greek yogurt

Parsley springs

for garnish
Instructions
Preheat oven to 400° and generously spray a 12-count muffin tin with cooking spray.

In a large bowl toss the shredded potatoes with olive oil, paprika, salt and pepper.

Firmly press the shredded potatoes into the cups of the muffin tins to create potato cups, filling each cup about 1/3 full. Be sure to add some of the potatoes onto the sides of each cup to form a basket.

Bake until the potatoes are golden brown, about 15 minutes.

While the potato baskets are baking, crack 8 eggs into a medium-size bowl. Add the milk and whisk the eggs well. Add the minced parsley, chopped asparagus and green onion and gently mix.

When the potatoes are finished cooking, remove from the oven. Pour about ¼ cup of the egg mixture into each potato basket, careful not to overflow the cups.

Bake the egg baskets for another 8 minutes, until the eggs are firmly set.

As the eggs are cooking, mix the beet juice and yogurt together in a small bowl.

Remove the egg baskets from the oven and let cool for about 2 minutes. Very carefully lift each basket out of the muffin tin and place onto serving plate. I use a small spatula and a knife to remove the baskets.

Add a small dollop of the beet yogurt onto each egg basket, add a sprig of parsley and serve immediately.
Notes
Use a spoon to "scoop" the baskets out of the pan as they will break apart easily. My baskets were not perfect but they were tasty and crispy!
Anna-Marie Walsh
I am a travel and food blogger from Orlando. I have competed at the World Food Championships, in #Hashed and at a Cupcake Wars in Utah. I am also a runner, trying to eat healthy and run half marathons.