Spinach Salad with Cherries, Goat Cheese and Walnuts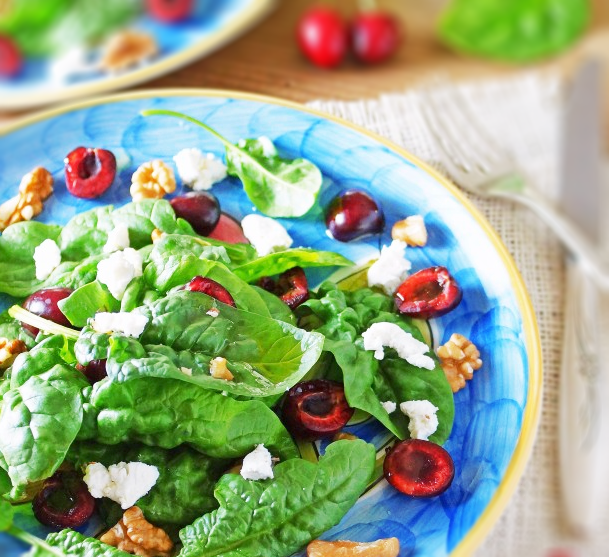 Besides finding tender greens for the salad, you will want to find ripe sweet cherries, a soft delicate flavored fresh goat cheese and good quality walnuts.
By Patty Price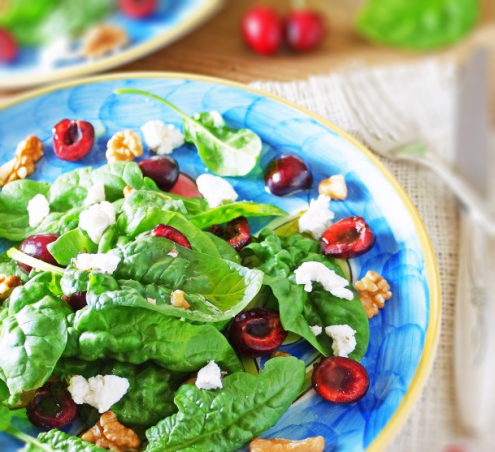 Don't get me started on the quality of walnuts…there really is a difference. I usually buy my walnuts at our local farmer's market or from the bins at Whole Foods but sometimes in a pinch I buy one of those small bags of walnuts from the neighborhood grocery store. You probably know the kind I'm referring to – the small bags of walnuts that cost a fortune and are broken into small pieces that look all crumbly, like the bag was in someone's pocket for about a year.

Spinach Salad with Cherries, Goat Cheese and Walnuts
Besides finding tender greens for the salad, you will want to find ripe sweet cherries, a soft delicate flavored fresh goat cheese and good quality walnuts.
Ingredients
For the Spinach Salad
6 cups lightly packed fresh spinach
1 cup sweet cherries, pitted and cut in half
4 ounces fresh goat cheese, crumbled
½ cup walnut halves, broken in pieces
For the Vinaigrette
2 tablespoons extra virgin olive oil
1 tablespoon walnut oil
1 tablespoon champagne vinegar
1 teaspoon honey
Squeeze lime juice
Freshly ground black pepper and sea salt to taste
Instructions
Make the Vinaigrette
Whisk together the oils, champagne vinegar, honey, lime juice, pepper and salt.
Make the Spinach Salad
Place the spinach in a large bowl and coat with the vinaigrette, or drizzle over the greens on the plates before serving.
Gently toss in the cherries, goat cheese and walnuts.
Divide onto 4 salad plates and serve.
Patty Price
Patty Price is a former assistant pastry chef at Bizou (currently CoCo500) who was previously recognized for her signature dessert by The New York Times. She also spent time learning classic French cooking techniques at a three-star Michelin restaurant in France which she incorporates into her personal food blog, Patty's Food. Inspired by the diversity of seasonal vegetables, fruits and herbs available locally in the San Francisco Bay Area, Patty hopes to inspire her readers to cook seasonally and try new recipes.