Spiked Pumpkin Pie Shooters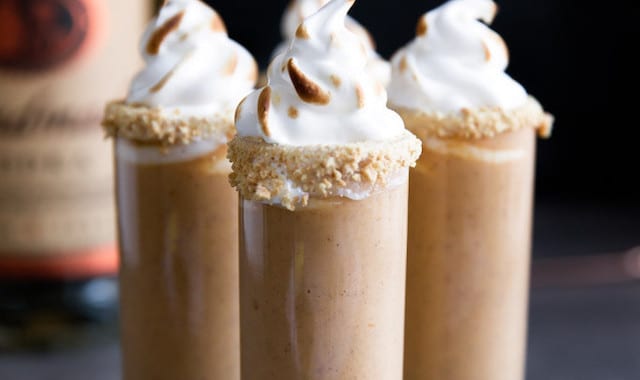 A dessert and a drink all in one, this pumpkin pie shooter with vodka and eggnog is the perfect holiday dessert to make your party cheery and festive.
By Sarah Fennel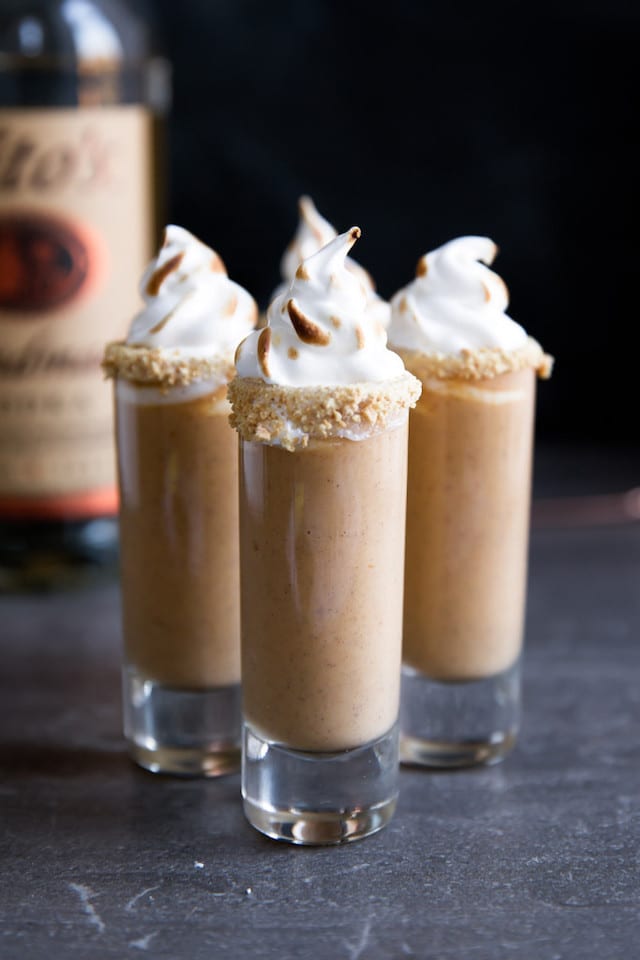 Can we talk about pumpkin pie for a second? How I absolutely love it, but all I want is the filling and not the crust? Call me a pumpkin elitist. Call me a holiday renegade. I don't care. I love my pumpkin and my pumpkin only.
So any time I create a pumpkin recipe, I go for things that just scream HELLO I AM PUMPKIN.
And in the case of these shooters, I couldn't help but put in some vodka. There's something so decadent about pumpkin + booze.
I'm picky about my vodka. I want something that tastes clean and goes down easy.
From working in the restaurant industry, I've gotten to taste countless vodkas, and Tito's Handmade Vodka has been my top choice for years. I love how unpretentious Tito's is, and how freaking good their product is. Having that low key attitude with a product that shines is the quickest way to get to my heart.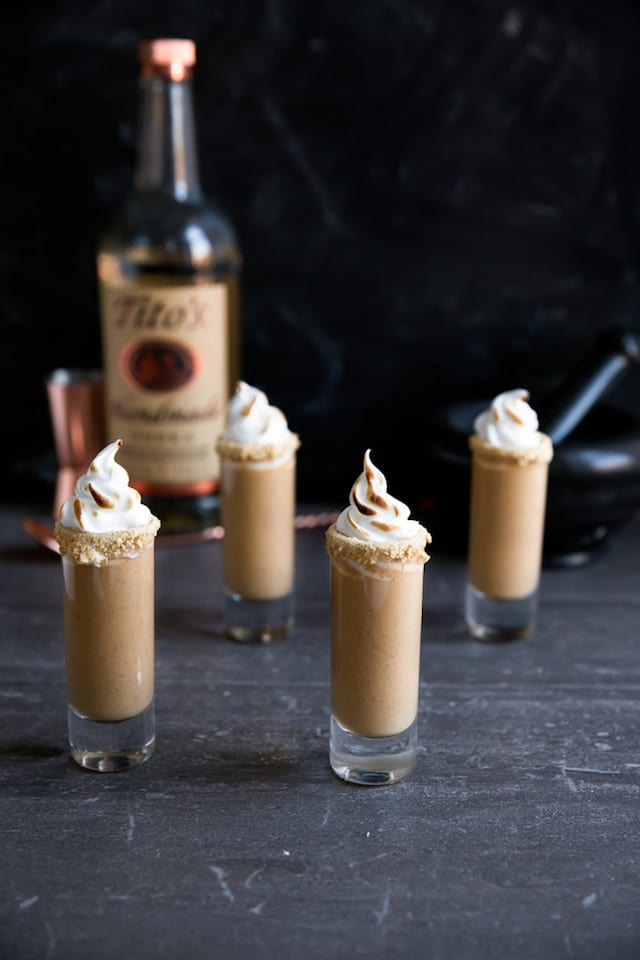 And it's a perfect choice when you want that pumpkin to shine like the star it is.
To get the complete pumpkin pie experience, I called on my friend eggnog to spice things up. It provides the exact creamy, spiced, and custard-y flavor I needed to make this a true Pumpkin Pie Shooter.
And can we talk about how you get dessert and a little nightcap all in one? Now that's my kind of party!

Spiked Pumpkin Pie Shooters
A dessert and a drink all in one, this pumpkin pie shooter with vodka and eggnog is the perfect holiday dessert to make your party cheery and festive.
Recipe Type:
Dessert, Drink
Ingredients
For the vodka pumpkin pie
6 oz eggnog
3 oz Tito's Handmade Vodka
5 tablespoons pumpkin puree
½ teaspoon cinnamon
For the toasted meringue
1 large egg white, room temperature
2 tablespoons plus 2 teaspoons sugar
Instructions
In a cocktail shaker with ice cubes, combine eggnog, vodka, pumpkin puree, and cinnamon. Strain into 6 shooter glasses.
To make the meringue, whisk egg whites and sugar using an electric mixer until stiff peaks form. Place into a piping bag fitted with a medium star tip and pipe over the top of the shooters. Use a torch to lightly caramelize the meringue. Serve immediately.
Sarah Fennel
Sarah Fennel is a photographer, writer, and baker for her blog, Broma Bakery. She also works in marketing, and has held a variety of positions in the food industry in Boston, New York, and Ann Arbor, where she now lives. She is a graduate of the University of Michigan. On her site you will find simple, delicious, and eye-catching recipes that anyone can make at home.