With interesting Ottoman influences, new, quality wines, and affordability, find out where to eat in Sofia, a delicious culinary destination.
By Rowena Dumlao Giardina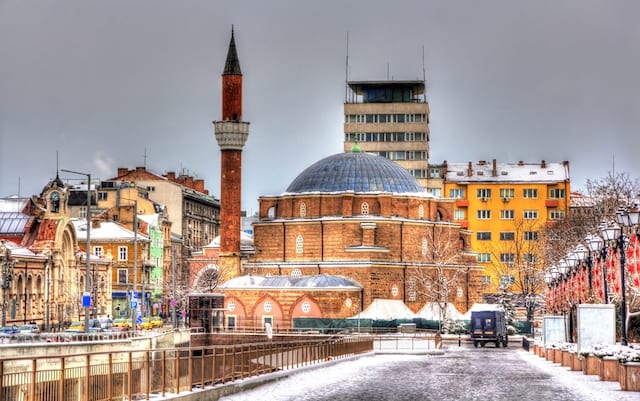 Shutterstock: Leonid Andronov
Sofia, the capital and the biggest city of Bulgaria, is centrally located in the Balkan peninsula and rests at the foot of the Vitosha Mountain giving it a picturesque panorama. The city is fast becoming the place to check out in Eastern Europe because of its rich history, delicious cuisine, new introduction to quality wines and yes, affordability – the best reason for any traveler especially if you want to eat and drink your way around the city.
Bulgarian cuisine has Ottoman influences from its almost 500-year rule combined with peasant cooking using fresh vegetables and herbs and it essentially has Balkan characteristics. Bulgarian meals start with fresh salads as appetizers, the most common of which is shopska salat, a mixture of tomatoes, cucumbers and a local sirene cheese that is similar to feta. This is then followed by main courses of soups or meat and vegetables, either grilled or slowly cooked in clay pots as stews. Pork, chicken and lamb are widely used while beef is not as common. Dessert is a delicious selection of sweet tarts, fruits and cakes. With the country's new approach to quality wines of indigenous and international grapes, food pairing with the local wines takes your gastronomic approach to a more enjoyable level.
Because of Sofia's fast modernization, the culinary scene is also widening its scope to more creative international dishes. Menus are categorized in appetizers, main courses and desserts with mostly abundant portions. Cyrillic is the alphabet used in Bulgaria but friendliness to the tourists is becoming more evident as the signs and menus are already translated to English.
Here are 5 restaurants that you essentially need to visit while staying in Sofia:
Lavanda

Ulitsa Tsar Ivan Shishman 12, Tel +359 882249740
Finding this sprawling shabby chic restaurant can be tricky because its entrance is located at the back of a building. It shares its space with the trendy One More Bar which occupies the front part of the building. Follow the signs towards the left side of the building and take the slight of stairs going up to the restaurant. You will be greeted with a very nice and cozy place with a maze of rooms to dine in. The menu changes often with delectable dishes. One of the most recommended places to go to by the locals.
Talents

9 Petar Baron Str., Tel: +359 24219068
Being a part of HRC Culinary Academy with about 50 students coming from different countries and Bulgaria's best culinary school, Talents is being run by the culinary students and their professors both in the kitchen and in the dining area. The restaurant gives a different kind of experience both for the students and diners. The dishes served are international with very artistic approaches. The service, food, wine and prices are excellent. Culinary events are frequently organized so check out their Facebook if you will be in town for one.
Before 10

Ulitsa Milko Bichev 1, Tel +359 884935857
Being named the best restaurant by Bacchus, Bulgarian gourmet lifestyle magazine in 2014, you wouldn't want to skip this restaurant during your trip to Sofia. The restaurant is located at a street at the end of Zaimov Park, a bit off the center. Because it is located at the lower ground of a building, the round restaurant doesn't have windows but it is tastefully decorated with whites and ecrus. Finding it may be difficult as the name outside is in Cyrillic, with a short flight of stairs to take you down. Chef Hristo Milanov and proprietor Desislav Zvancharov will make sure your dining experience will be a memorable one with delectable dishes from a short menu paired with an excellent selection of local and international wines.
Grape Central

45 Tsar Samuil Str., Tel +359 889820444
This popular trendy wine bar and restaurant has more than 300 local and international wine labels in the house. They offer 10 different kinds of wines by the glass every month and occasional wine tastings, so be sure to check out their Facebook if there is one going on while you are around. Behind Grape Central are three remarkable people with impressive wine and culinary backgrounds. Efrosia Blagoeva and Yana Petkova are both members of the tasting panel of Divino and co-founders of Bulgaria's Wine Writers Club, which are just a few of their accomplishments. Chef Ivailo Ignatov on the other hand, is a genuine food and wine lover who graduated with mention at Le Cordon Bleu Culinary Academy. The menu changes according to season and gives attention to quality seasonal ingredients. Open for lunch and dinner and they only accept cash.
Sun Moon

39 September 6 Str., Tel + 359 899138411
Among locals, Sun Moon is a very popular vegetarian restaurant and a bakery that prepares more than 15 types of bread using natural methods and organic ingredients from local farmers. For a quick, easy and cheap meal, this is a great place to go to. Outside seating is marvelous during warmer months.
Rowena Dumlao Giardina
Rowena Dumlao - Giardina is the author and photographer of Apron and Sneakers and The Chosen Table. Besides her blog, she's also a recipe developer and a travel writer for other food and travel sites.